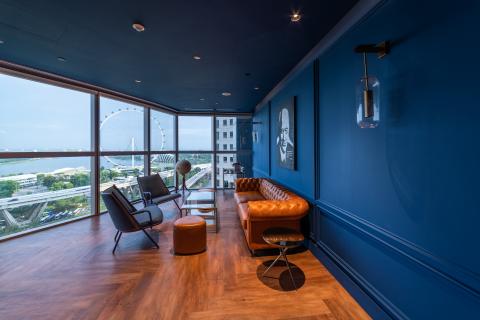 Three things that great places to work do differently when it comes to workplace strategy
Three things that great places to work do differently when it comes to workplace strategy
With the Great Resignation trend gaining steam, more than 41% of employees worldwide are considering leaving their jobs this year.1. That's not great news, considering that it takes six to nine months for an onboarded employee to perform effectively.2
But some firms are getting it right. The answer to retaining talent trickles down to policies, benefits, workplace strategy, and environment. Great Places to Work® certified companies continue to be employers of choice by attracting diverse talent and helping them achieve productivity and success while prioritising their well-being.
As workplace experts, we know what goes into building Great Places to Work (having been certified 3 times in a row). We have helped several other accredited firms bring their vision to life and drive success. Here's how we did it.
Establishing a strong company culture
Employers of choice tend to be strong on culture, with strong and distinctive brand values. They communicate regularly with their workforce regarding these values and how they manifest in everyday workplace experiences. They also create workspaces that enable employees to live the brand values and thrive by following them.
Hilton Singapore has been Great Place to Work® Certified (Asia region 2020), and the key to this acknowledgement has been its brand values of hospitality, integrity, leadership, teamwork, ownership and 'now' (sense of urgency)3. The value of hospitality, for instance, stands out in its workplace design. The office we created for them reflects hospitality trends that prioritise employee comfort and convenience.
Alongside that, the values of teamwork and collaboration are exemplified in The Social, a cafe that is part of the Hilton workplace experience. This space acts as a meeting ground for coworkers, and is also open to clients, friends, and family. This employee-centric and brand-focused approach to the office has won it accolades in the industry, with Hilton Singapore being awarded the bronze at the Interior Design Excellence Awards 2020 in the Workspace category. Hilton also took home the Asia-Pacific Property Award in 2020. 
Fostering comfort and collaboration
Increasingly, employees want to be part of an organisation not just for the compensation and perks but for the human factor, which includes compassion from employers and peers and the ability to collaborate and innovate with like-minded people. How can one design this into the workplace? 
Another one of our Great Place to Work® Certified clients, Prudential, took on this challenge by moving to a 100% agile workspace. We helped them create Prudential WorkPLAYce, an activity-based workspace that offers every employee a choice of work environments to suit the task they are doing at the moment and collaborate with anyone in the organisation, and even clients and vendors. This focus on collaboration is not at the cost of comfort; the Prudential WorkPLAYce ensures comfort through biophilic and social spaces.
Encouraging diversity and flexibility
Creating great places to work for all is a significant commitment that employers across Asia are making. This means encouraging diversity and inclusivity so that all employees feel valued and appreciated. Which in turn empowers them to push the business to newer heights.
For example, at Cisco - a Great Place to Work® Certified organisation and our client - two of the four senior-most leaders in the region are women, and the success of the company is well-known. Also, according to the Great Places to Work® Institute, female employees at Asia's Best Workplaces report a slightly more positive experience at work, on average.
The corollary to diversity is flexibility. Flexible workplaces allow every employee to develop a work rhythm that suits their identity and lifestyle. Even prior to the pandemic, many employers have imbibed employee-centric workplace models that enable flexible, remote, and hybrid working. This allows employees who might have extra familial responsibilities to be more effective at work. Workers with health issues and differently-abled employees also find that a hybrid workplace is better suited to their unique needs.
Conscientious firms are walking the talk and incorporating these policies into their workplace design. Take Piramal Mumbai for instance. The workspace we designed for them included a daycare to help women returning to work with childcare support. On the same note, our recent workspace for a multinational tech firm in Singapore features comfortable, cosy mother's rooms that make the return to work easier.
The pandemic has shown firms that their workforce is responsible enough to manage their own time and productivity. Our latest pulse survey reveals that almost 85% of employees now want the option to work from the office as well as from home during the workweek. We believe the future of workspaces is employee-centric and the key to building them is listening to what your workforce wants.
How is your organisation shaping its culture and office design to accommodate employee needs? Consult our team of strategists and design experts to build a workplace strategy that can make you an employer of choice and bring the Great Places to Work® certification.