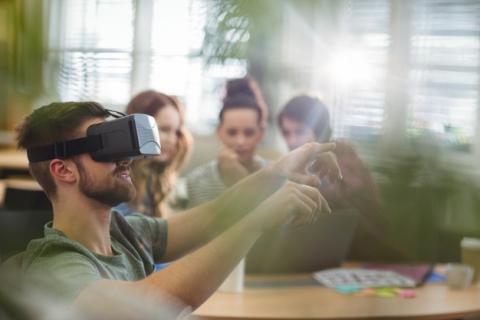 The Five Point Path for the New Normal: Space Matrix's longer-term design strategy prioritises the work, the worker and the workplace
The Five Point Path for the New Normal: Space Matrix's longer-term design strategy prioritises the work, the worker and the workplace
Self-isolation, formal lockdowns, re-openings, and even a second phase of lockdowns in some countries — the last few months have brought several pretty big changes in rapid succession.
With these changes affecting operations to a great extent, companies have had to maintain business continuity by focussing on the immediate future so far. But now, with some promising headways being made into the development of a COVID-19 vaccine, it's time to start thinking of long-term strategies. These long-term strategies need to be safety-driven of course, but they also need to go beyond that. With flexible work becoming the norm, the very role of the physical workplace will need to be redefined and rebalanced for newer priorities.
In order to help clients navigate these changes and plan out a futuristic strategy, Space Matrix has developed a Workplace Reboot Programme that is helping organisations find safe and comfortable ways to return to the office in the near term. It also charts out a Five Point Path design solution for the new normal, which looks at a long-term workplace strategy comprising space planning, materiality, technology and systems, culture and behaviour, and wellbeing.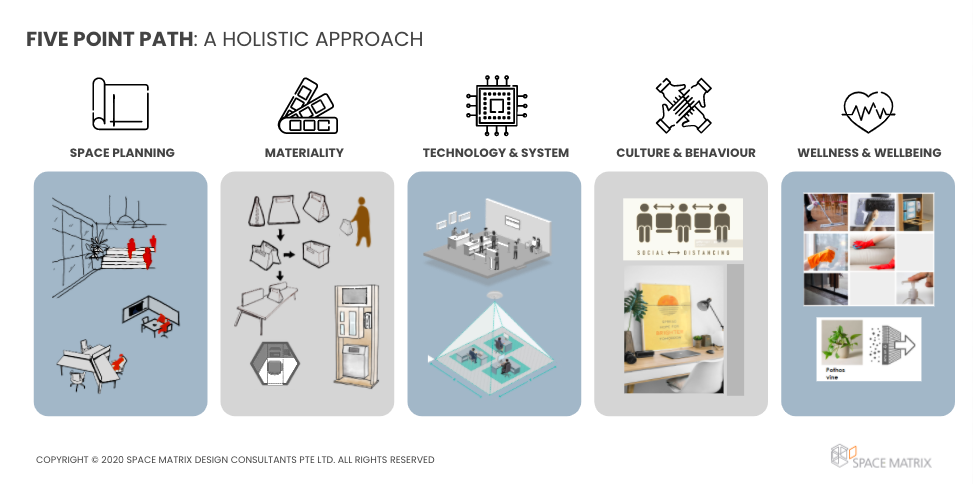 While space planning applies to conscious zoning that enables flexibility and autonomy, materiality focuses on surfaces and coatings that ensure comfort and hygiene in equal measure. Technology and systems is essential to enable collaboration and socialising at the office in a safe, contactless manner. To enable the right kind of workplace behaviour needed to thrive in the new normal, cultural and behavioural norms must also be codified and communicated through environmental graphics, behavioural guidelines and nudge-based design. Of course, all this is tied together by the fifth point, which addresses the need for physical, social and emotional wellbeing.
This Five Point Path can be applied to address the long-term concerns of employees as they navigate a new way of working that requires flexibility, a balance between collaboration and focussed work, and mindfulness about health and wellbeing. Let's see how it can help redefine the workplace for an evolved future.
1. Fostering collaboration and co-creation
While work and collaboration can indeed happen online, there are some aspects of face-to-face social interactions that employees miss out on. Picking up on unspoken body language cues, sharing information seamlessly without technical glitches, making use of various media — these are just some of the advantages that virtual meetings do not offer. There's the experiential aspect of it too. The electrifying energy that comes from brainstorming, bouncing thoughts off one another and hashing out a new idea can really make employees feel like they are a part of something big. So rather than going completely virtual, offices of the future should look at creating spaces that will foster safe collaboration and let people experience the positive buzz of co-creation.
However, in a post-pandemic world, we are looking at a change in meeting patterns. Whereas earlier, meeting culture leaned more towards casual, leisurely collaboration, the trend is now shifting towards shorter, more focussed, function-based meetings. Proper space planning can help companies adapt to this change. A variety of choices can be offered, with each meeting space being designed for different, specific kinds of collaboration. For instance, standee meetings can be great for smaller groups coming together for quick discussions. Likewise, instead of closed meeting rooms with lots of shared contact surfaces, consider safer options like perch seats and table-less collaboration spaces and kinetic furniture set ups. When integrated with collaborative technology, and fitted out with functional writing surfaces, these spaces can cater to the new meeting typologies and patterns very well. Technology can also help here, with furniture and meeting room systems being operated with gestures and voice commands to minimise contact.
2. Providing choice environments to focus

Though many companies are already reassessing their flexible work policies, this doesn't necessarily mean people will always want to work from home. In fact, a lot of employees (24% of the Asia respondents in our survey) report that they found it tough to concentrate at home, while many others were uncomfortable with the blurring of work and home life.
So future facing firms cannot just leverage their offices as collaboration hubs alone — they will need to have individual focussed work zones to cater to these employees. Of course, most offices have individual workspaces already. However in pre-pandemic times, people tended to favour an eclectic interbreed of trends that brought focussed work zones, casual spaces and social spaces all together. Individual workspaces thus, tended to be more open and exposed to the activities happening all around, and not suitable to the physical distancing we need in this new normal.
Now, these spaces will need to be completely replanned and segregated from the collaboration zones. Given that some people will be using the office for pure, focussed work while others may come in for just a couple of hours for meetings, proper space planning will have to be done to ensure that these crowds do not intermingle. Focussed work zones will need to be more organised and synthesised. One great option is to separate them into different categories based on parameters like duration of work, occupancy levels and work styles. For instance, the sales team might come to the office for a couple of hours of concentrated work before they head out again. So a short-term work zone located close to the reception area may be ideal for them. In contrast, those who require long hours of deep focus might prefer an assigned focussed zone where they can settle down for the day. The third option is a flexible work zone, which is ideal for employees with mixed work styles.
These segregated work areas, separated by clear demarcators, can go a long way in regulating access and controlling foot traffic. However, apart from space planning, wellbeing also needs to be taken into account. These individual work zones cannot just focus on workplace productivity — they need to be comfortable and welcoming too. They need to be spaces that will draw people back to the office after months of working from home.
3. Creating a sense of belonging

We've discussed how collaboration spaces and individual work zones will change in the long term, but there's another important function the physical workplace fulfils — and that is to create a sense of community and elevate camaraderie. Sharing a good rapport with one's colleagues, getting together to bond, laugh and socialise, and feeling like one belongs — these are important motivating factors that can outrank even financial aspects of the job. However, these sentiments have hit a wall over the last few months as everyone worked from home and dealt with uncertainties on their own.
So social and community spaces are perhaps, the most important aspects of office design when aiming towards a new normal. However there is an obvious challenge here — these spaces need to be safe and hygienic, and yet their very function is to bring people together for casual, social interactions. A design approach that integrates materiality, technology and wellness is key.
Friendly, café-like spaces can still work, but with some crucial layers added in. Installing hygiene stations at the entry and exit is a great starting point. Defining navigation and circulation tracks is another important step that can prevent chaotic, multi-directional movements and unwanted collisions. Café counters, pantry surfaces and seats can all be crafted with anti-microbial surfaces and finishes. Technological innovations like smart café systems can make pantries contactless — they can enable employees to place their food and drink orders through voice-activated commands or pre-set choices. Smart apps can also help track the air quality and occupancy levels in these communal spaces, displaying the data on dashboards and individual devices. Most importantly, these spaces need visual communication in the form of soothing art and soft music to create a positive vibe. This prevents the space from being too stark and clinical — it eases people's anxiety, encouraging them to reconnect and giving them an affirmative sense of being back in a safe, conducive workplace.
4. Engaging and wowing clients, guests and potential new talent

Another role of the workspace is to exemplify and reflect the organisational culture. This helps engage not just the employees who work there, but also the people who might be making sporadic yet crucial visits — clients, guests and potential job candidates.
Currently, face-to-face interviews and in-person client meetings may be on hold, but over the long-term, these will start becoming important again. The arrival zone thus, will regain its potential as the physical representation of the company's culture and innovativeness. Technology can create a massive impact at this stage — and the more future-forward and surprising it is, the better. For instance, imagine stepping into a firm's lobby and being greeted by a robot who carries out thermal checks, does contact tracing, and aids you in the sanitation protocols. This is a great way to add buzz and energy to a routine that has become part of our new normal.
Such innovations can itself be a remarkable stimulating experience within a workspace. Think integrated systems that escort visitors to the correct room, smart café setups that remember their coffee preferences, and immersive tech lounges that showcase the company's ongoing campaigns and projects as they wait. Innovation Hubs and Tech lounges can really help clients, investors and potential new hires experience the brand, making that face-to-face visit worth their while.
This is just a glimpse of how the Five Point Path design solutions from our Workplace Reboot Programme can help an organisation plan ahead and embrace the new normal. Are you ready to start thinking about long-term strategies for your organisation? Let's discuss.
A seasoned design professional with a specialisation in Industrial Design and over 12 years of experience, our Associate Director – Design, Swaviman Das, has worked on numerous corporate and commercial interiors projects across India, creating versatile, innovative and pragmatic solutions through thought-provoking space planning and inspiring visual language.