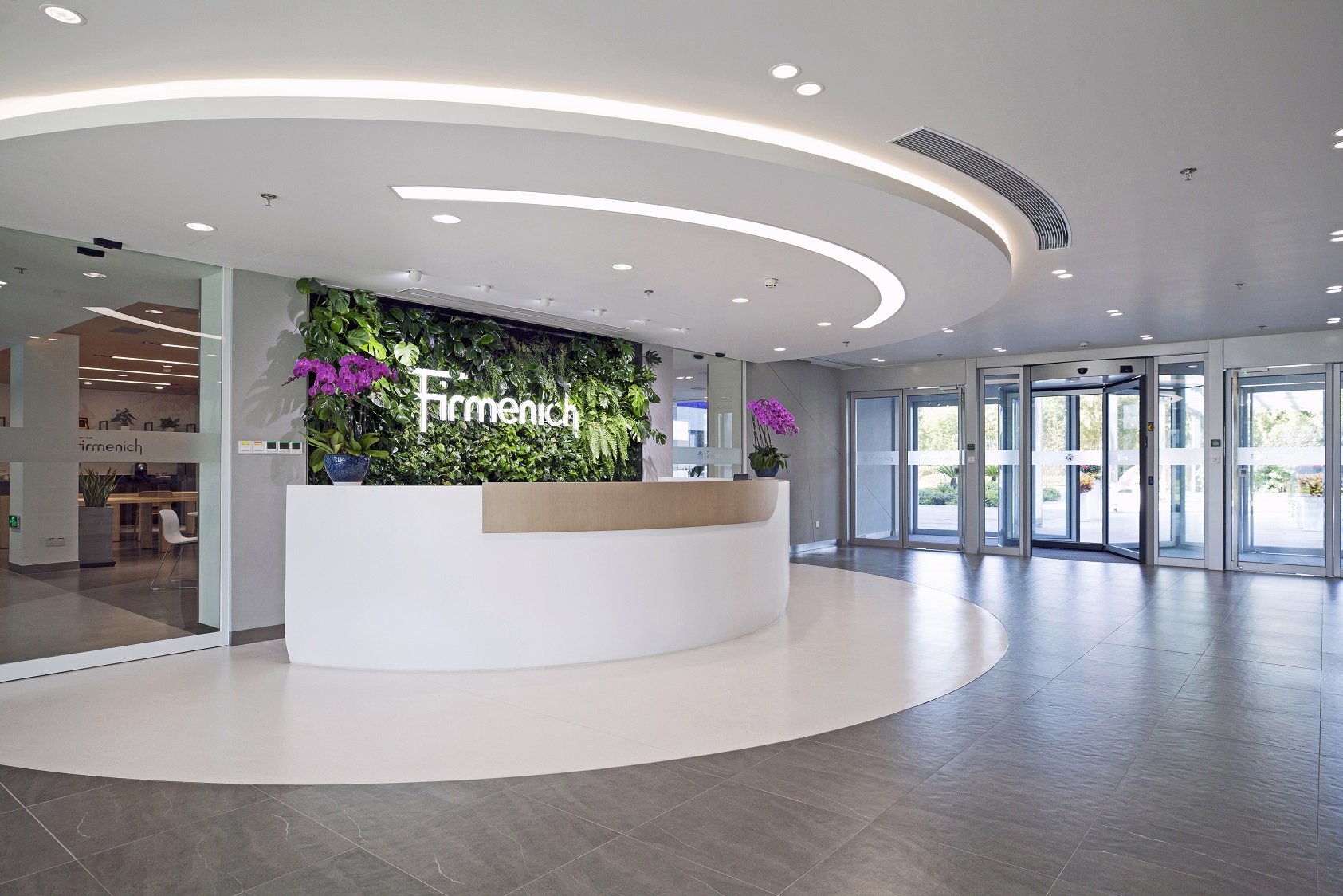 Designing a studio for Firmenich's H Building Office to fit the needs of the job
Designing a studio for Firmenich's H Building Office in Shanghai to fit the needs of the job
Back in 2008, a popular cafe chain launched a new breakfast menu and noticed a surprising drop in sales. Upon investigation, they realised that the smell of the breakfast sandwiches was interfering with the aroma of fresh coffee that so many customers subconsciously associated with the brand. As a result, regulars were simply going elsewhere.
Whether we realise it or not, our senses of smell and taste have an important role to play in our daily lives. They can affect how we experience things, form memories, develop associations — and even impact what we buy. This is where a company like Firmenich comes in. With over 3700 patents, the firm works with brands around the world and touches the lives of billions of people every day through the fragrances and flavours in foods, drinks, toiletries and household products.
Recently, the company wanted to modernise and update their office in Shanghai. Their existing workspace design was geared more towards traditional working practices — it isolated employees from one another. The creation of fragrances and flavours however, is a complex process that requires a workspace designed specifically for it. Here's how the new office design caters to the different aspects of the job.
The lab work
Developing new aromas and flavours involves quite a lot of research and experimentation. The laboratories, thus, are a focal point of the entire process. After conducting our own research into what the work entails, we realised that designing just any lab would not do — we had to keep certain specific requirements in mind.
Maintaining safety and hygiene was of utmost importance. We could not have fumes and smells from the laboratory spreading across the entire office and creating unsafe work standards for employees. So we divided the H-shaped office floor into separate zones — the two sides are dedicated to the laboratories while the middle makes up the work area. Moreover, we paid special attention to the air conditioning system to ensure that lab fumes would be safely dispelled.
At the Firmenich office, the significance of a good air conditioning system goes beyond just safety. In order to be able to do their jobs well, the researchers need to distinguish fragrances with precision. But being exposed to a particular scent for too long can make one stop registering it. This is called 'nose fatigue', and it can be caused when smells are allowed to linger in a confined space. This had to be avoided at all cost, so we ensured that the labs were fitted with top-notch air circulation systems. We also designed specific rooms where raw materials can be extracted and reagents analysed. These rooms too, have their own circulation systems to ensure strict control over air quality.
The creative aspect
Coming up with new flavours and fragrances is as much an art as it is a science. The office thus, had to be much more than stark laboratories — it needed to be creative and inspiring too. We incorporated biophilic elements in the work areas to make the space more comfy and welcoming. The unused corners and surfaces all feature tumbling ferns and potted plants. There is a lush green wall behind the reception, with its own irrigation system. The furniture and ceiling are designed with a wooden finish to add warmth to the space. The floors have either a wooden or a stone-like texture to carry forward the natural vibe.
Innovation and knowledge-sharing is an important part of the job. Seminars and events are conducted regularly, and the office frequently plays host to master perfumers and experts from the other Firmenich ateliers. The workspace is built to accommodate this. The area behind the reception is designed to be a multi-functional space. There are two semi-private conference rooms here, as well as an open area for presentations. The door of the big conference room also opens up into the pantry. During townhalls, seminars and knowledge-sharing sessions, the doors and partitions can all be opened to create one large, uninterrupted space. On regular workdays when there are no big events scheduled, they can simply be closed off into smaller, private meeting rooms.
Sales and marketing
Though it may be hard to imagine, the creation of flavours and fragrances starts at the drawing board — with a marketing brief. This step involves analysing market needs, interpreting them in terms of notes and tastes, comparing costs and quality of raw materials, and so on. This part of the job is highly interactive and collaborative.
Built in the middle of the H-shaped office, the common work area has been designed to maximise interaction. We placed workstations all along the windows, so that employees have adequate light and great views to work by. In between the rows of workstations, we have the collaboration zone. There are no designated seats, so employees are encouraged to move around the office, utilising the workstations and collaboration clusters. To further encourage a flexible workstyle, we ensured that there are adequate lockers in the office. People can simply store all their belongings in a cubby, which leaves them unencumbered and free to move around and work wherever they please.
Much like in any other business, client presentations and product testing are an important part of the job too. Keeping this in mind, we built a special research room where clients can be taken, when they come to test the products developed by Firmenich. This room is divided by a two-way glass partition. Researchers sitting on one side can look out through the partition and see the interviewees on the other side. This way, they can get authentic responses to their products.
Need a workplace strategy designed around the specifications of your industry? Let's talk about making it happen.