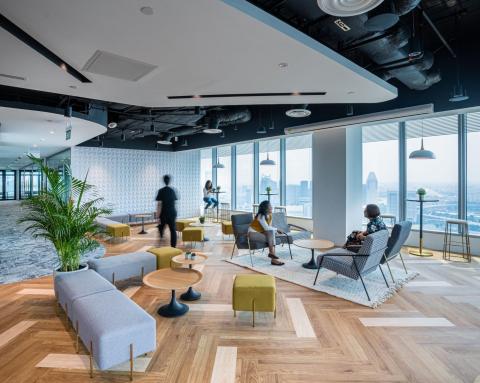 How to go from attrition to attraction? : Hint it's to do with Employee Experience
How to go from attrition to attraction? : Hint it's to do with Employee Experience
The Great Resignation, the great attrition, the big churn, the 'big quit'. There are many, many names for what the world of business is witnessing right now. There have been a flurry of surveys and studies to understand the situation, resulting in a number of theories by experts from all fields suggesting what needs to be done.
More often than not however, the more complex and impossible a problem seems, the solution lies in its basics. In this case the problem and solution both lie with your people.
It's therefore important to begin at the beginning and understand what are the top reasons driving attrition:
1. People not feeling valued: While compensation matters, only 58% of the employees report that compensation underlies their plans to stay. Having strong relationships, the feeling of being valued are elements that are crucial to retaining people. Physical well-being and health is another significant indicator. Research shows that feeling healthy and happy and being rewarded for the work they do, accounts to a 44% improvement in well-being and 21% improvement work productivity.
2. Employees lacking a sense of belonging at work: 51% of employees who quit their job recently did so because they didn't feel a sense of belonging at work. Employees who find purpose at work are 2.6 times more likely to want to stay, 6.5 times more likely to report higher resilience, and 4.0 times more likely to report better health.
These numbers are hard to ignore. As humans we tend to consider ourselves as complex beings, but the factors driving our basic needs are simple and universal. When it comes to work, we tend to do our best when we feel safe, valued, inspired, part of a community, living and working in a healthy environment, towards a bigger goal. And these are what form the basic principles of Employee Experience (EX).
It is a human centric approach that links design and operations to being compassionate, and genuinely caring to enable strengthening relationships with your employees.
EX is the key to turning the Great Attrition into the Great Attraction. However, Employee Experience isn't a destination, but rather a permanent state of evolution to ultimately generate value for the business. For leaders this is the perfect opportunity to take a step back from their current business to reimagine how EX can bring transformative, not just incremental, value for their business.
Your workplace is your wildcard to help you go from Great attrition to Great Attraction. The opportunity lies in:
Rethinking and redefining your way of work: 
How strong was your culture before the pandemic? You probably had a fair idea of your best people, plans to keep them engaged, a great brand and culture with the ability to attract the best talent. Your retention rates were probably high and employees were motivated to do their best work. 
Even if this was an apt description of your pre-pandemic organisation, more likely than not, you are much less confident about them now. The true challenge is redefining the way you work to suit individuals, teams, and your business as a whole. Here's how your workplace design can help you 
1. Build meaning into work - bring in autonomy, choice and mobility into workplace design. Neurodiverse designs are inclusive and empower your people, help them thrive and ultimately give your business a competitive edge.
Neurodivergent designs combine places to pause - for reflection, memorable spaces - to generate a reassuring sense of order and thus assist the brain's innate positioning systems, adding sensory cues -  aiding in wayfinding and the creation of brain maps and providing visual access - immersing in nature provides a place for deep thinking away from distractions and daylight and outdoor views enhance mood
At Verizon, Hyderabad the space offers the best of two worlds to employees and meets all kinds of employee requirements. For instance, some people work better in well-lit airy spaces with a buzzing atmosphere; others can focus well in secluded spaces where they can plug in their music. Our designers ensured both sets of people feel equally at home in this new workspace. They created common areas where people would be able to settle down for some quiet, heads-down work.
2. Build Employee Feedback into Workplace Design - Its time to think of your employees as your consumers. The talent war is at an all time high, the gig economy is booming, the bottomline is that there's a shift in the power balance and its in favour of the employees. So how do you stay competitive and not only retain employees but inspire candidates to commit to their mission and work of the company? The key lies in listening to your employees and making it easier for them to share their feedback.
63% want their office to change significantly when they start to return in APAC  (Source : Steve Bennetts, Head of Employee Experience, Solutions & Strate, Qualtrics). We asked employees around the globe to understand what is the most important aspect of work for them. 47% felt collaboration is a key enabler and 27% seek focus to get their best work done.
Listening to your employees will enable creating a FLOURISHING WORKPLACE and work positive environments, designed consciously, intelligently and intuitively to enable people to do their best work by fostering feelings of positivity, wellbeing and resilience.
A pivot to the workplace as a destination:
Did you invest in building a sense of community pre-pandemic? Through the pandemic your team may have come together virtually, but there has been a huge loss in the sense of community and belonging that's inherently cultivated through in-person, face-to-face interactions. A lesson the pandemic has reinforced is that the physical environment can play a major role in developing, supporting, and sustaining community in the workplace.
Building a positive work environment - Creating a more humanistic workplace, recognising the value of togetherness and creating a sense of belonging. The workplace is a tool for building human moments and opportunities for people to find their tribe.
Rebalancing spaces to enhance a culture of knowledge sharing, teamwork and collaboration, stimulating creativity and innovation. Building a 'Vertical Community' where everyone has a place and enhances greater connection amongst employees A space with a shared sense of purpose and community.
Vanke's, "co-creative" flagship centre in the Zhang Jiang district in Shanghai, revolves around an interactive play on knowledge and amusement which is reflected in fun elements such as staircase seating - a space for incidental run-ins and collaboration, a vibrant library and various collective spaces etc. to bring an interplay of community spaces to mingle, have fun and interact as well spaces for small teams and more focused work. The individual work settings are systematically combined with casual meeting spots and enclosed meeting areas. The space also offers a relaxed work cafe zone for ad-hoc activities and a massive communal space for events such as seminars and product launches.
Promote and enhance wellbeing and sustainability through Workplace Experience (WX)
Have you ever thought that your work environment could be transactional? If your only response to attrition is to raise compensation, your people will tend to perceive that your relationship with them is transactional. You want to solve the problems of the whole person - there is a stark difference between looking at your employees as 'human resources' and 'human beings'.
Build health and wellbeing into the workplace - As workers around the world reprioritize the importance of health and well-being, employers now face mounting pressure to synergize indoor and outdoor spaces, nudge healthy behaviors, and support a sense of psychological well-being. 
For creating a sense of safety and comfort the key is to foster a work environment where people can thrive and do their best work. Traditional concepts of wellness like spas, gyms and office retreats are a passe. Wellness today looks a bit different - it involves looking at your employees as a whole - encompassing mental and physical health. It integrates lots of biophilic elements into the workspace and gives employees access to natural sunlight and airy, open work environments. It also involves taking care to create a healthy work culture where no employee is overwhelmed as well as adequate scope for work-life balance.
A very significant aspect of wellness today has a lot to do with feeling secure in the work environment. A global insurance firm in Singapore wanted us to create a new activity-based workplace (ABW) that encourages people to return to the workplace in a safe and communal environment. So, we selected antimicrobial laminates for the furniture, and easy-to-clean melamine table-tops for the workstations. The paint we used on the walls are all washable, so that the maintenance staff would be able to deep clean the space frequently. We minimised the use of carpets, rugs or other soft furnishings that would trap germs and prove cumbersome to clean. Instead, we used vinyl flooring that can easily be mopped with disinfectant every day, and added textural variety to the space with patterned tiles, wood finishes and indoor plants. Moreover, we opted for eco-friendly and recycled materials wherever we could. The vinyl flooring and some of the laminates used in the office for example, are Green Mark-certified. The acoustic panels in the meeting rooms are made from recycled materials like PET and fiberglass. This let us put a strong focus on sustainability while still retaining the aesthetics of the space.
As leaders it is the perfect time to step back, listen, learn, and make the changes employees want—starting with a focus on the relational aspects of work that people have missed the most. It is imperative to begin with the basics and understand why employees are leaving and using workplace design as the tool to demonstrate organizational thoughtfulness, you may just be able to turn the Great Attrition into the Great Attraction.