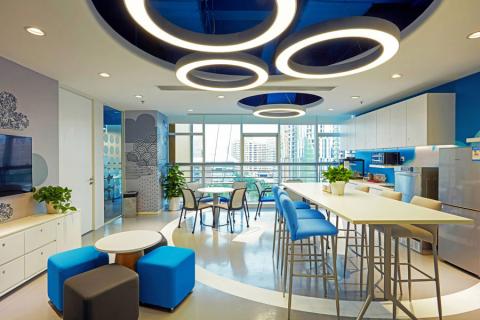 How a leading global software corporation in Chengdu embraces an active workstyle
How a leading global software corporation in Chengdu embraces an active workstyle
At the beginning of a new year, resolutions are on top of everybody's mind. Working out more and getting fitter is one of the most common New Year resolutions around the world – and most people think of early morning runs or post-work fitness classes as ways to achieve this goal. But what if offices were designed in a way that kept you more active through the day too?
This was something our designers had in mind as they conceptualised the workplace strategy for this global software corporation's Chengdu office. With decades of history behind it, the company is known for developing breakthrough IT solutions.
As a company that consistently attracts the best talent in the market, our client keeps employees' health and wellness at the very core of its workspace design. Whether they are working on simple tasks or have a long day of meetings ahead of them, every aspect of the office design ensures that employees remain active, energised and fully engaged through the day.
3 ways this leading global software corporation keeps people moving
1. During workdays
Sitting in one designated spot every day can quickly get monotonous and uninspiring. As a design solution to this, we created agile workspaces in the office. We grouped the workstations into multiple clusters, with each cluster designed around a different theme. This lets employees enjoy a brand new work environment every time they sit at a new cluster. The bold colours on the walls and the dynamic murals featuring sporty scenes, race cars and bikes, all complement the concept of activity and movement in the workplace.
The workstations are equipped with adjustable desks that can be set according to an employee's height. This reduces the possibility of posture-related back issues, even on particularly busy days. We also designed functional phone booths where people can take client calls and attend teleconferences. Apart from improving workplace engagement by letting employees move around, such activity based working styles create efficiencies in terms of space and energy usage.
2. In meetings
Everyone has days when they find themselves caught up in back-to-back meetings. With one call ending and the next one just about to begin, one may barely have time for a quick coffee break, let alone a walk around the block. We wanted to ensure that even such days do not get sedentary for the employees at the Chengdu office.
To do this, we introduced the idea of standing meetings – a concept that has more than one benefit. All the meeting rooms in this office have adjustable desks that can be converted to standing height. Not only does this keep participants physically active, but it also improves concentration and the level of engagement in the discussion. In addition, we have found that standing meetings keep the atmosphere less territorial than if the participants were sitting at opposite sides of the table.
For more informal discussions, people can avoid meeting rooms and head to the different collaboration areas instead. Set in open spaces, these areas have low stools, high seats and a variety of other seating options for maximum comfort. There are whiteboards set on reels strategically located at these open areas. Once the discussion is over, an employee can simply slide the whiteboard along to a different area in the office, for the next meeting. The wall-embedded discussion nooks in passageways are another great option for when employees need to have quick meetings and impromptu discussions.
3. During breaks
When they are not busy with work, employees have ample opportunities to stay active within the office. Those taking a quick 15-minute break can challenge their colleagues to a friendly foosball match. Employees looking to stretch their legs during lunch can head to the backstreet basketball court in the pantry.
Those working late need not miss out on their fitness goals either. There is a spacious gym fitted with state-of-the-art equipment, where employees can work out before heading home. Alternately, if someone has an hour to kill in between meetings, they can use that time to squeeze in a quick cardio session and freshen up at the shower room.
Want to put a sharper focus on your employees' health and wellbeing too, this year? We can help you inculcate dynamic and active workstyles through your office design and build. Do reach out for a consultation.