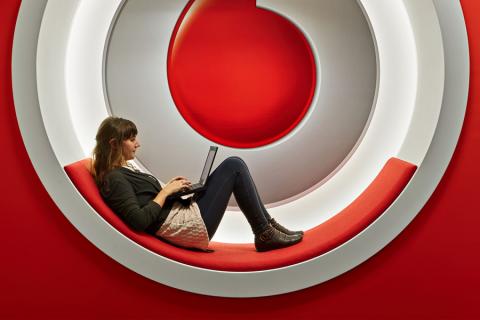 How office design directly impacts business performance
A Vodafone Singapore employee working in a comfortable space designed like the company's logo.
Photo credit: Space Matrix
How office design directly impacts business performance
Most of us spend a large proportion of our waking hours in the office. It's no surprise that most people would prefer to start the day in an aesthetically pleasing and comfortable environment, rather than an uninspiring place with just four white walls and endless rows of desks.
Research conducted by the British Council for Offices and, global real estate services provider, Savills supports this. In their joint report aptly titled 'What Workers Want 2016', the authors found that 'the respondents would be willing to commute an extra 30 minutes to work in their perfect office'.
Given the importance that employees place on the office, it certainly pays to devote more attention to it.
How commercial office design affects productivity and business performance
For many years, the link between commercial office design, productivity and business performance has intrigued many researchers.
In 2014, the World Green Building Council's (WorldGBC) report found overwhelming evidence that office design significantly impacts staff's health, productivity, and wellbeing. Take the flexible workspace for instance. It allows employees to choose the best place to work on their tasks, so they are more likely to maximize employee motivation and productivity.
The WorldGBC research is one of many studies that document the power of effective office design. In fact, various research ranging from workplace art collections to the ergonomics of furniture and natural lighting, all show an ability to boost productivity.
Additionally, according to a survey by Gallup Inc., employees' wellbeing was found to directly affect the company's profits. Specifically, the survey found that employees with better well-being have 41% lower health-related costs to the employer which translates to around US$2,993 per person.
In a year, this means that the company will incur more than US$35,000, just for a single person. Since employees spend most of their time in the office, it is no surprise that those who like their workplace environment will be more engaged, productive, happy and healthy.
All these results in better business performance.
Achieving business goals through intelligent office design
So, how do you apply these insights to your own office? Here are some examples of how you can use design to achieve different business goals.
1. Reinforcing brand identity
Interior design can embody the brand identity and reinforce the brand values in employees.
Case in point, Microsoft's Taiwan office. Microsoft wanted their 75,000-square foot office to be aligned with their brand and workplace culture with touches of Taipei's culture. Thus, Space Matrix's designers designed a soulful "Formosa" or beautiful island experience. Each floor showcased a different part of Taiwan – from a night market to a vibrant riverfront and even the heritage Mountain Line Train.
A firm believer in humanizing technology, Microsoft wanted their technology to meld seamlessly to a user's experience. So instead of placing Microsoft's technology everywhere, Space Matrix designers strategically placed it in a subtle manner that would enhance a user's experience. For example, digital touch screens and Microsoft's voice-controlled virtual assistant Cortana were located at key areas such as the reception and at all collaborative spaces.
The resulting design won the Best Office Interior in Taiwan at the 2017 Asia Pacific Property Awards. The project has also been nominated as a regional winner to compete in the International Property Awards (IPA) later this year. The IPA is a prestigious award that recognizes the best residential and commercial property professionals in the world.
2. Boosting employees' productivity
All companies want to maximize employee productivity and understandably so since it affects the organization's profits. Researchers Struber and York studied teamwork among 500 university staff and they discovered that collaboration enhanced employees' productivity. This can be achieved through the effective use of space.
LinkedIn's 240,000 SF office is divided into four self-sufficient neighbourhoods that correspond with the company's core values and reinforce their culture of innovation. To encourage collaboration and cross-pollination of ideas, a central core on each floor was designed as a neutral zone. These zones incorporated a large pantry, surrounded by phone booths, collaboration and break-out spaces, each with a different theme and different colors and graphics. Since all work and no play makes an employee dull, LinkedIn also provided a gym, games room, sports and wellness suite to boost employee wellness and productivity.
3. Improving business efficiency
As organizations grow, their business needs evolve and this may pose certain challenges.
In the case of Astra Zeneca, a pharmaceutical company in India, the management shifted its focus to insourcing and thus, halved its IT budget and reduced external manpower by 40%. Not wanting this to compromise business efficiency, the company requested a space that minimised productivity loss.
To achieve this aim, Astra Zeneca's leadership team worked closely with the interior designers and identified four types of collaborations and the corresponding types of spaces required. For instance, there were task-based seating that encouraged interaction and collaboration, as well as informal spaces such as gaming areas and coffee points to encourage socialising when employees wanted to unwind.
What was initially a business challenge turned into an opportunity to improve employee productivity and efficiency through the smart use of space and design.
The redesigned office was also well received by employees – a post-occupancy survey showed that 93% of the employees perceived higher productivity in the facility.
4. Enhancing the client experience
Most companies don't realize that interior design can also be used to impress your clients about your industry experience.
When designing a public relations (PR) company's office, Space Matrix designers took the client's operations into consideration and created a special "client campaign area". This area allowed the PR company to put up each client's campaigns when hosting their client. It also showcased the PR company's experience in each prospect's field. Needless to say, the PR company loved the specially created area.
As shown above, office design is a powerful way to remind staff of the vision of the company and simultaneously showcase their ideology to visitors. Design done right can also improve business performance. Thus, companies should carefully consider these factors when designing their office.
Want to accelerate your business performance by improving your office design? Contact Space Matrix designers at singapore@spacematrix.com for a consultation today!