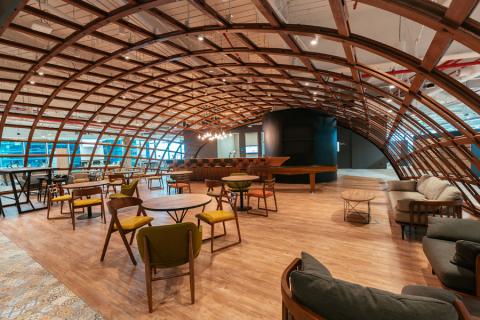 How Prudential Singapore created a next generation workplace to inspire innovation
Photo credit: Prudential Singapore
How Prudential Singapore created a next generation workplace to inspire innovation
Prudential Assurance Company, one of the top life insurance companies in Singapore, wanted to revamp their Singapore office. Their goal for the new workspace was to infuse their company values to create a ground-breaking, tech-enabled workspace that consistently provided breakthrough opportunities and experiences for staff, customers and distributors.
The company then partnered with Space Matrix, a leading office interior design and renovation firm, to develop a concept that incorporated these values into the project and achieve the company's business objectives.
Moving towards the trend of activity-based working, Prudential's new facilities would need to cater to their more than 900 staff, offering more than just the typical office environment they had grown accustomed to, with standard workstations and meeting rooms. Their new space would provide more collaboration areas, relaxation zones and an aesthetically pleasing décor that encapsulate their brand values and create an exciting destination for employees to come to.
The idea was to create an office space that was open, inspired by nature and encouraged collaboration on-the-go.
Placing employees at the heart of design
Before developing the concept, Space Matrix spoke with Prudential employees to find out their preferences, and likes and dislikes when it came to an office space. Space Matrix also observed employees' work patterns and style. By combining the insights from the employee interviews and observations, Space Matrix developed a concept that incorporated the company's four brand values, in an environment that was conducive to the employee's preferences:
Trust​ ​&​ ​empowerment.​ ​The new workspace included an open concept with fewer allocated seats, allowing staff to work anywhere within the office. For instance, collaboration zones were incorporated throughout the space to facilitate short brainstorm and other types of group meetings.
Accountability. ​For accountability, there were meeting rooms that allowed for virtual meetings with projectors. Further, the open-desk policy meant that the space was clean and neat in terms of design, with a minimal requirement of desks that one would normally find in a traditional office space.
Collaboration. For easier collaboration, there were zones which had certain elements of workstations. They were placed next to group stations or meeting rooms. In addition to quiet relaxation zones, a Zen garden and other nature-inspired elements allow for a tranquil setting to have a quick discussion.
Innovation. The final and most challenging aspect were incorporating a sense of innovation into the design. Some key design features include:
A large video wall comprised of 16 display units along with the other digital signage and displays spread across the two floors. Events at the auditorium could be live-streamed onto these displays with the push of a button.
A water-feature tunnel and meeting rooms surrounded by a reflection pool allowed for an aesthetically peaceful setting. The other floor mimics the same design but instead of a reflection pool, it features a Zen-garden.
Four massive timber domes that house a barista and collaboration spaces underneath. These features were strategically placed to welcome employees from the main lift lobby and are accessible from the featured staircase connecting the two levels. The design was inspired by cocoon seeds a found in nature.
A cantilevered staircase was not only an internal connection between the two floors but also a design feature that incorporates and showcases the company's branding.
Speaking about promoting employee wellness within the workspace, Benjamin Breen, Managing Director at Space Matrix, said "Office design plays a pivotal role in attracting and retaining talent by incorporating new amenities such as a gym, game rooms and relaxation zones. If staff enjoy spending time in the office, they will, in turn, be more productive, innovative and creative."
Creating a neighbourhood environment
Each of the floors had four work "neighbourhoods," with each having an open collaboration lounge for informal meetings and collaboration. Also, these neighbourhoods had enclosed meeting rooms that ranged anywhere between one to six pax and had additional facilities such as utility and printing zones, coffee refreshment points, lockers and staff personalisation walls along with branding.
The overall design gave a unique and homely feel to the office where employees could feel at ease, as well as relax and work according to their schedules.
By involving staff and the Prudential's key values in every step of the design and build process, Space Matrix was able to develop a next-generation workspace that inspired innovation.
Introducing employees to their new environment
To orientate their staff with their new office environment, which transformed the area from a traditional setup to an activity-based workplace. Space Matrix conducted a change management programme engaging employees at each level. Through a series of workshops, training sessions, guided tours and learning activities spread over eight weeks, Space Matrix helped staff quickly become familiar with their new workspace.
Prudential's vision of a flexible office that contained all the right accessories, including a clean desk policy, dedicated desks for teams, easier collaboration zones and an ambiance of calm and tranquillity were realised.
Speaking about the new workspace, Gaurab Banerji, head of digital and office transformation at Prudential Singapore said "The new office design and enabling technologies empower our employees with highly flexible work options. The impact on productivity and motivation is immediate."