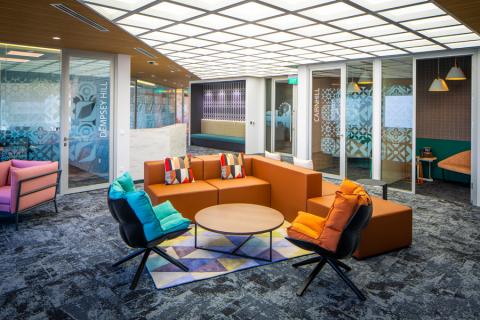 How ServiceNow's modern office design created a fun and inspiring space
How ServiceNow's modern office design created a fun and inspiring space
People spend one-third of their days at work – usually more. But what makes all the difference is not the hours they put in, but the work that they do. Think of spending a third of your day doing something you're passionate about, something that drives you. Now imagine spending the same amount of time, engaged in repetitive business processes that need to be done, but do not really satisfy you.
ServiceNow's goal is to use technology to automate and streamline such processes, so people can do less of the busy work, and really spend their days doing more of what they love. In other words, they seek to "make the world of work, work better for people".
This outlook earned ServiceNow the #1 spot on Forbes "World's Most Innovative Companies" list, and established the company as a leader in the Gartner Magic Quadrant for "Enterprise High-Productivity Application Platform as a Service Market". A company that is dedicated to making work better for others had to have a workplace that works best for its own employees. When ServiceNow reached out to us to design and build their office in Singapore, that is exactly what we had in mind.
Making work more comfortable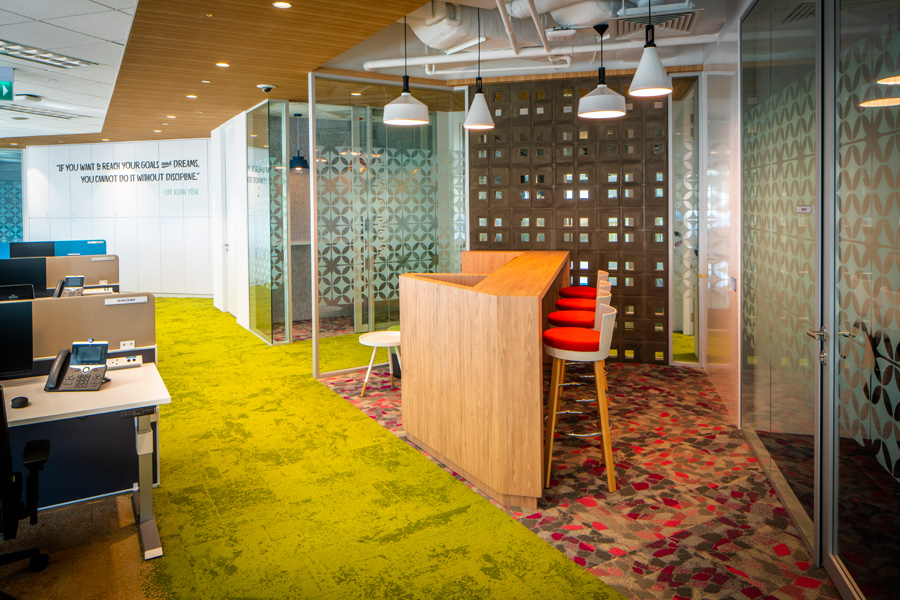 "When people work better, business works better." This is a value that forms the very core of ServiceNow's offerings. We adhered to this same belief while conceptualising workplace strategies for ServiceNow.
Whatever your role, there's nothing less inspiring than sitting in a dull cubicle, facing a wall. That's why the workstations at ServiceNow are built along the perimeter of the office. This layout lets employees work in a space bathed in natural light, and enjoy a bird's eye view of the city while doing so. Comfort is of the highest priority, so we added ergonomic chairs for everyone, as well as several height-adjustable desks that people can use when they feel like they need some movement.
To enable more collaborative conversations, we included comfy sofas and cushioned chairs in nooks around the floor, where employees can come together to brainstorm over a cup of coffee. There are magnetic writing walls to jot down notes and pointers during meetings or impromptu discussions.
Making work more focused
Collaborative work is an important part of an employee's day at ServiceNow, so the office needed to have ample open spaces, training rooms and meeting areas where one can have a meaningful discussion with a colleague. However, we wanted to ensure that the space provided sufficient meeting areas without being distracting for those engaged in individual work. This called for multiple smaller areas for focused work and private discussions. We met this requirement by providing several huddle spaces and focus rooms designed around the core of the building. We also included a few cosy phone booths that employees can retreat to for client calls or phone conferences.
Designed optimally, these angular rooms make the most of the irregular floor plate to ensure the spaces don't feel crowded. Glass walls and doors separate them from the open work areas while retaining the airy look of the office. From the largest boardrooms to the smallest booths, the focused workspaces are fitted with acoustic panelling to muffle sounds and minimise distractions.
The dimmable LED lighting is another feature in the ServiceNow office. Nothing kills workplace productivity more than the harsh glare of overhead lights or a too-dim glow that gives you eye strain as you're trying to read a detailed report. The LED ceiling installations in the boardrooms and reception areas let employees adjust the lights to achieve the most comfortable levels of brightness throughout the day. Apart from regulating the mood of the space, these lights come with an added green advantage – they offer 39% more savings in lighting power, compared to the BCA Green Mark Standard.
Making work more enjoyable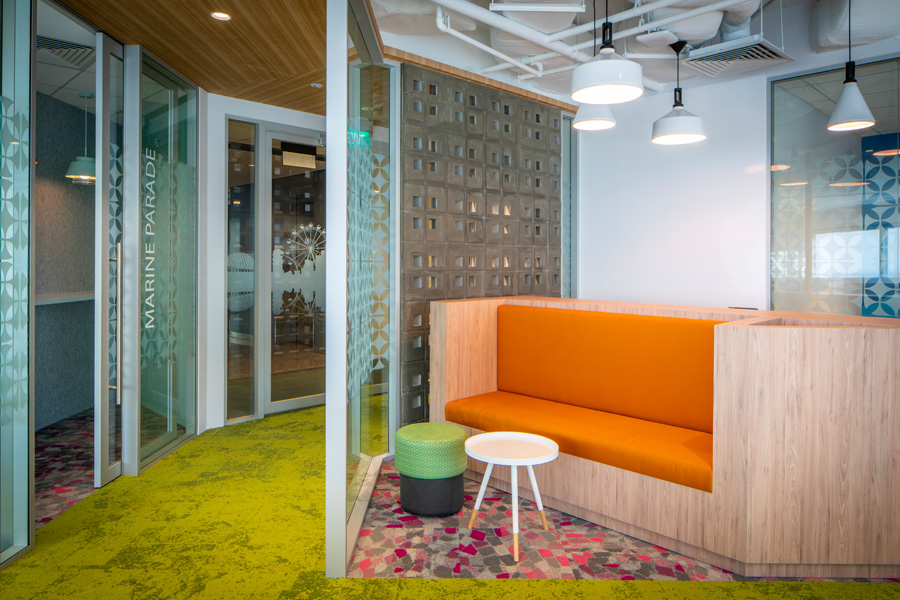 As important as the work they do is the culture that ServiceNow embraces. The company promotes a diverse, inclusive work environment where everyone can learn and grow. It was important to create a space that would contribute to this culture of belonging and togetherness.
Consequently, ServiceNow's office design features lots of cosy nooks, comfortable sofas, and soft carpets in bright hues. Be it the earthy timber patterns on the walls and ceiling, the pillars covered in lush greenery or the stylish accent lamps in the phone booths, each corner has a personalised, cheery touch to it.
The large communal kitchen area forms the buzzing heart of the workplace. Every feature of this pantry is designed to make employees feel at home. Attention has been paid to every detail – even the seating, which makes the difference between a cosy lunchtime catch-up and a rushed, uncomfortable meal break. We ensured that there were high and low chairs as well as soft and hard seating options to cater to everyone's preferences.
Wondering how your office can better reflect the values your company stands for while maximising workplace engagement? Let's talk about the way forward.