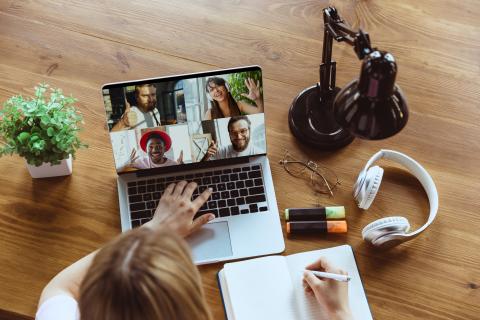 How technology can ensure workplace wellbeing in a post-lockdown world
How technology can ensure workplace wellbeing in a post-lockdown world
Over the last few years, technology in the workplace has come to be seen as something of a double-edged sword. Of course, one cannot do without it in one's day-to-day work life — but too much screen time and the constant intrusion of notifications have been shown to increase stress, anxiety and mental strain. While smart personal devices offer freedom and flexibility, they also blur the lines between one's work and home life.
But now for the first time, in the wake of the COVID-19 pandemic, technology might be linked to workplace wellness in a direct and definitive way. Many companies have already announced that they'll be shifting to a more flexible, remote way of working even after the lockdowns. With employees logging in from different locations and health and safety becoming top priorities, traditional wellness offerings will no longer suffice.
Here are 4 major ways in which technology will shape workplace wellbeing within this new normal.
1. Communication technology
Apps like Zoom, Skype and Hangouts have of course, been around for a while now — but so far, most organisations have used them only for business communication. However, the last few months have prompted employers to see the untapped potential of communication technology in the context of wellness.
With people being mandated to work from their own homes, employees around the globe reported feelings of isolation and disengagement. Communication technology has been valuable in making sure that they enjoy some face time with their colleagues and managers. As the pandemic continued, such apps started being used for virtual social gatherings too — be it casual Friday hangouts or post-work catch-ups.
Now, employers will want to explore the full potential of communication technology when it comes to de-localising wellness offerings. So instead of a company gym, they might give people access to physical trainers and online fitness classes over Skype. Instead of a crowded company picnic, they might want to host Zoom game nights or movie screenings. Even group meditation sessions, yoga classes and dance-offs hosted virtually can be fun, meaningful ways for teams to stay healthy, motivated and connected.
2. Wearable wellbeing tech
Given that shared wellness spaces like gyms and steam rooms are not safe options yet, wearable technology makes for a great alternative. Fitness bands, step trackers, heart rate monitors and nutrition apps are great ways for companies to look after employees' health and fitness goals. This kind of technology is especially relevant since those working from home might not be getting in enough movement otherwise.
Such wellness-focussed wearables also come with another advantage — they let people compare and share their progress with their colleagues. This gives organisations a unique opportunity to form a thriving workplace community that is centred around health and wellbeing. Encouraging friendly competition, hosting impromptu contests and giving away coupons and gift vouchers as prizes can improve workplace engagement and keep up morale.
Apart from existing technology, we are also seeing new wearable solutions that help bring about a post-pandemic change in culture and behaviour. For instance, a smart band was launched earlier this year that buzzes every time users touch their face. Such bands and sensors can really come in handy once employees come back to the office — they can help offer much-needed reminders to follow hygiene protocols and maintain the required social distancing norms.
3. Mental wellbeing apps
Though conversations around mental wellness have progressively become more acceptable in the workplace, organisations would be well advised to tackle these issues at a more macro level now. The pandemic has highlighted the need for (and subsequently, the importance of) having workplace policies around mental health. Technology can prove to be the easiest way to do this.
One option that companies can look at is giving employees access to paid mental health apps and resources like Headspace and Calm. This will encourage people to make meditation, breathing exercises and mindfulness practices a regular part of their day. Existing medical benefits can be extended to include external therapy and counselling services that promise anonymity — best of all, these can be easily accessed via apps. Similarly, telemedicine is also set to become more popular, with employees seeking digital help for minor medical issues — at least until it becomes safe to go to hospitals and clinics for check-ups again
4. Spike in in-office technology
When referring to in-office infrastructural technology, people usually think of meeting room booking systems, motion sensors, automated lighting and so on. But in a post-pandemic world, technology can also be put to use to ensure workplace wellbeing.
Of course, health screening is the first thing that comes to mind. But an element of fun and surprise can be added here, in the form of robots or digital assistants greeting people and carrying out the necessary temperature checks at the entrance. Tech offerings can go even further to ensure wellness — think smart HVAC units that monitor indoor air quality, maintain necessary levels of humidity and ensure proper ventilation. These will be crucial safety factors that employers will have to keep in mind as employees transition back to the company workspace.
Aside from the more logistical offerings, workplace technology can also make the office a more welcoming, soothing space to be in. People who have spent months working from home will likely be looking forward to the diverse work environments that the office has to offer. Rather than putting in safety protocols that require them to sit at one desk all day, employers should look at enabling a varied workday with the help of the right technology. For instance, as people move from individual workstations to work nooks, phone booths or meeting rooms, they usually have to operate door handles, keypads or light switches. Contactless access can help them sidestep these shared touchpoints. When they want to work from the biophilic café or the well-designed pantry space, they have to navigate crowds, shared surfaces and lots of face-to-face interaction. Smart café technology offers an ideal alternative — it allows people to order food and beverages from their phones or personal devices, and just pick them up when their order is ready. It can even remember their previous orders and set preferences, thus offering a very unique, customised experience. Further, strategic sensors can help monitor occupancy in these communal hubs, and alert employees if these spaces are getting too crowded.
Have you considered an updated technological approach to your workplace wellness strategy? We can help you there.