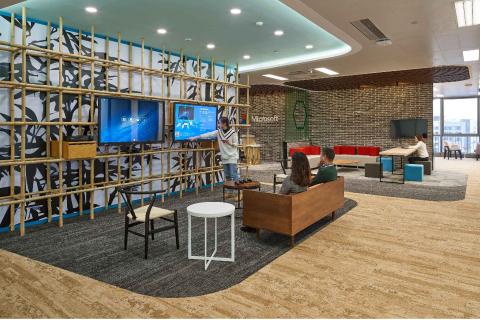 How Work-Tech is enabling the creation of Workplaces that fit the future
How Work-Tech is enabling the creation of Workplaces that fit the future
 
In today's era of a rapidly digitizing world with AI, machine learning, and new technology, it is hard to go about daily life without the divine intervention of technology. The interactive, engaging aspects of technology everywhere around us have introduced a seamless, smooth, on-the-go, and easy experience with most of the tasks we undertake. Therefore, it becomes difficult to envisage a routine life without technology.
Workplace design without technology is no different. The technology basically acts like an operating system for the workplace where different requirements of employees are integrated into one window of access for employees. Be it their access control, Parking spots, visitor management, meeting rooms, or ordering a cup of cappuccino everything can be done with a few clicks.
The post-COVID world brought about a universal change in the way workplaces function, turning our world topsy turvy and making the future hard to predict. It is Technology that gave birth to the hybrid working model, what emerged from the need to be able to work from anywhere has now given employees the world over an option to and with it the autonomy to work from anywhere. So, greeting your employees, new recruits, and clients with a workplace that is dynamic, tactile, and interactive builds excitement, motivation, and desire to work better and progress further. The traditional office workplace design utilizing hard, static materials for their work environment tends to make it dull and drains the enthusiasm and engagement of the workplace.
Surveys have found that most employees believe that a key aspect of creating innovative work is by working in an innovative workplace. Moreover, COVID has accelerated the automation and digitization of workplaces.This has resulted in the requirement of a modern office interior design that can help employees maintain their productivity even after switching to the offline mode while being at comfort in their modern working spaces. When Work-Tech meets workplace design, it automatically develops a personalized and intuitive experience for all those interacting with it. In workplace design, the primary benefit of technology is to give people flexibility and autonomy. Technology brings an equitable work experience by creating a 'phygital' workspace in the office interior that enables collaboration, empowers people, supports systematic implementations, etc. Here's how you can leverage the same:
1. Mobility & Automation
Workplaces that are ergonomically strategized, intuitive and agile are the ones that best suit today's workforce. There are some features in the office interior that need to be incorporated into the modern working spaces in order to give a personalised feel of the space to the employees. Such modifications in corporate interior design make the space best suitable for working efficiently. Height-adjustable desks, focus pods, and personalized configurable meeting rooms to bring in a balance of WFH and workplace by using human-centric lighting, and preferred temperature are some of the physical incorporations of tech-driven design & built. These enable efficient modern working spaces and boost productivity to make work an enthusiastic feat.
Furthermore, meeting spaces are now equipped with state-of-the-art video conferencing to bring collaboration equity between people working from the office and those working from the office. Employee experience is at the forefront by making sure the employees get a preference in what kind of a workplace they want to work from.
The Meeting rooms are equipped with AI-enabled speaker tracking cameras that shift focus on individuals who are talking so that people at the far end are able to keep in touch with the discussion happening and provide a more equitable experience.
The hybrid evolution of workplaces and work schedules has also rendered physical swipe cards, and biometric scans redundant when letting employees record the beginning and end of their shift. Employee logins are now switching to Bluetooth-based access control systems. Cloud-based connectivity and in-house tech innovations make the employee login experience seamless and quick.
Nestle uses the state of the art equipment for their workplace where they used AI-enabled cameras for the boardroom to have collaboration equity between people from remote and people in the office. The workplace is equipped with Microsoft Surface Hubs for having an interactive discussion and joining calls and collaborating. We have created a large town hall space where the people from multiple floors join together and have a very collaborative session. 
2. Architecture + Technology
Another integration of tech within workplace design is that of including technology into the very infrastructure of the workplace. As the world moves forward from simple flat screens, and virtual weather updates to a digitized world, and even a metaverse. The modern workforce genuinely enjoys design that they can collaborate with. Screens responding to gesture movements, electricity powered by the kinetic motion of people walking on the floor, and virtual elements of nature embedded within the walls, are some of the ways how technology blended within the workplace's architecture speaks and moves the workforce within.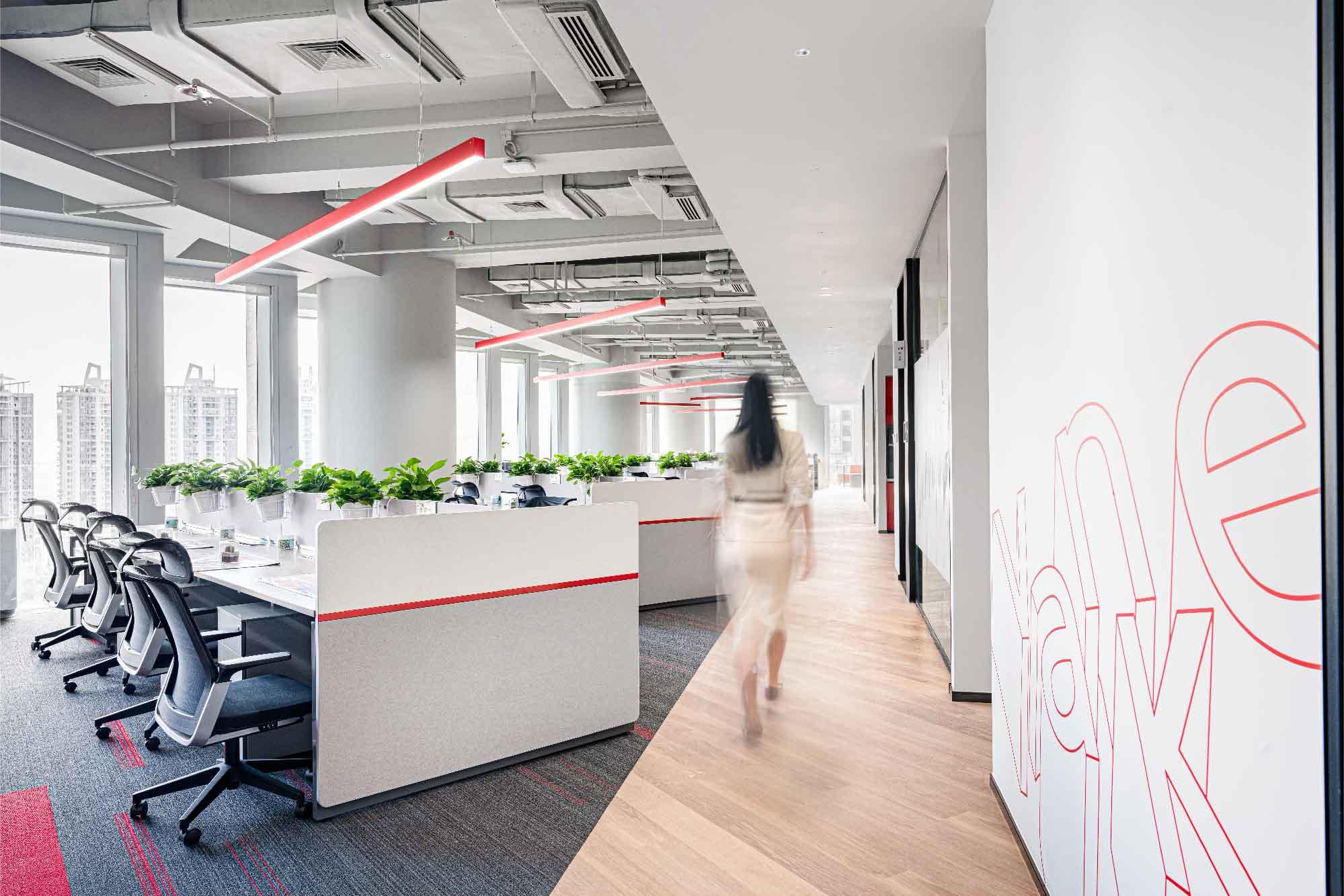 The idea of using a virtual headset from home in order to attend meetings may appeal to employees and businesses alike, as it would save time and money for both. And this isn't just a perk for office working, as it can be easily used to tour places, view products, and meet people from across the globe.
There are also metaverse platforms that allow you to host any event or meeting at a place of your choice. Be it outdoors like a beach or a hill station, or indoors like in a cafe or a club. Metaverse platforms have even enabled us to venture into fantastical worlds like another planet.
3. Personalization
For a workplace to be genuinely engaging, it ought to create a differentiated experience for the different people that will interact with it. Technology is playing a key role in bringing the element of personalization to the post-pandemic workplace where employees have moved away from the traditional fixed seating to hybrid seating. People now have a choice to sit in different kinds of workplaces based on the type of work they are doing. They can choose if they want to sit in a buzzy zone or a focus zone.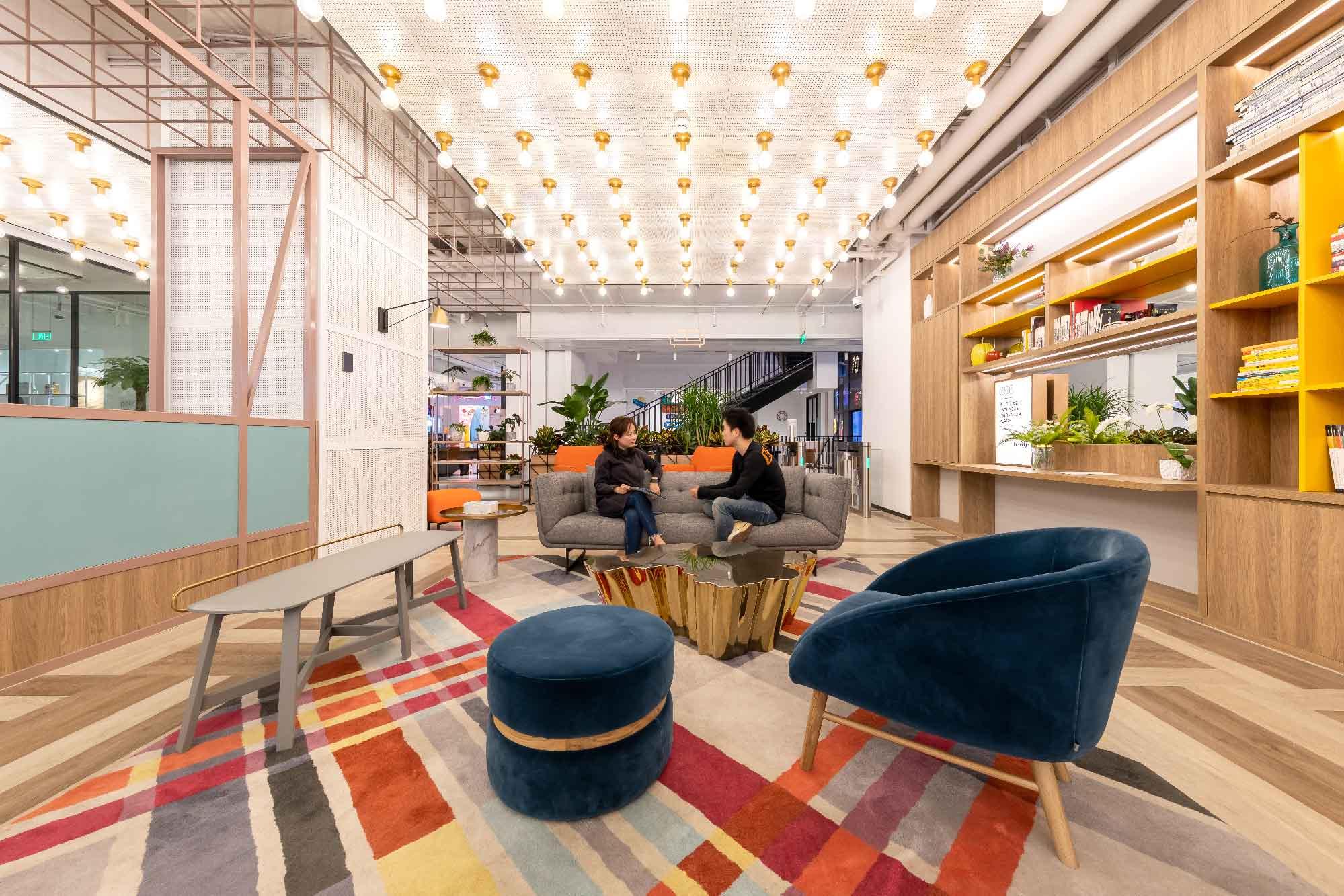 The choice of temperature in an office is the most challenging one as different people like different Temperatures throughout the office. We can give data to employees like temperature levels, IAQ levels, Noise levels, and the number of people in a particular zone so that employees can choose whether they want to work in collaborative zones or focus zones.
We have set up RESET® certified centralized and decentralized air purification systems and IAQ monitors for a real-time view of indoor air performance at Gartner's Centre of Excellence in Gurgaon.
Adding to that, the engagement for frequent visitors like employees versus one-time visitors will be different. Employees spending most of their time in their workplace now prefer an environment where their routines can be automated and do not require manual intervention to configure simple things like AC settings, choice of coffee, locker security, etc. On the contrary, one-time visitors will need a more on-the-spot, wow element that is quick to sweep them off their feet and is memorable.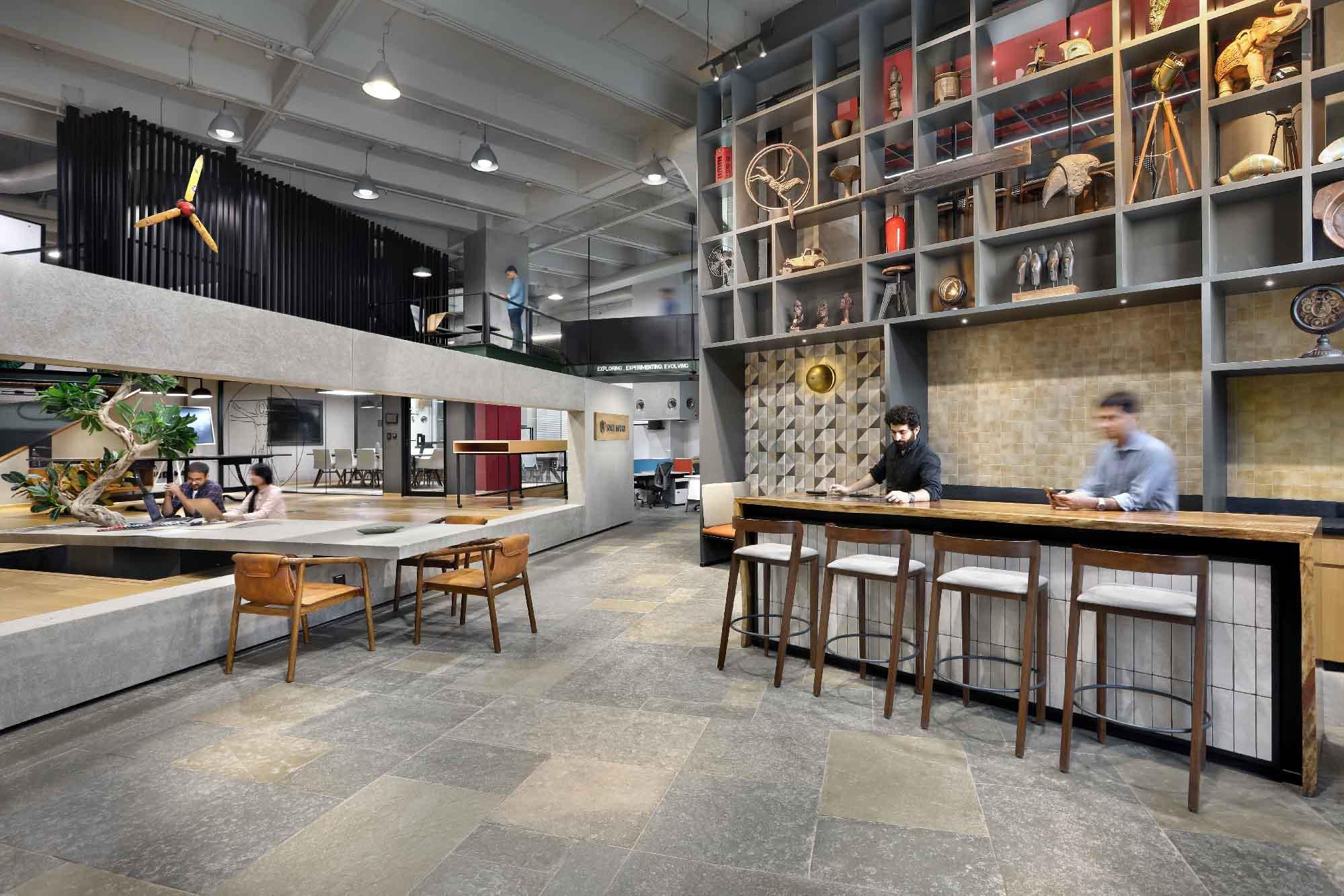 Technology contributes significantly to this experiential concept we have created at [β] Lab. We have a comprehensive system that uses the latest IoT technology platform that integrates building and lighting management systems with workplace technologies and AV systems. The platform can be intuitively operated through our Space Matrix app (WorkspaceOS) ), which lets our colleagues regulate and customize their immediate micro-environment as per their pre-set preferences in an extremely intuitive manner, without any intervention. 
As workplace design develops, competitive salaries and better work culture no longer become the only aspects employees consider while moving jobs. A personalized, welcome experience that not just enhances their productivity but also empowers them to be more creative and innovative becomes a key factor in attracting and retaining talent that matters. Tech-enabled workplace design ensures a sustainable, ergonomic, and seamless workplace.
Technology is no longer a good to have but a must-have, in fact, today's mostly-millennial candidates want to engage with forward-thinking digital businesses that orient towards an evolved EVP (Employee Value Proposition) that reflects technology as a key ingredient.  Keen to embrace a future-facing workplace strategy and set up your business for success? We can help! Reach out to us for a consultation.