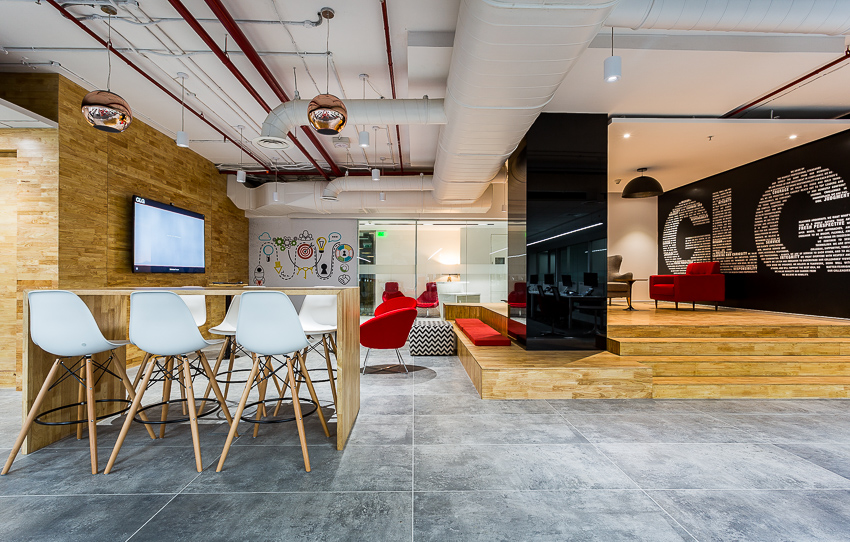 Inspirational office design: How GLG Mumbai attracts & retains millennials
Inspirational office design: How GLG Mumbai attracts & retains millennials
Millennials are changing the way we look at office interior design. Due to the changing nature of working culture - think Google - millennials prefer a more relaxed and flexible work-setting. Instead of traditional stuffy workplaces, today's brand of employees expect comfortable and welcoming work environments that inspire creativity. More companies are hence turning to modern office spaces to cater to their younger employees' needs.
Additionally, job-hopping is becoming increasingly common, with millennials in particular regularly switching jobs. This means that employers have to think of new ways to retain talent instead of merely offering competitive salaries. In a notable departure from offices of the past, more importance is now placed on office design that reflects the company's corporate culture. It is therefore important to modernise workspaces to appeal to both employees and clients.
Even traditional businesses such as consulting firm (GLG) Gerson Lerhman Group are adopting innovative office spaces. Although GLG is a professional institution, its core staff are young millennials who require a dynamic working environment. Therefore GLG's new office in Mumbai had to be a nice balance between structured and relaxed.
Space Matrix achieved this in three ways:
1. Blending fun with formality
Work habits are evolving and a 24/7 global workplace trend is beginning to replace usual 9 to 5 hours. In order to increase productivity, employers need to provide workplaces that offer spaces for recreation and relaxation. If the comforts that employees seek at home can be found in the office, longer or irregular working hours can be easier to cope with.
Although GLG emphasizes the seriousness of their business, the team enjoys hanging out and having fun together. The aim was thus to provide spaces in the office to allow for employees to unwind. These spaces include pods (community settings) for team huddles, a cafe that can be converted into a recreation space and a town hall setup for group discussions. These spaces can be easily transformed and decked up for team events and celebrations.
To add to the casual setting, these common areas were given the look and feel of urban cafes - the popular hangout choice of today's generation for employees looking to take a break by themselves. There are quiet pods that are located along end-to-end glazing. The unhindered view and openness of the space allows the outside to flow in - thus bringing in nature and life into the space. Being able to overlook the rows of trees and landscaped areas outside provides one with a quiet space to think.  
However, careful planning was required so that these elements increase productivity instead of functioning as distractions. The individual work desks and enclosed areas in the office have thus been kept formal.
2. Providing flexible work spaces
Millennials welcome active collaboration and knowledge-sharing. At the same time, more employers are recognising that meeting rooms aren't necessarily the best spaces for collaboration. In the GLG office, employees have the freedom to choose from different work settings and collaboration areas to best suit their work requirements. Although there are quiet rooms and desks that cater to individual focused work, there are many other options available as well.
The main element that encourages collaboration is an open plan concept. Workstations with low height screens allow for eye contact and easier discussion. Both sit and stand desks are available to choose from, and high community tables are provided for team huddles. Additionally, desks can be rearranged for small to large group discussions. There is also a stepped seating area that allows for townhall type group discussions.
One of the main challenges was taking on an office that would need to accommodate future growth plans for at least five to six years. To address future expansion, Space Matrix designed a work area that still has room to add more desks.
3. Maintaining brand identity
Although adapting to trends is important, not all convention needs to be thrown out the window. GLG prides itself on its image and wanted to maintain its identity in its new office space. The arrival area impresses clients and visitors by being minimalistic, yet depicting the strong brand identity. Additionally, the palette and style of the workspace followed their global guidelines.
The work area and meeting spaces were also kept very formal in terms of layout, finishes and overall look and feel. Walking through the entire office, one gains a sense of a transition of space. A welcoming reception area opens up to the fairly large team area which overlooks an amphitheatre setup. Visitors will also notice an informal meeting lounge on a raised platform and a set of formal meeting rooms.
These various elements offer a range of choices for guests. The differences in levels and privacy settings also create varied exciting ways to perceive one space. The end result is a seamless transition between the client experience area and focused work area that reflects GLG's ethos of transparency and open communication.