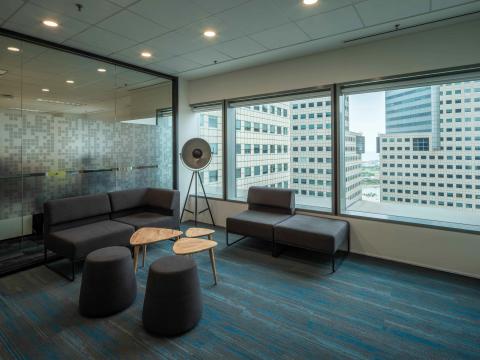 Leading by example: Nutanix Singapore's sustainability-focused workspace design
Leading by example: Nutanix Singapore's sustainability-focused workspace design
"In the future, every industry should be an environmental industry."
- David Miliband
Indeed, companies that intend to be a part of the future, understand and embody this thought. Modern firms are moving away from a solely profit-driven outlook, and are realising the importance of business operations that are sustainable over the long term.
Nutanix is one such future-focused company that recognises the importance of weaving sustainability in with everything they do. Headquartered in California, Nutanix is an enterprise cloud company that makes data-centre infrastructure efficient and invisible. It aims to converge server, storage, networking and virtualization to offer the ideal data-centre solution for the multi-cloud era.
As its sales headquarters in Asia, Nutanix's new office space in Singapore embodies the company's focus on sustainability. Here's how it was done.
Conserving energy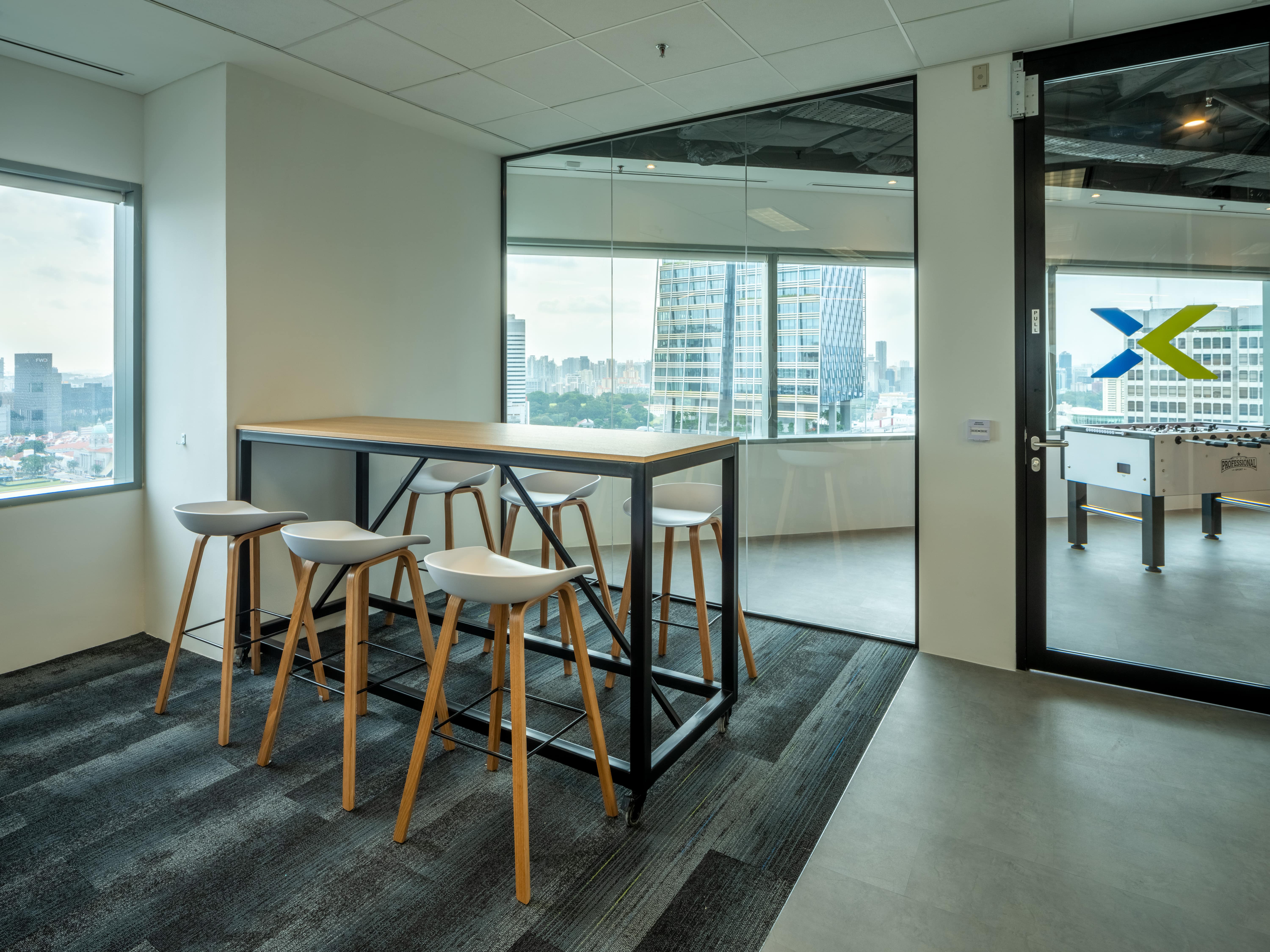 We designed the peripheral spaces in a way that makes optimum use of natural sunlight. Open plan workspaces, meeting rooms with wide windows, casual discussion nooks and relaxation zones are all placed along the perimeter of the office so that employees need not bank on artificial lighting in the day. These areas are also fitted with daylight sensors that detect the level of brightness outside and adjust the lights within the office. This prevents the space from being over-lit, thereby reducing energy wastage and enabling mindful consumption of electricity. The inner rooms, which are primarily lit by electricity, are all fitted with occupancy sensors. This ensures that lights are not left on needlessly, in empty meeting rooms and unoccupied areas.
For further energy efficiency, we used LED light fixtures and Energy Star appliances throughout the office. We also installed an Advanced Energy Metering System, which would track energy usage patterns across the workplace and offer valuable feedback. This feedback would help guide future upgrades and improvements.
Water consumption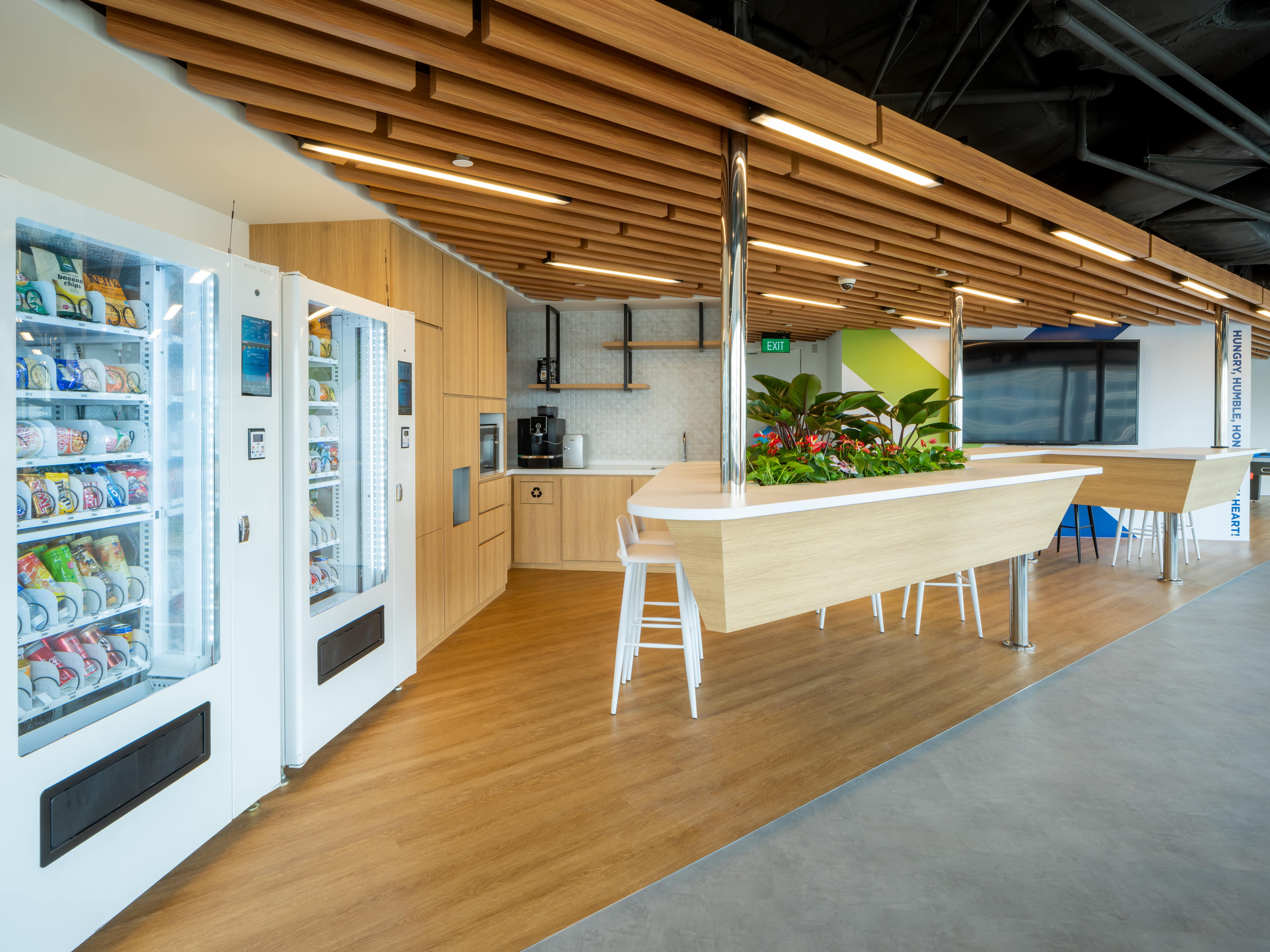 Water is yet another resource that is over-utilised in many workplaces. Washrooms, pantry sinks, bathroom faucets and showers in offices all use hundreds of gallons each day, which is not only wasteful, but also contributes to huge utility bills. In fact, toilets alone utilise over 20 gallons of water per person every day.

The sustainable workplace strategy in the Nutanix office helps regulate rampant consumption and prevent unnecessary wastage. Low flow water fixtures are fitted across the office. These fixtures reduce the amount of water consumed each time an appliance is used, while still ensuring that it functions properly. They are built inside cabinets to maintain the clean, uncluttered vibe of the space.
Waste management
Waste generation in Singapore has increased exponentially over the last few decades. In 1970, the amount of waste generated per day was estimated to be 1260 tonnes; 2015 saw that amount spike to 8400 tonnes per day. This increase puts tremendous pressure on Semakau, the country's only landfill.
The Nutanix office is designed to tackle and minimise this issue at source. Waste materials generated during the construction of the office were handled mindfully – 75% of this waste was sent for recycling instead of to the landfill. Eco-friendly products were chosen for the office interiors, with materials high in recycled content being preferred over their unsustainable counterparts. For instance, the carpets used across the office are all made of recycled nylon textile, which will not pollute the environment, even when they are eventually disposed.
The green initiative has been taken forward after the construction stage too. Green education is imparted to employees and visitors through green signages and booklets. The office is equipped with differentiated bins so that everyday waste like paper, cans and plastic are segregated at source.
Chemical and material management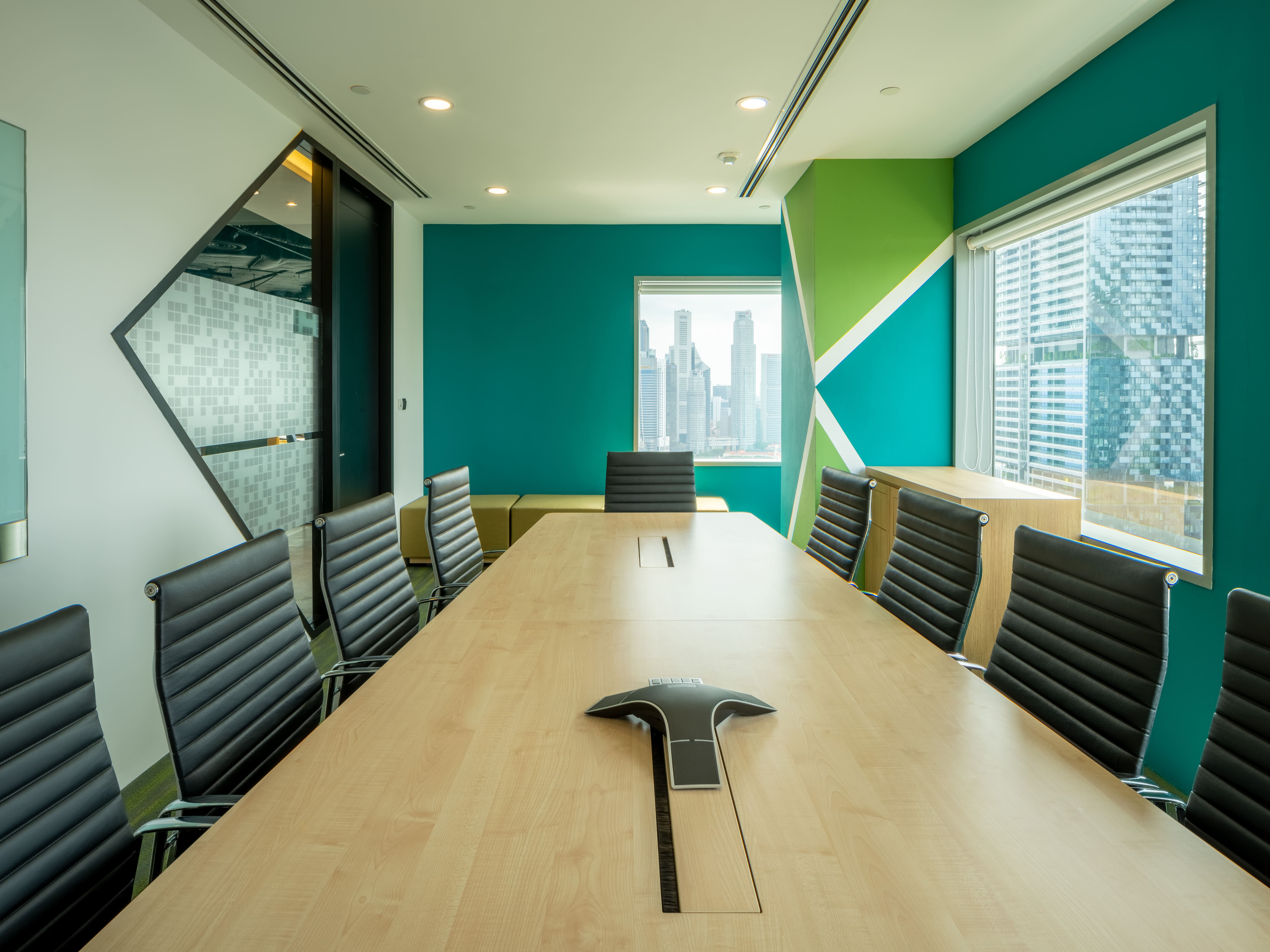 Apart from cutting down resource wastage, the sustainable workplace design of the Nutanix office also helps effectively manage chemicals and other harmful materials.
Given that employees spend a lot of time indoors, we paid special attention to Indoor Air Quality (IAQ) hazards that may impact their health and wellbeing. The office has ventilation fans at strategic locations, which not only helped diffuse polluted air during construction, but also continues to prevent toxic build-up as the space is used. Apart from this, the Nutanix office uses green certified chemicals for cleaning, polishing and other housekeeping activities, to minimise health risks. Reducing IAQ hazards was one of our top priorities during construction too. We opted for products low in volatile organic compounds (VOC) when selecting paints and finishes for the office. Proper duct covers and protective materials were used at all times to reduce the harmful effects on health during construction.
Batteries, mechanical spare parts and electronics form a huge part of corporate waste. The Nutanix workspace is equipped with dedicated bins for such materials. This toxic e-waste is collected and managed separately from everyday refuse like paper and plastic.
Looking to implement a green initiative at your workspace? Let's talk about sustainable office design concepts that can work for your business.