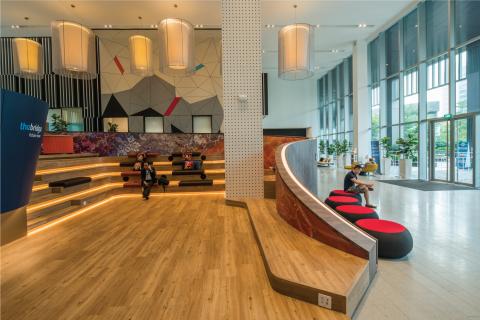 Making your workplace an experience enhancer
Making your workplace an experience enhancer
As the world strives to redefine the workplace in the post-pandemic era, getting employees back to work is something that organisations have been looking forward to for a long time and leaders are considering how to create excitement for returning to the office and what that return should look like. 
The pandemic brought many changes that made many of the workforce accustomed to flexibility and comfort like never before. Virtual collaborations and teamwork became the new normal and worked effectively against all odds. So, as employees get back to work and become accustomed to their old surroundings all over again, organisations have sought various ways to enhance the employee experience at the workplace. 
This is being implemented by ensuring that each employee gets to interact with multiple experiences that elevate their mood, encourage creativity, enable a choice of space, and boost productivity.
Here are some ways to make your workplace an experience multiplier:
1. Leveraging in-between spaces
Dedicating entire workplaces just for work is a traditional approach, and becomes very monotonous. Organisations are focusing on utilising the in-between spaces, cosy nooks, and corners to invite employees to a more welcoming environment. Including biophilia, artistic walls, customised partitions, etc. go a long way when determining how to keep your workplace aesthetically pleasing and useful.
 
Our design strategists enhanced the dynamics of Loreal's China campus by creating choices through modular spaces, personalised functions and customisable feel. We created a kit of parts to enable the users and departments to express their individuality. Unique 'beauty spots' throughout the campus unify the identity of the space and bring a healthy balance of celebrating individuality and diversity while also being tied to one purpose.
2. Tech-free spaces
Ambient sound and light become natural rejuvenating elements when giving your employees space to reset their minds. Tech-free spaces let them take a break from the glaring screens and interact with spaces or people around. A corner of the office with a view or a space with a swing or bean bags helps employees relax and give them a sense of comfort within the workplace.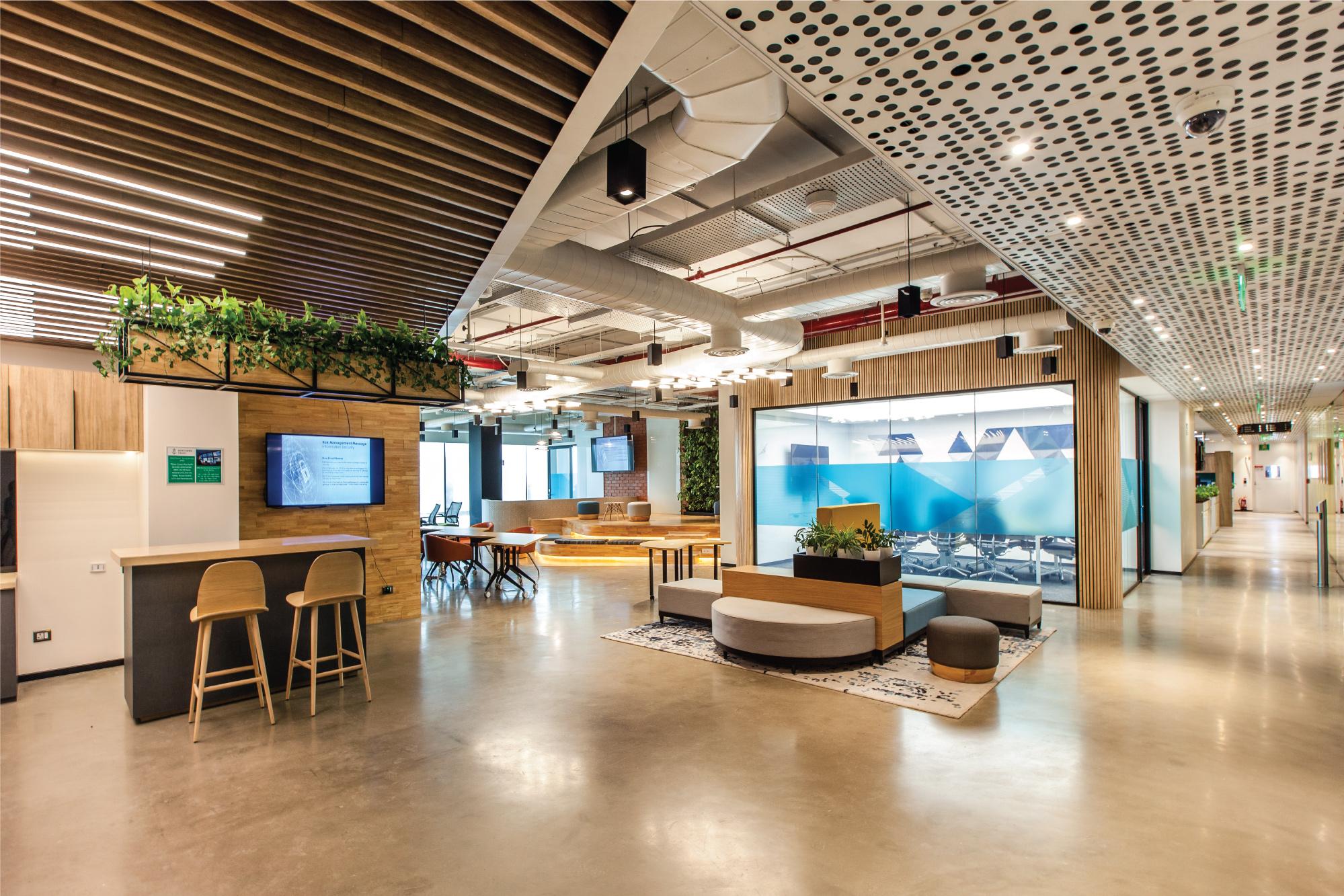 At Northern Trust's Pune office, the automated sun-controlled blinds move up or down, depending on the sun's rays. The circadian lighting system takes its cues from the angle, brightness, and intensity of the sun, and optimises the light indoors accordingly. Apart from being gentle on the eyes, it also helps employees maintain their natural circadian rhythm, thereby improving workplace productivity.
3. Outdoor spaces
With the sun, clouds, and dynamic wind and air pressure, time spent outdoors is marked by constantly changing temperatures. Compare this to the constant blast of air conditioners in offices, which are often kept in a single setting around the year, making people feel cut off from the outside world.
In the post-pandemic workplace, HVAC systems have to mimic biophilia. Aside from getting intuitive HVAC units that mimic the weather outside and regulate the temperature constantly, the post-pandemic workplace needs systems that introduce fresh outdoor air into the office more frequently than before. Operable windows and air vents over individual workstations are important to ensure air quality. In cities where the weather permits it, one can create beautiful open-air nooks for people to work and relax. For the Adobe office in the cloudy city of Bangalore, we used the often under-utilized rooftop area to create a cosy work corner with wooden seats, greenery all around, and bright lights.
4. Differentiating between private and collaborative spaces
Distinguishing the workplace with neighbourhoods that are dedicated to socialising and teamwork, and private spaces like productive pockets or cabins that are specifically designed for focus-centric work. This will ensure that the employees have a variety of spaces to choose from and can match their working style with their surroundings.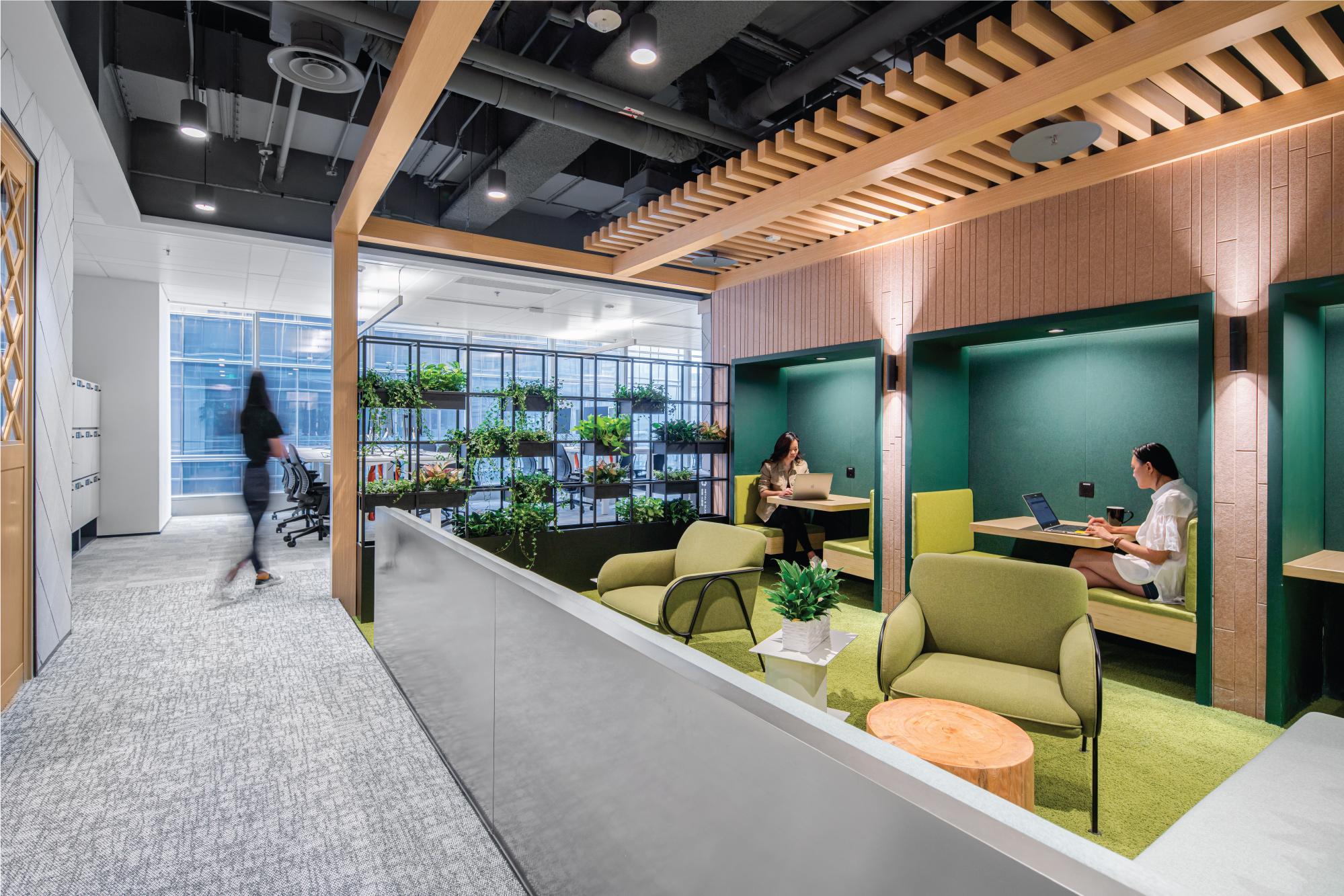 To build a sense of community the design concept at Airbnb's Beijing office revolves around creating neighbourhoods based on Beijing's traditional housing styles that come together to create private courtyards. Each of these neighbourhoods are themed based on iconic neighbourhoods and traditional parks of Beijing. The themes of these community spaces were chosen to appeal to different users and evoke different moods and emotions.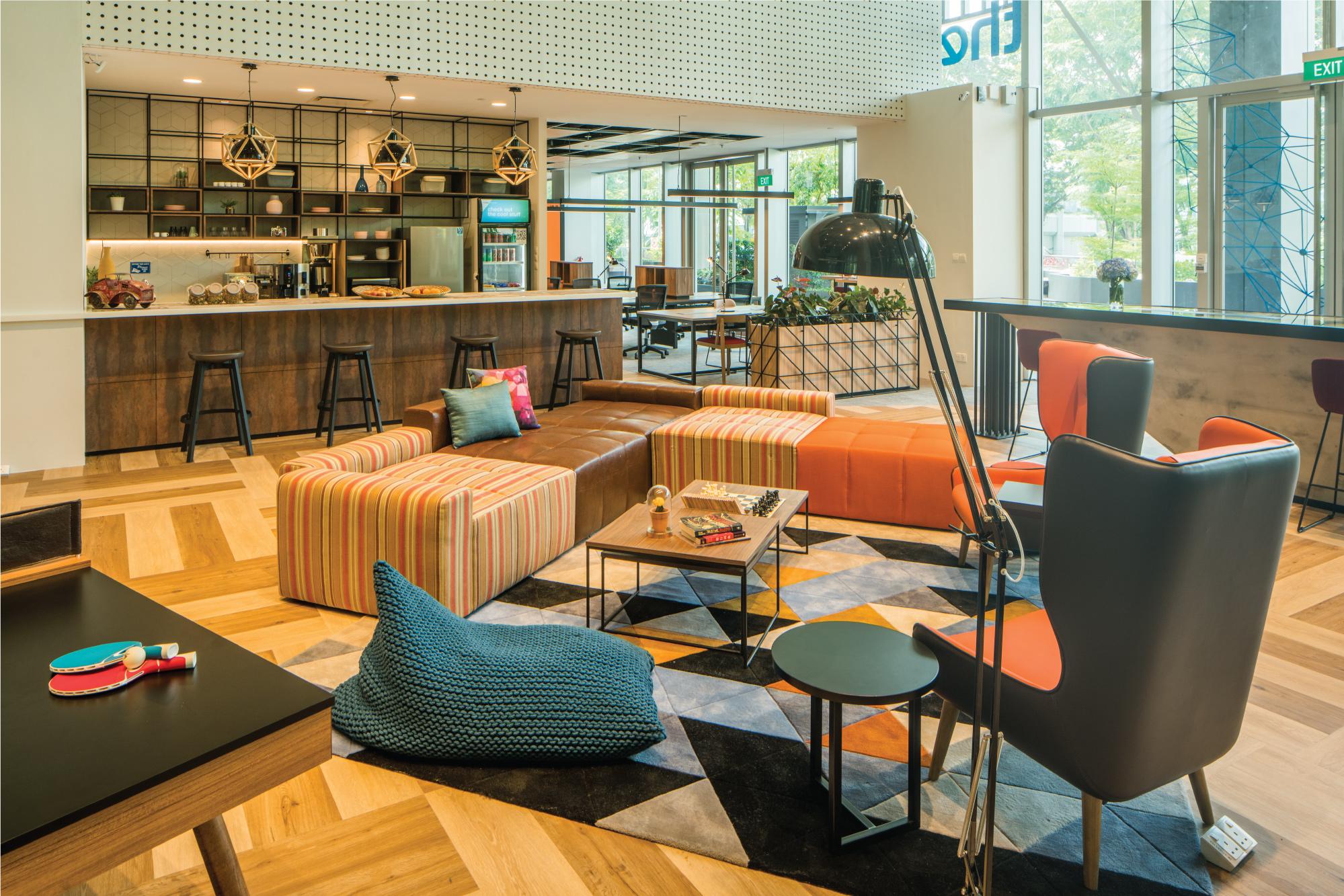 Flexible workspaces at bridge+ Singapore consist of standing workstations, informal amphitheatres and seating areas. These workspaces are entwined with recreational zones that allow for collaboration in a relaxed setting. Work-life quality therefore improves immensely and patrons can not only have access to a workspace but also to a host of other services.
5. Competitive socialising
Implementing play zones at the workplace is a fun way to let employees unwind and interact with each other outside of work. Organisations are taking this a notch higher with competitive socialising through golf - simulators and extensive gaming zones to engage employees in truly tech-implemented surroundings.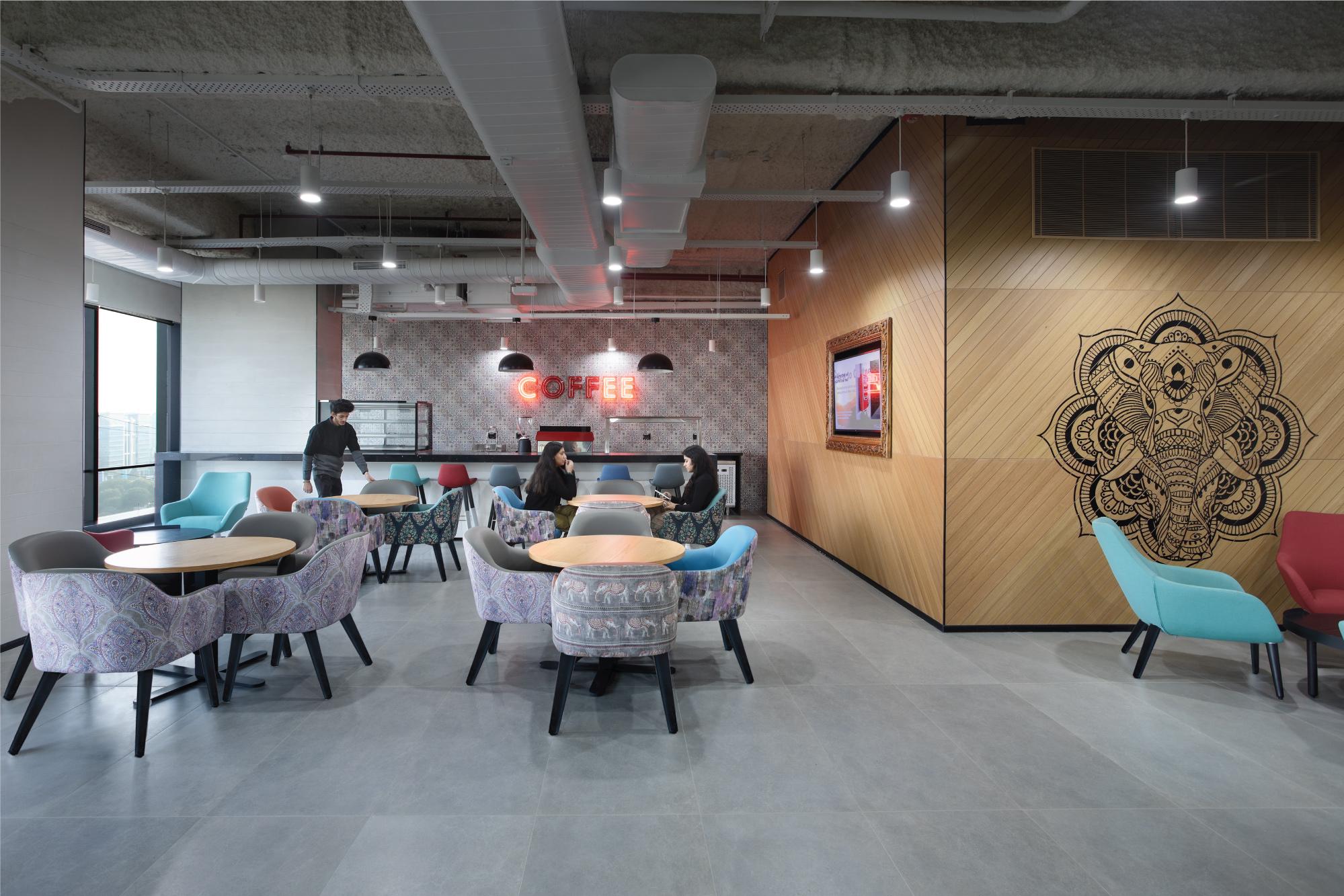 Recreation is given severe thought at Gartner's CoE in Gurgaon. There are ample opportunities on each of the floors for employees to amuse and entertain themselves. Each level has a recreation zone — all featuring a different activity that people can enjoy. For instance, there's a ping pong table  with brightly colored paddles covering one wall on one level. At another level, one can challenge their colleagues to a game of pool. Another level features a one-of-a-kind, permanent installation in the form of a VR cricket pitch, making this the first office to have such an entertainment offering.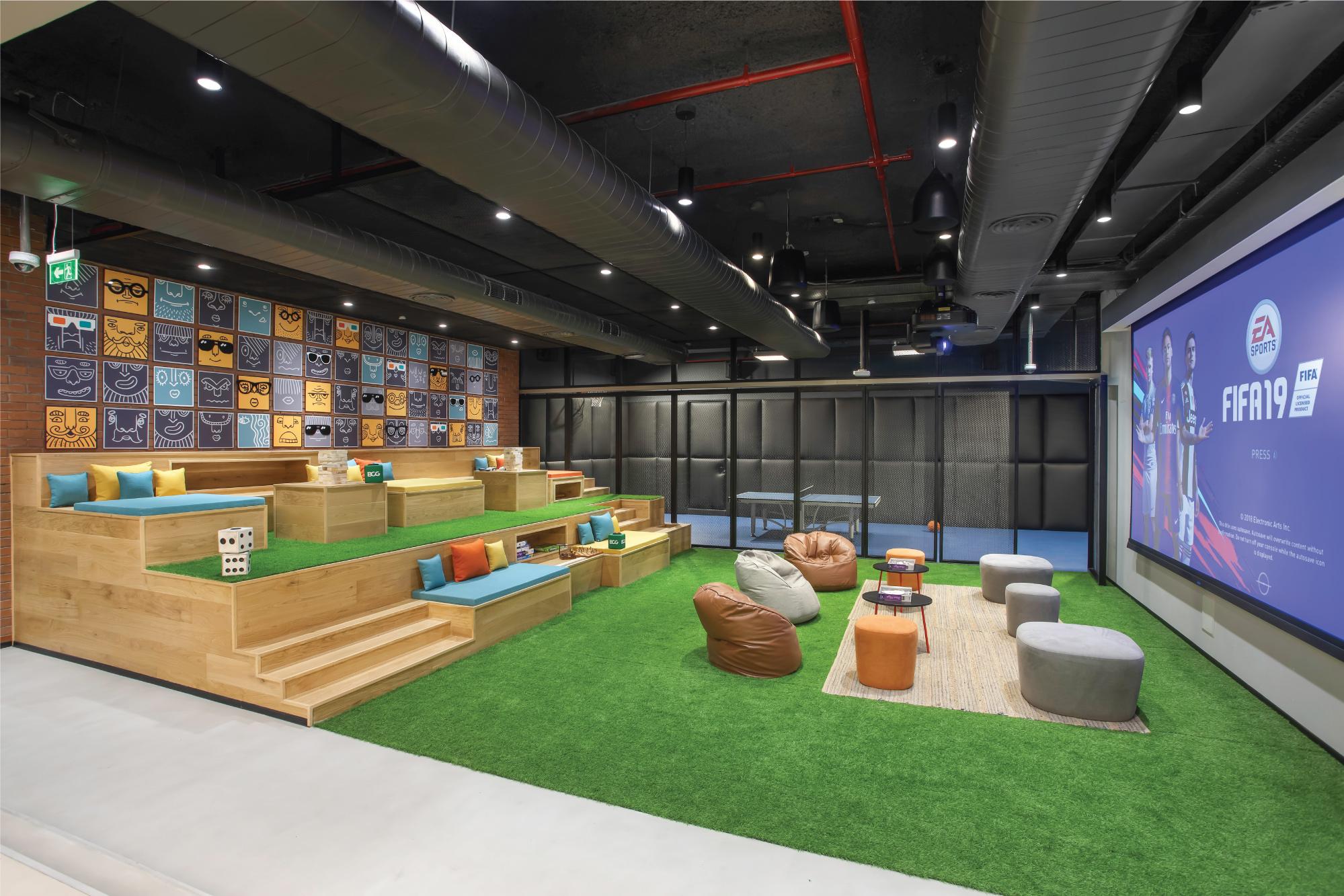 Work aside, the BCG office also makes space for recreation, enjoyment, and social interactions. Over at the recreation area, you can't miss the atmosphere of fun and frolic. You may see some employees here already, enjoying a spot of table tennis or pool, while others sit at the stepped area, laughing, chatting, and playing a board game. A giant screen on one wall means that post work, this space gets transformed into a theatre to host movie nights for the team.
6. Spaces encouraging new technology
Tech-enabled furniture, meeting rooms that memorise your ambience preferences, secure lockers, etc. are the need of the hour today. Tech-first workplaces ensure convenience and efficiency with the spaces that employees work in, therefore accelerating their productivity.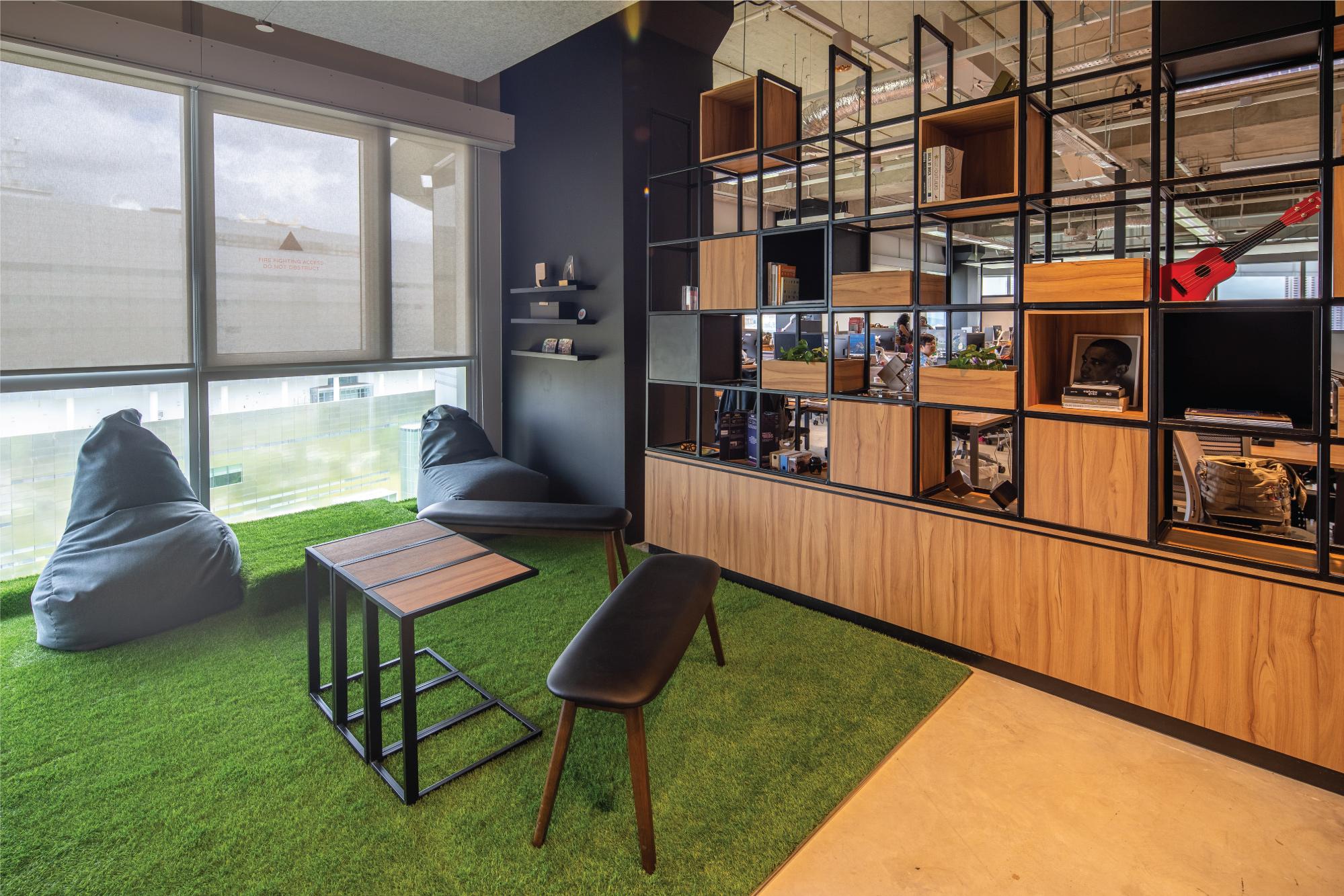 Smart technology can make life easier for startup employees by automating tasks, streamlining processes, and making the workday more comfortable overall. In designing a software giant's office in Singapore, we incorporated technology into the very core of the space. Be it the dimmable, dual-purpose lighting that lets employees adjust the level of illuminance, or the acoustic elements in the meeting rooms that muffle ambient noises, smart elements are effectively used to make work easier and more comfortable for employees every day.
With all these strategies, the key is providing workers with choices. While workplace experiences can be leveraged in a variety of ways, ensuring that the right experience is implemented within your workplace sets the tone for your brand and work culture. In the post-pandemic future, the office should be a place that motivates workers and supports them in doing their best work. By designing the workplace to serve as an experience multiplier, companies can provide much more than the backdrop for conducting business, making the office a space where creativity, collaboration, and innovation thrive.
For more input on how you can make your workplace an experience multiplier, talk to our design experts!