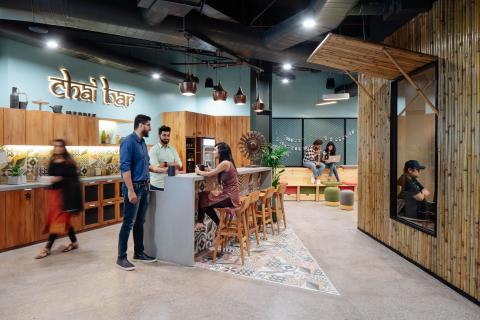 Why your office cafeteria holds the key to your workplace wellness strategy
Why your office cafeteria holds the key to your workplace wellness strategy - office design ideas
If the kitchen is the heart of the home, a pantry space or a cafeteria is surely the equivalent, when it comes to corporate offices. And yet, when charting out a workplace wellness strategy, many organisations overlook the cafeteria — putting all their focus on gyms, spas and other luxury offerings instead.
However, this can be a huge missed opportunity. The cafeteria may not be a unique offering, but it is a simple, powerful tool to foster health, happiness and emotional well-being among employees. Here are a few reasons why the café or pantry is so important when it comes to ensuring wellness, boosting morale and improving workplace engagement.
A starting point for health, nutrition and wellness
The pandemic has brought home the importance of healthy dietary practices — and people now pay more attention not just to what they eat, but also to how they eat their meals. A year of working from home has got them accustomed to taking a short break during their lunch hour to eat away from their desk, with their family for company. Now as they return to the office, more people are going to look forward to retaining these mindful lunchtime rituals.
The cafeteria can then be the springboard for your workplace wellness strategy. Imagine an open, airy space with lots of natural sunlight and great views. The Forrester office in Singapore is a great example of this. Their wall-to-wall windows are complemented by biophilic interior design elements like a wood-beamed ceiling, long wooden tables and hanging fern planters, which together, make the pantry extremely cosy and inviting.
Since the cafeteria is where people come to relax and refuel, it is also a great place to promote healthful eating practices — be it through overt messages or more subtle strategies. The Rubrik workspace in Bangalore, for instance, has fruits and vegetables making up over 50% of their food offerings. They are displayed prominently at the very start of the food service line so that people are more likely to go for these healthy choices. The Forrester Singapore pantry too, stocks a lot of herbal teas, milk, fruits and nuts to encourage healthy snacking through the day.
A site for social gatherings
Apart from just the meals, the pantry or cafeteria is also where people come together to enjoy casual social interactions. Good design can encourage and enable such interactions in a safe, organic way. We recently worked with a tech firm to create a fantastic 400-seater cafeteria that is an experience as much as it is a dining space. We included an oversized island counter that can host everything from live cooking demonstrations to an active Barista station. A variety of seating options are dotted around the island, so people can lounge comfortably as they enjoy these café offerings.
Hilton Singapore's marquee social café too, is big on dining experiences. This cafeteria leverages F&B trends to offer its users everything from cold brew on tap to frothy cappuccinos made to order and whipped up by trained baristas at the coffee bar. Come lunch time, the café staff sets up a hot food buffet station, thanks to the concealed stoves and cooking ranges in the pantry. To take this social vibe even further, Hilton has opened up their café to their guests and clients, so that meetings, discussions and brainstorming sessions can be hosted over breakfast or coffee.
A home away from home
Transitioning back to the workplace, employees are sure to crave some of the home comforts that they had grown accustomed to. The cafeteria or pantry can be the perfect place to answer to these needs. The vibe in these spaces can be cosier and much more casual than the zones that are strictly meant for work. This is where you can consider putting in some cushy chairs, glitzy bar stools, soft lighting, lots of greenery — and perhaps a comfy sofa in one corner with a wide screen television where people can gather around for matches or movies.
As a place associated with creature comforts, multi-sensory experiences play a huge role here. The aroma of brewing coffee, the gentle hiss of the milk frother, the sight of fresh baked goods lined up at the counter or the tactile experience of sinking into a soft chair can all be leveraged to soothe people's senses and put them at ease, even if they're just using the space for a quick coffee break.
An alternate space to refresh the mind
Sometimes, these very elements that help people relax, are also the things that get their creative juices flowing. Sitting in one spot and staring at a screen can quickly become uninspiring. The kitchen or the pantry can then be the perfect alternative space to help people break out of a mental rut.
A well-designed kitchen or café plans for this. It comes equipped with extra wall sockets, large TV screens and great WiFi connectivity so that employees can settle down here to work for an hour or two, preferably accompanied by their favourite beverage. However, another thing to keep in mind while designing a pantry or a cafeteria is that these spaces might be used for larger, team-wide or company-wide discussions too. The RHTLaw Asia office in Singapore caters to this very well. The staff café there is fitted out with sockets, screens and projectors, and can accommodate 50 people at a time. But on one side of the café, there's an operable wall which can be opened up to converge the space with the boardroom next door. This makes it ideal for everything from formal townhalls to more casual gatherings and movie screenings.
Reinforcing a positive sense of brand identity
The office pantry is one place where employees are typically not too focussed or pre-occupied by work, so it's a great opportunity to reinforce the brand's culture and identity here. The key is to do this in a subtle, yet memorable way — something that Coca Cola's Singapore workspace exemplifies beautifully. Upon entering the pantry, the unique light fittings immediately catch one's eye — they are made with the iconic curved glass bottles that one automatically associates with the brand. Moreover, these upcycled bottle fittings showcase Coca Cola's commitment to sustainability too.
Likewise, Arisaig Partners uses their pantry design to pay homage to their Singaporean roots. Although the pantry is chic and modern, with gleaming countertops and bar stools, it features a backsplash on one side, made of traditional Peranakan tiles. Such subtle touches can be a great way to add a characteristic geographical flavour to a workspace — something that global companies may find particularly useful when it comes to building a local identity. Seen purely from an emotional point of view, having a strong, memorable brand identity fosters a sense of belonging and company pride. It helps employees feel like they are a part of something bigger than themselves — and that everyone is unified through a common goal.
Updating your office design for a post-pandemic workplace? Don't forget to pay due attention to the cafeteria. We can help you weave it into your workplace wellness strategy.