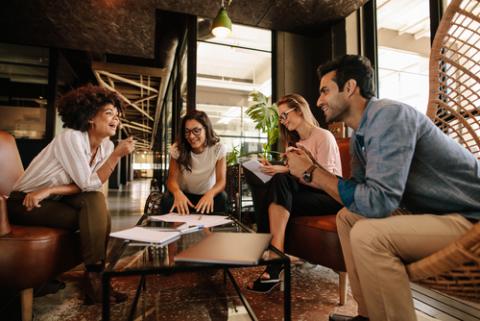 The post-pandemic impact on work culture: How Millennials and Gen Z are inspiring firms to address workforce concerns and spark loyalty
The post-pandemic impact on work culture: How Millennials and Gen Z are inspiring firms to address workforce concerns and spark loyalty
The 9-to-5 was replaced by flexible schedules. The stuffy cubicles made way for hygge-inspired workplaces. Inaccessible management styles were replaced by open, flatter hierarchies. These changes defined and shaped the way we work over the last decade — and most of these changes coincided with (and were driven by) Millennial and Gen Z employees who entered the workforce in the last few years.
Indeed, the way these younger generations interact with their workplace has been unique and transformative. For several years now employers have looked to these employees as they predicted the changing workplace trends. These younger generations have helped firms evolve, with flexible workplace strategies that interweave technology and innovation with a strong sense of empathy that keeps employees at the heart of every business decision. 
However, for the first time ever, these needs have transcended generational barriers. With the outbreak of the COVID-19 pandemic, factors like flexibility, trust and transparency have become important to employees across the entire workforce. This gives organisations a unique opportunity — getting these few changes right would enable them to cater to the needs of their entire workforce and inspire loyalty at a multi-generational level. Let's see how these changes will impact a company's overall workplace culture in the coming days.
Flexibility
For years, Millennials have been striving for a more flexible work culture where they are evaluated for the impact they create rather than the amount of time they spend in office. Companies responded with flexible policies and work from home options that would enable employees to log in and work from wherever and whenever they are comfortable. By the time Gen Z entered the workforce, flexible work had been around long enough for its flipside to have become more prominent — an always-on work culture that leads to stress and burnout. So while Gen Z workers still preferred the flexibility, they also strove for more explicit boundaries between work and home life.
Now these needs are no longer a generational phenomenon anymore. This is reflected in our joint IASM survey, where over 76% of respondents of all ages expected work from home policies to continue even beyond the pandemic. The call for a flexible work culture is obvious — but this time, with policies that offer guidelines to facilitate better work-life balance. Moreover, this time around, companies might want to look at offering more choices to employees in terms of hours, work environments, and even location. While some may want to come to the office only for meetings and team discussions, the office space will also need to have various kinds of safe focus areas, to cater to those who would prefer to come to office to get some individual work done. Of course, irrespective of where they are working from, employees would expect a robust technological setup that allows them to connect seamlessly with colleagues in other locations.
Enabling personal connections
Older generations may have preferred keeping their professional and personal lives apart, but that changed drastically with Millennial and Gen Z workers entering the workforce. To these younger generations, having a personal connection with one's colleagues became more important.
With the COVID-19 pandemic forcing countries to go into lockdowns, cases of isolation and loneliness spiked. The importance of regular human connections became more evident to people of all ages — and people started missing the physical workplace, which till then, had provided great opportunities for forming such connections on an everyday basis. In our IASM survey, over 85% of respondents reported missing face-to-face social interactions, while 58% missed the thrill of collaborative work.
So even with flexible and remote working options continuing beyond the pandemic, employers would do well to foster a collaborative culture that enables human connections.
However, one of the biggest challenges for companies in the coming days will be to build collaboration zones, meeting rooms, social spaces and community hubs that will bring people together without increasing health risks. While a stark, scrubbed pantry with prominent warning signs might be efficient, it might create a sense of alarm and discomfort, which is not very conducive to friendly interactions. Instead, imagine spaces that are designed to trigger subtle changes in behaviour and culture — without employees having to be on high alert at all times. Think, for instance, a warm, welcoming café space with lots of greenery to function as mood boosters while maintaining indoor air quality. A variety of seating options make the space comfortable for people of all ages, while intuitive seat placements prompt users to maintain safe distances without consciously having to do so. Strategic signs and arrows direct foot traffic in a way that ensures people don't cross each other at close distances. Smart, contactless café systems take their food orders without needing to touch any shared surfaces. Such office design strategies can enable companies to effect subtle, safety-driven cultural shifts without compromising on personal connections.
Social and ecological consciousness
Millennials and Gen Z-ers demonstrate a strong sense of social and environmental responsibility in every aspect of their lives. As consumers, they associate with ethical, sustainable brands. When choosing their ideal workplace, they are more likely to prefer firms whose ideals match their own. During the pandemic, many companies may have put CSR and outreach programmes on the backburner, but these sentiments remain important to employees. In fact, in one survey, close to 75% of Millennial and Gen Z participants reported that the last few months have made them even more aware of others' needs, and that it has inspired them to drive positive change1. This sentiment too, is surpassing generational barriers, with everyone realising the importance of empathy and social consciousness during a global pandemic.
Companies have an opportunity to engage with this sentiment in a more comprehensive, authentic way. For instance, how an organisation treats its employees at a time like this can reveal a lot about the company. The pandemic has exposed many vulnerable groups who are disproportionately affected by the crisis, even within the same corporate structure. A single mother who occupies a junior position and has her children home from school may find it difficult to balance work and household obligations, while a senior executive with a high disposable income and adequate domestic support faces no such trouble. Opting for sensitive, transparent policies that tackle these inequalities can go a long way in inspiring loyalty, building a culture of empathy and making the workplace more inclusive.
These efforts can then go beyond the company, and make an impact in the larger community too. For instance, an organisation that values diversity and equality as important cornerstones of their brand culture should be vocal about the larger injustices and social issues in their community. Likewise, a firm that partners with small businesses conveys a strong concern for investing in the local community. Think that local organic food company to cater lunches in the pantry, or the small family craft store to meet the firm's stationery needs. Fundraisers, volunteer campaigns and clean-up drives can be other important ways for a firm to be involved in its local community while also empowering employees to be a part of the change.
Ecological consciousness has also seen a major upturn in the past few months, with the pandemic highlighting nature's astounding ability to regenerate and reclaim its spaces. This has reignited hope and motivation for positive action, and employees across generations are keen to do their bit to spark change. Companies can support and enable this in various ways. For example, a firm that continues with optional work-from-home policies even after the pandemic, will automatically cut down commuting for its employees, thereby helping them reduce their carbon footprint. Likewise, an organisation that has facilities to make bike commutes a possibility, will end up being more eco-friendly while also prioritising their employees' health. Even small steps like discouraging the use of printers, installing smart HVAC units, and opting for motion-activated lighting systems can have a positive environmental impact — all the while making the workplace safer for employees by reducing contact surfaces.
Have you considered how your work culture will change in a post-pandemic world? We can help you plan this evolution and chart out a way forward.
With more than 20 years of experience in Marketing and Branding, our Global Marketing Director, Fiza Hasan Malhotra, believes in the power of company culture to spark talent, power growth and build brands. As a member of Space Matrix's Executive Council, Fiza is deeply interested in the evolution of the workplace in response to global and regional socio-economic trends.