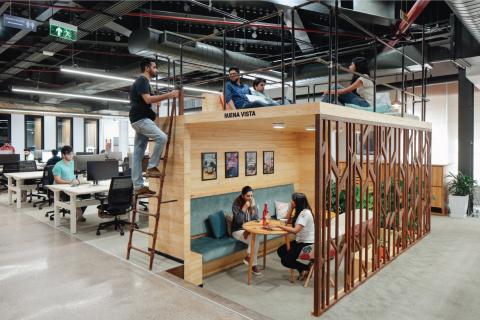 Purpose of the workplace: how the workplace has transformed
Purpose of the workplace: how the workplace has transformed
The world around us is changing at a rapid pace. The opportunity for organisations to shape their future work strategy has never been stronger and there is an upside shift and value for those who commit to their transformation.
As people across the globe prepare to transition back to the physical office, our clients are focused on how they can effectively plan, communicate, and attract employees to return. From the hybrid workplace to improved technology to keep teams connected, to amenities that better prioritize health — our time spent working from home has reshaped what employees want from offices, the way employees work, their relationships with organizations, and expectations from work and workplaces. The comfort of WFH, zero commute hassle, and increased productivity make employers seek out high-impact trends that inspire their workforce to return to work. 
High-impact trends are those that are creating a competitive opportunity for organizations to differentiate themselves and become employers of choice since there is no one-size-fits-all approach. 
Purpose-based workplace models have, therefore, paved the way for workplaces to attract their workforce back. An attractive looking commercial office design can also attract more employees and motivate them to come to the office more often. Modern working spaces provide amenities with the office interior in order to make working easier for the employees. When workplace designs are modified they also boost the morale of the employees by giving them a sense of accomplishment of having a modern working space. Employee surveys establish the usage of verbiage like "hybrid," "flexibility," and "remote" when asked what could make their workplace design better.
With the workforce demanding more flexibility, prioritizing their well-being, giving due importance to work-life balance, and preferring an environment that matches the autonomy of their working style - a workplace that not only fulfills the purpose of the work to be done but also drives the employee to perform their best while giving them the space to relax and refuel becomes the need of the hour.
Therefore, a variety of purpose-based workplace design models have been developed to align with employee demands.
1. Choice-based operating model
A Choice-based or flexible-hybrid model empowers the employees to determine when and where they are most productive to complete their work. The decision-making authority of the employees gives the employees fluidity to work from anywhere while also providing the organization with an opportunity to expand and diversify its talent pool.
In this model, employees might need to return to the office a few days in the week and they have 'full choice' in choosing when, why, and where they work in the office. This enables cost and resource savings during in-office duration at the workplace and helps the organization invest in spaces that encourage this working model. Further, it inspires organizations to provide their workforce with spaces where they can truly immerse themselves while working.
For organisations, the need of the hour is inclusive, choice-led environments. We recently worked with TNG FinTech Group to create just such a workplace design in Hong Kong. Unlike a stuffy financial workspace, this open-plan office interior is designed like a chic, luxury boutique. The colour palette is bold and energetic with eye-catching, contemporary artwork dotted all around.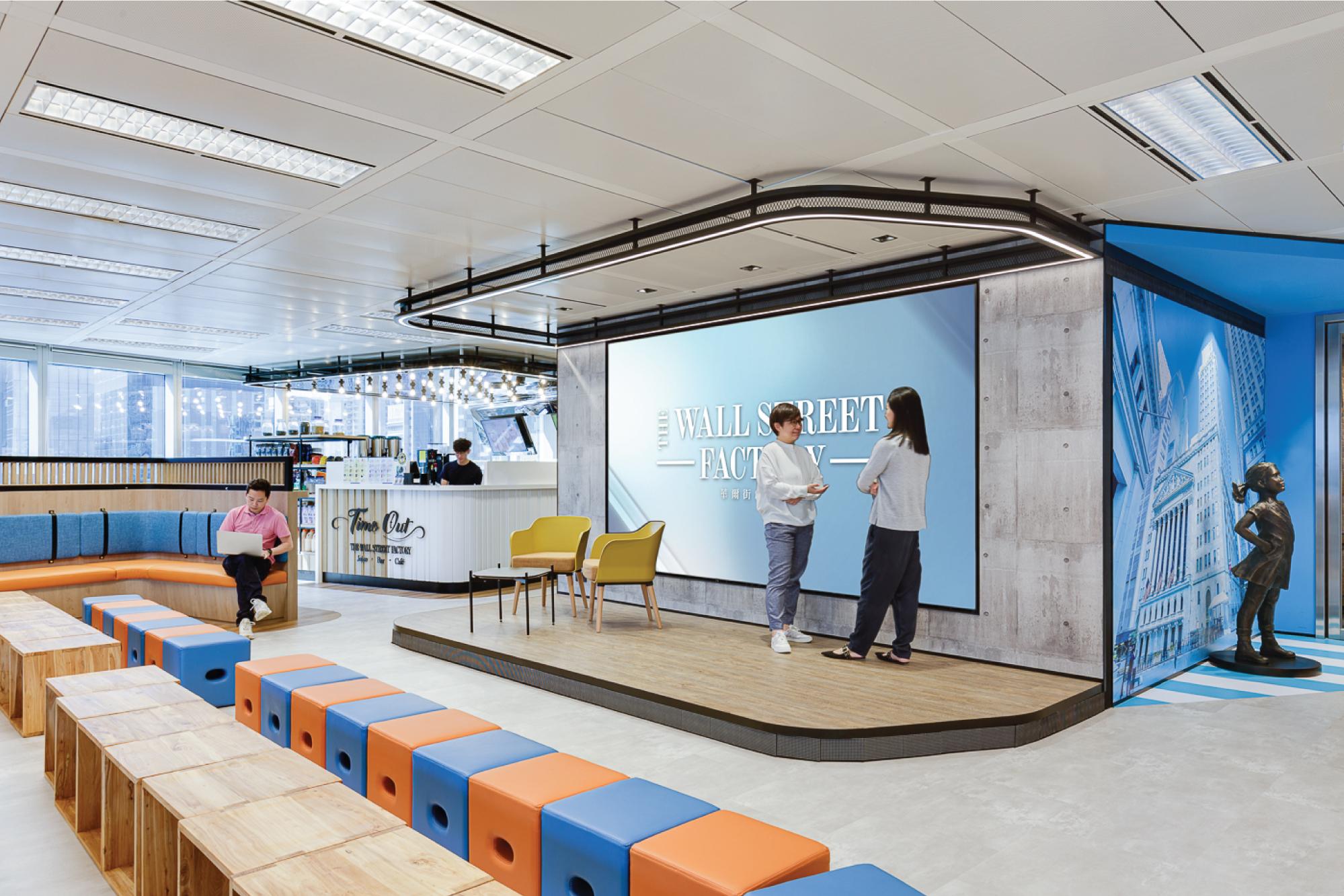 There is a wide variety of seating options for employees too — they can choose traditional tables and workstations, or opt for more modern bar seats, standing desks, and work booths. The workplace design is conceptualized to maximize collaboration. There are lots of huddle spaces and nooks for impromptu discussions, so employees can interact informally without having to knock on doors or schedule appointments. The furniture is light and movable, enabling people to draw an extra chair or two, and form groups of different sizes. Of course, all TNG employees have access to the 'Wall Street Factory' too. They can head there for meetings, discussions, and brainstorming sessions with the most brilliant minds in the industry. Moreover, having access to the incubator is also great for their own professional growth — they can attend all the fintech conferences and seminars that are hosted there.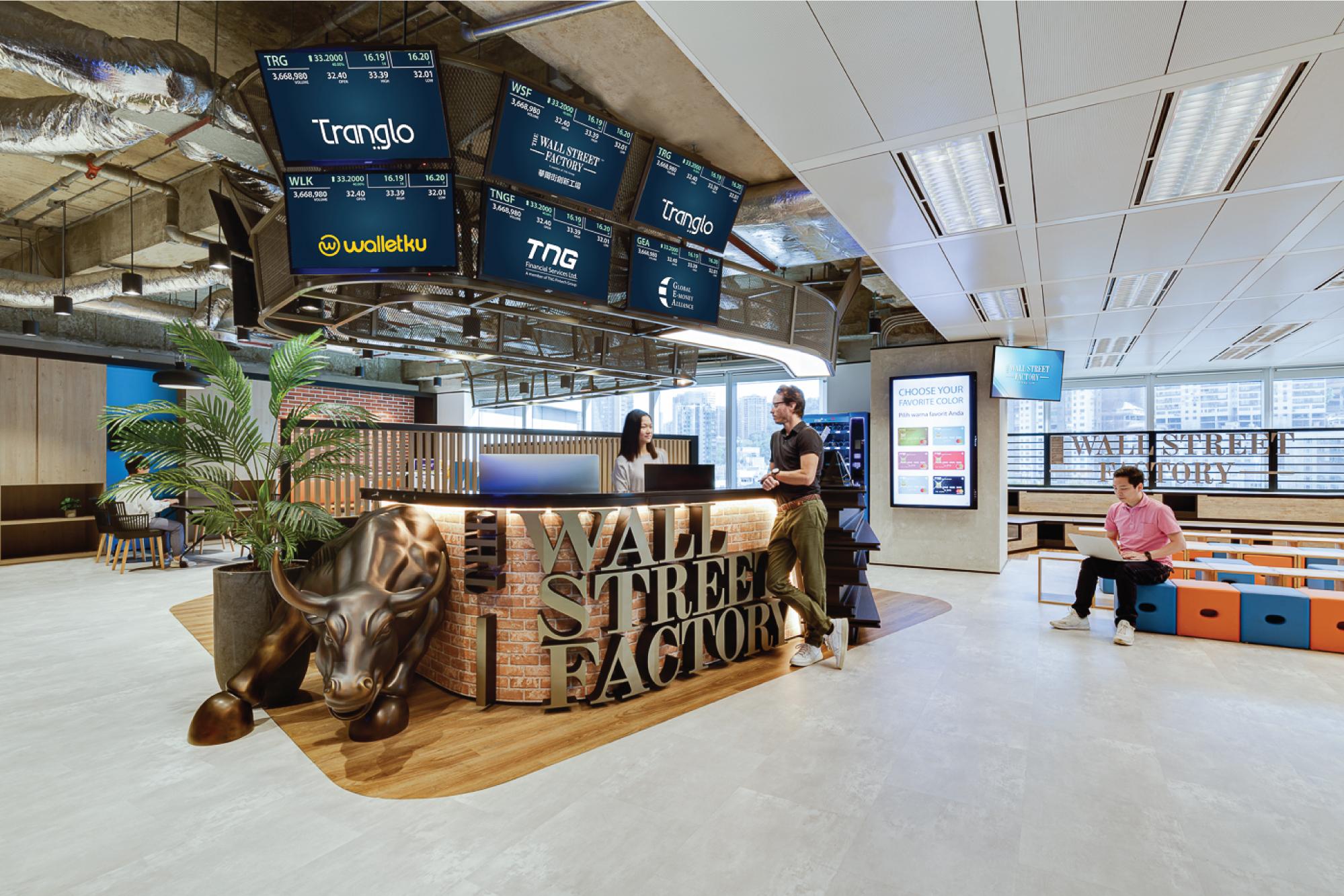 The combined workspace thus can open up a whole new world of possibilities. It can help service clients better and meet their changing needs. It can help grow businesses by expanding into associated verticals. Moreover, it can enable improved workplace engagement by creating new growth and learning opportunities for the employees.
2. Schedule-based operating model
A schedule-based or fixed-hybrid workplace design features choreographed days and ensures that the various teams are present on fixed days of the week where the schedules are intentionally overlapped to coordinate meaningful time together. Schedule-based hybrid workplaces are essentially helpful when it comes to fixed collaboration and teamwork.
Airbnb did very well with its office in Gurgaon, which has an ideal mix of collaboration and social spaces. They have thematic meeting rooms, designed based on some of the top Airbnb properties, to provide variety in how people brainstorm and discuss ideas. The beautiful mezzanine levels function as semi-private retreats that afford a certain degree of privacy without being completely cut off from the rest of the office. They also have cozy work nooks where people can go to concentrate and get some focused work done. With so many choices in work spaces, Airbnb is able to keep their employees engaged every day — whatever task an employee is working on, they find a space perfectly suited for it.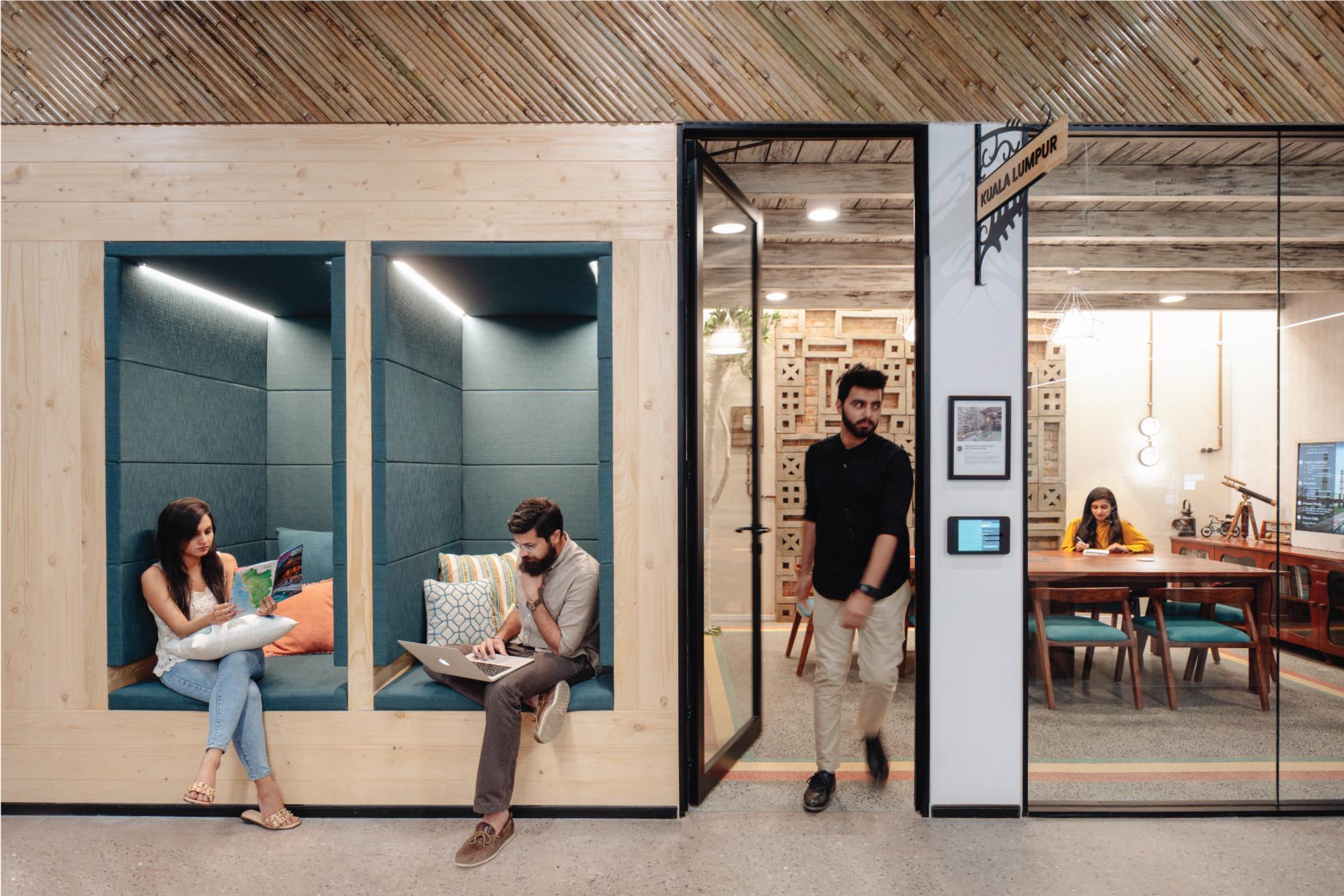 3. Purpose-based operating model
A purpose-based model involves rethinking workspace planning solutions to focus on creating synergy with simultaneous different personas and purposes. Organizations look deeply into a job function, role, and work-based processes and activities to prioritize those personas best suited to work in a fixed-hybrid environment or a flexible-hybrid environment.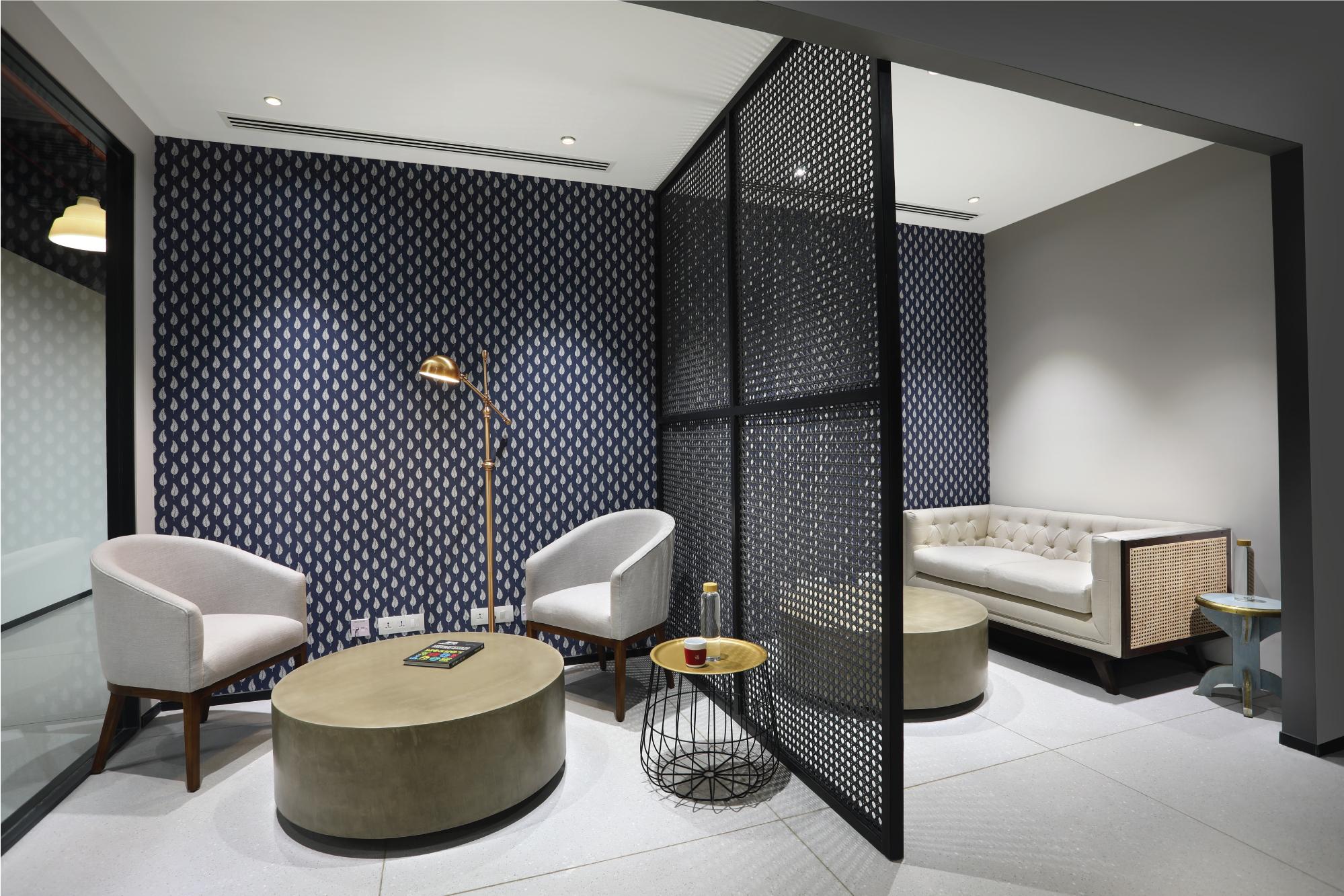 RBL's workspace in Gurgaon tackles this effectively with a practical update to open offices. It divides the space into smaller micro-neighborhoods to cater to the needs of the diverse teams working there.
Each of these micro-neighborhoods has a unique vibe and function. Some have a modern, minimalistic vibe with sleek white booths and accent walls. Others flaunt the timeless appeal of a jazz club with Art Deco furniture and antique-inspired pieces. While some micro-neighborhoods are designed for focussed work and private discussions, others encourage widespread collaboration with a buzzing, café-like atmosphere. This differentiated workplace strategy is an innovative way to minimize disruption and make each team feel at home.
Bringing your workforce back to work means that spaces are created for a greater purpose - a workplace that has not only physical elements but also digital ones, both dedicated and flexible multi-purpose spaces, and spaces that imbibe employee health and well-being as an important metric.
Organizations will therefore need to test and optimize workplace design strategy as newer trends impact workplaces and their employees for better business growth, employee satisfaction, and organizational progress.
Looking to incorporate a similar workplace strategy within your offices? Let's talk about customizing these design concepts for your business.