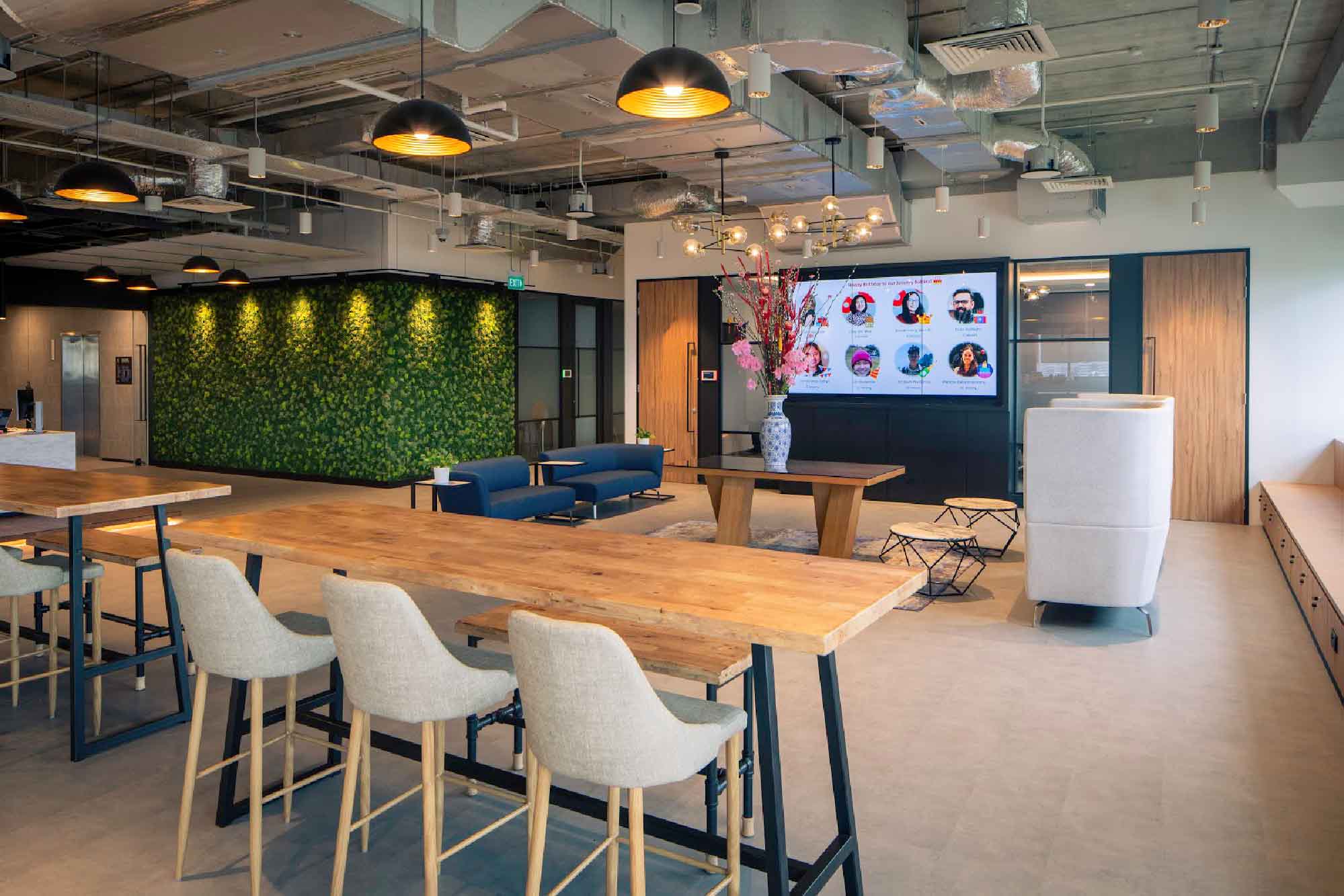 Seeing and hearing your workplace right!
Seeing and hearing your workplace right!
The human mind works in an interesting way. It associates with colors and sound so deeply, that this association elevates experiences, helps create core memories, and enables individuals to cope with changing environments. Thus, it comes as no surprise that organizations elevate their workplace experience through the power of branding which is a sum of color and sound.
Every organization establishes its presence through the colors and sound it has owned. This is to not just bring uniformity in the way its values are perceived but to forge an association with its workforce.
While many brands are successful in showcasing their identity and brand principles out loud with colors and words, more organizations are digging deeper into the science of soundscaping and the visual identity of their workplace. Here's how: 
 
1. Reinforcing brand equity 
There are more elements associated with branding than meets the eye. When a brand is thought about, it is not just colors that flash in front of our eyes. Everything that the brands stand for, whether sound, values, product, service, tagline, etc. flashes in front of us in a jiffy. That's the power branding holds over people. Now, imagine experiencing all of the above while working in that brand's workplace. 
It becomes imperative to make sure that your organization's workforce associates with your brand the way you do. That is where brand reflection within the workplace comes into the picture. The way your brand is manifested within the workplace brings a sense of belonging, elevates employee experience, and boosts productivity. This is because employees feel closer to the purpose of the brand and converge towards a singular purpose of exponential growth of that brand.
Workplace design plays a crucial role in imbibing your brand and making it a mirror for the employees to reflect upon all aspects of your brand.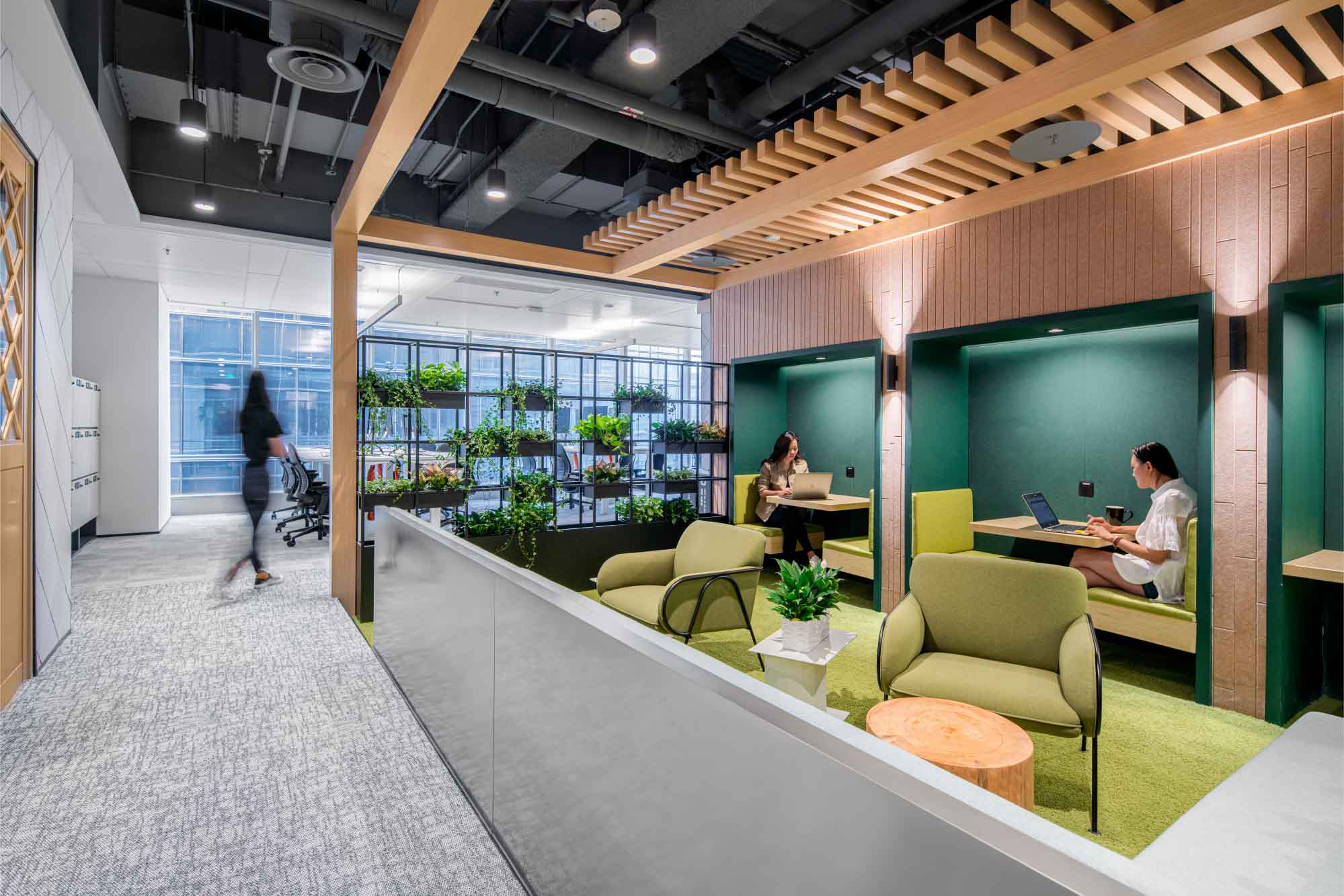 Airbnb's Beijing office is centered around its core values and principles - create trust, build confidence, and comfort to belong anywhere.  To build a sense of community the design concept revolves around creating neighborhoods based on Beijing's traditional housing styles that come together to create private courtyards. Each of these neighborhoods is themed based on iconic neighborhoods and traditional parks of Beijing. The themes of these community spaces are chosen to appeal to different users and evoke different moods and emotions. 
To further create a sense of belonging and connect employees with the brand spaces that matched the company's listings around the world were brought into being. To enable employees to feel empowered, we involved the employees in the "Employee Design Experience"  to get them involved in their workspace design, in terms of cultivating the employees' community consciousness.
2. Incorporating the essence of  local culture into the workplace
The need to create human-centered spaces that not only enhance people's well-being but also honor their rich cultural heritage within an international context. Thus, an important aspect of enhancing the expression of your workplace is to incorporate the essence of the geography it is located in. This instantly induces a sense of belonging into the minds of employees as well as creates a special bond between the organization and its employees. 
For Arisaig Partners' Singapore office, we conceptualized a corporate office design that would not only tell their brand story with a perfect blend of modernity and heritage; one expresses feelings of warmth, homeliness, and belonging. 
The company's heritage spans two different locations in the world — Arisaig Beach in Scotland from which the company derives its inspiration, and Singapore, where its offices are based. We wanted to ensure that the essence of both these places is reflected in the office brand identity.  The wide open spaces, the abundance of sunlight, and the soothing color palette of blues, yellows, and sandy tones are all a visual nod to Arisaig Beach. Framed paintings of the beach and other beautiful artwork are also strategically displayed across the office to maintain this visual connectivity throughout the space. Singapore's contribution to the design aesthetic is apparent even before you step in. The office is located in a historical shophouse — so we retained the classic shophouse exteriors featuring the red shuttered doors and windows.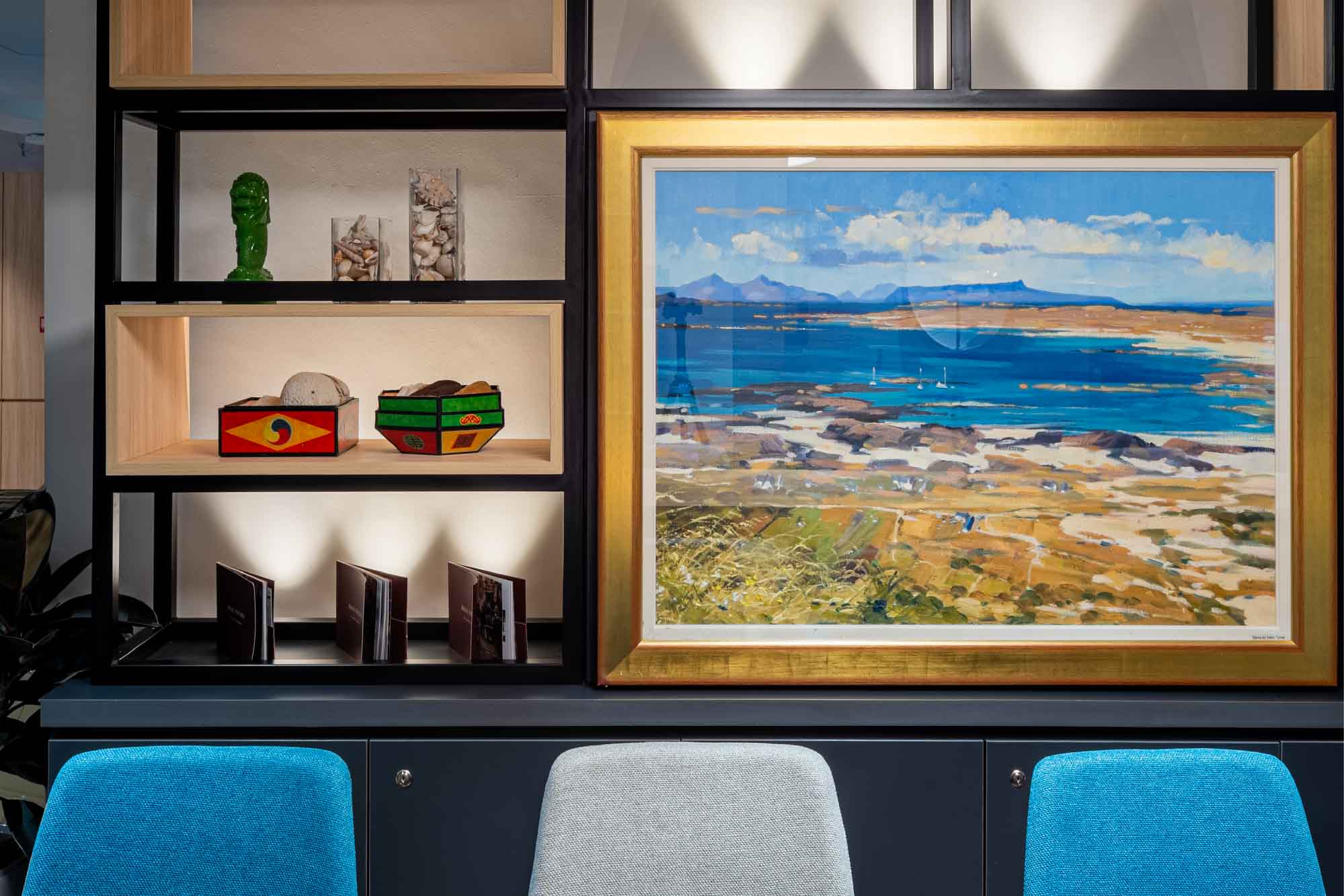 Additionally, it fosters a sense of new experience for employees who relocate to a different city for work. 
Further, it creates a welcoming ambiance for potential clients, new recruits, and other one-time visitors.
3. Organization's values
Many organizations are very vocal about the principles they stand by, the values they promote, and what their brand stands for. This instigates within the minds of new recruits as well as prospective clients the organizational vision and mission. Further, seeing it every day reiterates and strengthens the value of their organization to the employees.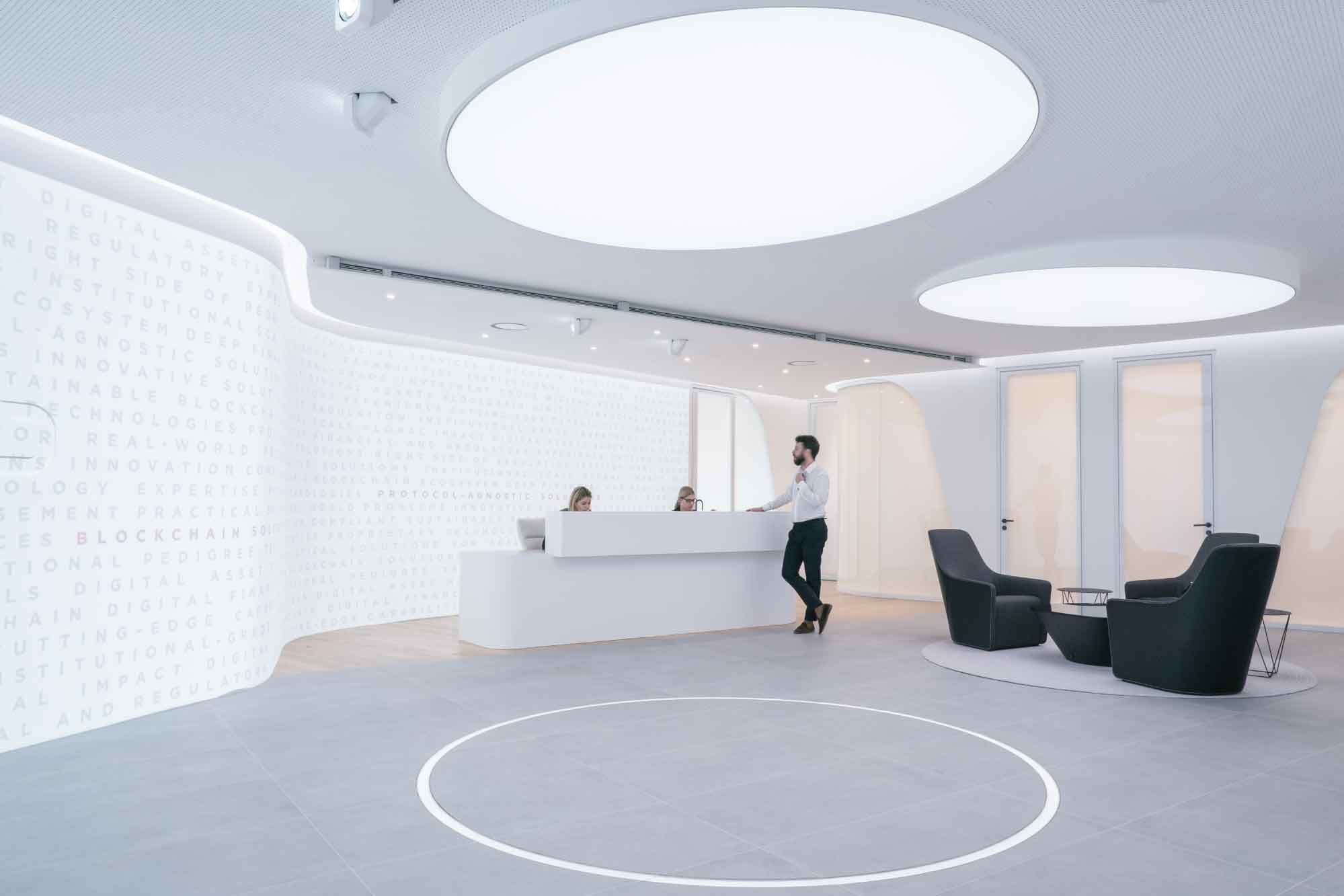 For a global fintech firm like Diginex, the innovative use of technology was a powerful way to display the brand's expertise in the sector and set itself apart as an industry leader in Hong Kong. As soon as one steps in, one is wowed by the animated video showcasing the brand story. But unlike any other brand, Diginex does not use a television screen to play their company video. Instead, it projects it onto the curved, 15-meter-long wall behind the reception area, turning the entire surface into a tech screen. The automatic sliding glass door at the main entrance and the electric plug door found deeper within the office are two other features that give the space a futuristic/ sci-fi feel.
Reflecting your organization's values within the workplace also sets the tone for its work culture, which goes a long way in building employee relationships within the organization and employee relationships with the management.
It also gives prospective clients an overview of the organization's way of working, creating a first impression that lasts forever and ultimately works in the favor of the organization.
4. Make each space sound different
The understanding that one-time visitors and frequent visitors need to hear your workplace differently is imperative. A new client or recruit ought to have a distraction-free, peaceful environment to gauge, interact and absorb in your workplace. As opposed to this, the employees who work there every day need to have a sense of all acoustics within the workplace. 
Therefore creating spaces that engage the mind & create an instant connection between the individual and the workplace impacts the thought that the individual associates your brand/organization with. A sound, a color, or a space can get interlinked with a brand very quickly. This in turn has the power to evoke an emotion and create an atmosphere that enables the employees and visitors to enter the office with a relaxed state of mind.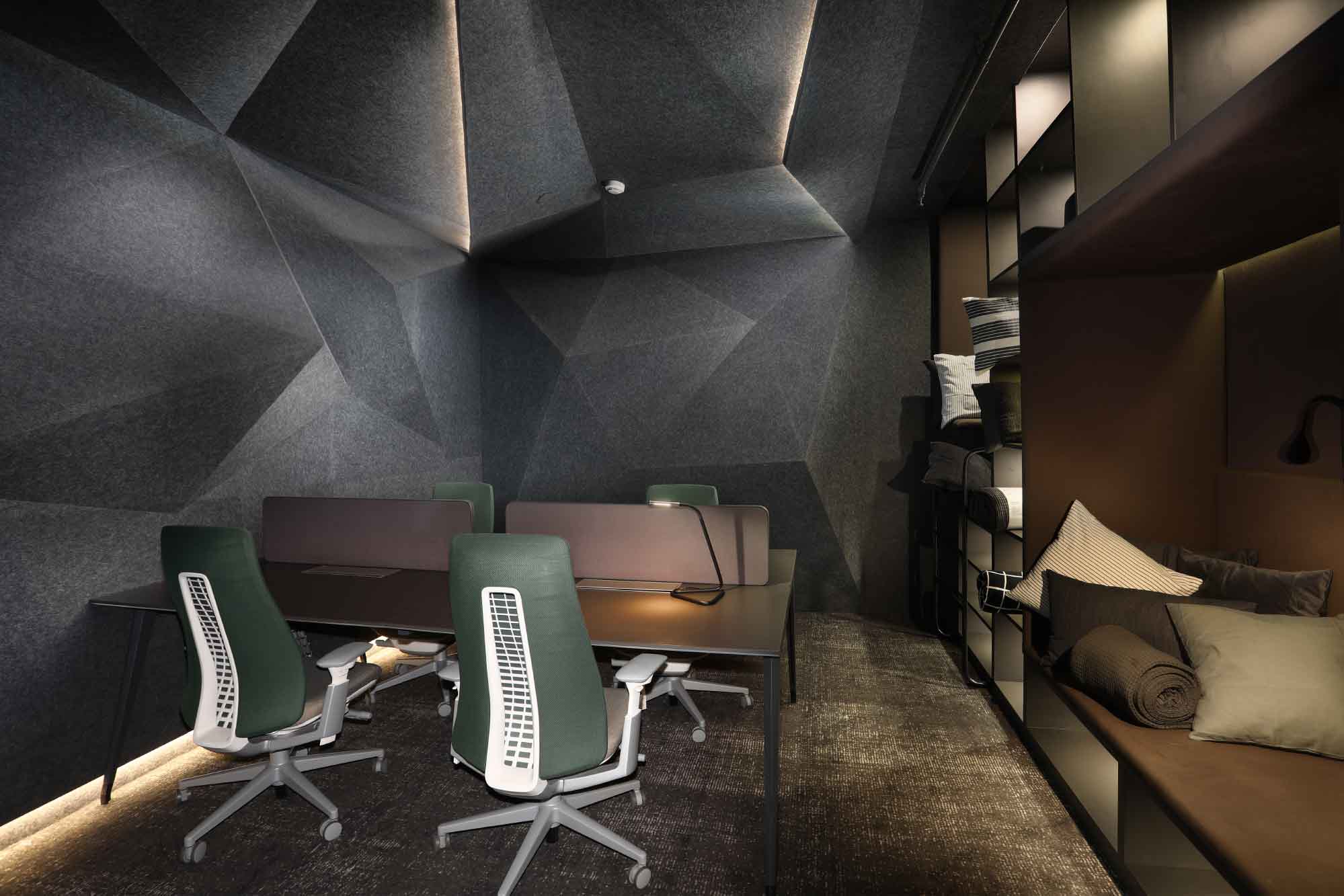 For some people, focussed work means having complete silence, while others concentrate better with loud music. [β] Lab caters to this with a sound-proofed den with halo mood-lighting and acoustic features for the ones that need focus/ high concentration levels. One can also safely blast their favorite tunes here without disturbing others.
5. Private v/s Collaborative spaces
It is impossible to concentrate when the acoustics of a workplace is not strategized to cater to those who prefer peace and quiet to focus on their work. Therefore, private spaces with soundproof rooms and maximum noise reduction will help employees channel their thoughts and perform with greater efficiency.
However, it doesn't have to camouflage the fact that teamwork is an essential aspect of driving an organization to its business outcome. Teams ought to work together and collaborate with other teams to bring the ultimate growth and progress to the business. Therefore, common spaces for collaboration, meeting and conference rooms and open spaces for informal discussion become imperative to run the various operations of the organization smoothly.
Another great way of segregating an office into micro-neighborhoods is by offering adequate visual variety. At RBL, we did this by playing around with contrasting vibes. Some neighborhoods were comfy and modern — we had cushy white sofas and armchairs, round coffee tables, and sleek lamps, all against a printed wallpaper backdrop.
In stark contrast, we designed other neighborhoods to exude an antique vibe — with retro olive green chairs, intricate rugs, and eye-catching details like distressed wood tables and antique chests. The geometric frames on stark white walls give these neighborhoods an Art Deco feels that transports users back several decades.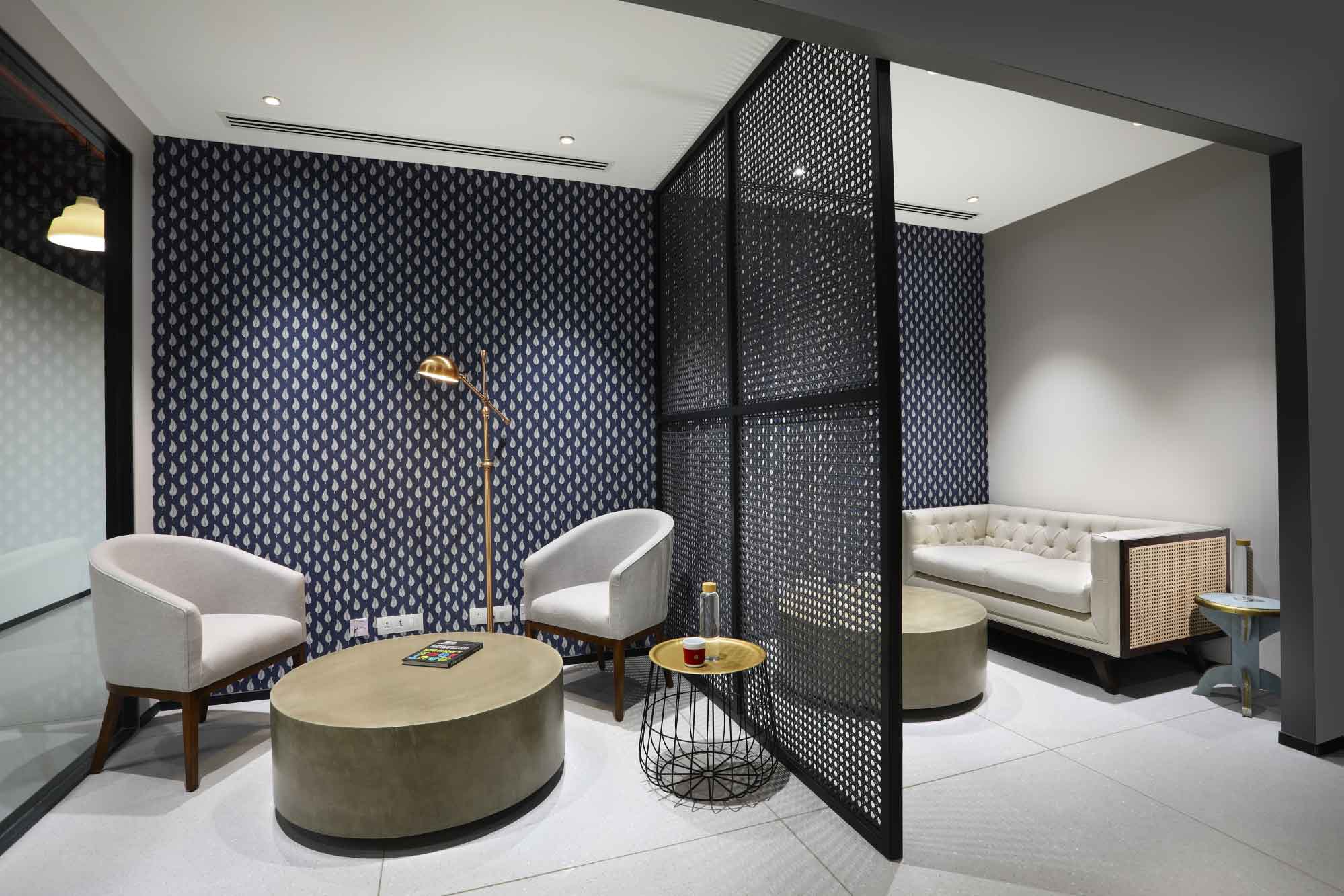 Additionally, the subtle integration of creative and cultural details as other design elements help create environments that elevate expression and engage individuals to associate with a brand strongly. 
To sum up, these are a few strategies and tactics that companies can take to build their brand and culture through workplace design - a keystone - that helps reflect the brand within an organization's workplace and boost employee experience, engagement and association with that organization's brand. Looking to interpret your corporate brand DNA through a unique workplace strategy too? We can put our experience to work for you.