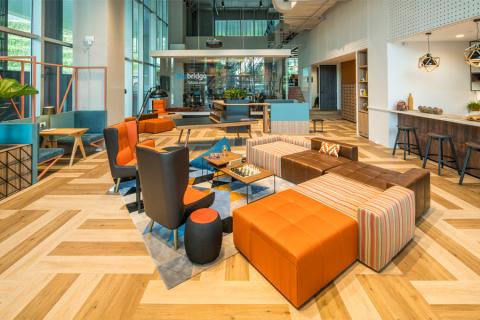 thebridge to the future: connecting diverse and collaborative business communities
thebridge to the future: connecting diverse and collaborative business communities
Traditional office designs are often rigid and segmented, leading to uninspiring work conditions, and thus, a lack of efficiency and output. Whereas, modern work cultures are built on improvisation and collaboration. To reflect this, workspaces have to be designed to be agile, flexible and inclusive.
To better cater for modern work culture, Ascendas-Singbridge, Asia's largest business space planner, has formulated a new community workplace: thebridge.
Located on Science Park Drive, the space connects a powerful network of science, tech and business communities.
Enabling living communities that work, create, innovate and inspire
The idea for thebridge is to promote a culture of work communities. Such workplaces also reduce the carbon footprint, energy consumption and monotony associated with isolated physical workspaces.
Work communities may comprise varying number of people, working on diverse projects with different objectives. Office spaces must be flexible enough to adapt to these different situations - an enabler instead of an enforcer of work patterns.
To help make the thebridge a reality, Ascendas-Singbridge enlisted the workplace design services of Space Matrix.
Here, we take a look at the specific strategies that Space Matrix employed to bring the community workplace concept to life.
Informing and guiding patrons through an interactive lobby
The entrance lobby does more than just welcome patrons. Flanked by large, interactive media screens, a patron is inspired to explore.
In the words of Matthew Chisholm, Director of Flexible Workspaces, Ascendas-Singbridge, "Visitors are likely to have their curiosity piqued and veer towards the content on these screens. Apart from useful information on the workspace or listings of events, these screens could also include content about offers at different retail or hospitality stores at thebridge."
Mixing work and play for a more productive day
Agile workspaces, entwined with recreational zones, promote a culture of interaction and collaboration in a relaxed, informal setting. These include standing workstations, informal amphitheatres and seating areas, as well as a variety of themed breakout zones.
Speaking of the interior design strategy behind this, Richard Baker, lead designer at Space Matrix says, "The choice of colours and textures, as well as the proportions of a space, help affect mood and productivity in a workplace. The lack of physical barriers and interspersing regular recreational zones, encourage people to interact. This fosters a culture of collaboration."
Becoming immersed in the local culture
The meeting rooms are all designed to a choice of themes that reflect local culture and work patterns. These help to create a unique and inspiring ambience, making work enjoyable.
Speaking about the curating process, Mr. Baker says, "the design team studied local markets, cultures and context to give their spaces a friendly, familiar and indigenous feel. Some of these themes in the meeting rooms include Batik art influences from South Asia, as well as graphics depicting motifs from Singapore's wonderful melting pot culture, with Indian, Malay, Chinese and Peranakan influences."
Accommodating intimate events from 10 to 100 pax
The event spaces and convention centres within thebridge are fitted with elegant concertina screens. Besides serving as a fine architectural ornament, these screens are movable and find use as partition walls.
"This helps to reconfigure layouts based on expected attendance for events – another hallmark of flexible workspaces", adds Mr. Chisholm.
Optimising planning, maximising space
"thebridge is structured on the business model of Space as a Service,'" said Mr. Chisholm.
He explains that the allocation of individual suites to tenants leads to wastage of space. Instead, fully equipped work-desks within a collaborative space will facilitate maximum space utilisation.
The abundance of space thus freed up can be put to use as breakout zones, recreational spaces, and utility areas. Thus, within the tenancy model, a patron will pay only for his immediate work premises, but have access to a host of other services by extension, greatly improving work-life quality.
The space savings made using this model are exemplary. Mr. Baker explains that the normal square footage accorded to a patron in an average company is about 40 sq.ft but thebridge nearly doubles that statistic, with a minimum of 70 sq.ft available to every patron. This gives rise to a healthier and more sustainable work model.
Experiencing the workplace of the future
By enabling a culture of work communities, thebridge paves the way for an office space typology that is effective, sustainable and future-oriented at its core.