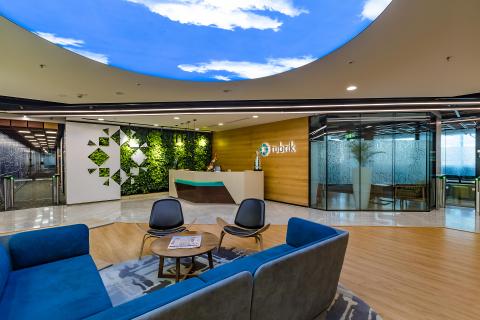 All's well that works WELL: Rubrik India's tools for embracing wellness and sustainability
All's well that works WELL: Rubrik India's tools for embracing wellbeing and sustainability
The last year compelled people to spend most of their time indoors, and highlighted one indisputable fact — the spaces we spend time in, matter. And so ergonomic chairs were bought, LED desk lamps were set up and premium sound systems were installed in home offices across the globe.
Although 2020 reiterated this knowledge, it has always been true. The modern lifestyle has always involved a lot of time spent indoors (over 90%1) — and poorly designed spaces have always had a negative physical and psychological impact on the people who occupy them. However, when it comes to designing a workplace in a post-COVID world, this knowledge has greater significance than ever before. At a time when a team's performance and resilience dictate the success of a company, having a well-designed workspace is incredibly important. It enables the company to look after their employees' mental health and wellbeing, thereby empowering them to feel and do their best. Such workspaces also help an organisation attract and retain the best talent in an extremely competitive market. Moreover, in this post-pandemic economy, companies are more financially and ecologically sensitive — and their operational investments reflect that.
Under such circumstances, a workplace strategy that combines sustainable practices with wellness-driven concepts really makes sense right now. Sustainable elements like green walls, energy efficient fittings and a mindful work culture end up also being good for employees. Such combined strategies can thus help organisations meet all the needs of the hour. We recently took this approach with Rubrik India's new office in Bangalore. We created a unique new workplace concept for them, which encompasses both the WELL and LEED-certified frameworks. Here's a look at how we incorporated these concepts through their workspace design:
1. Indoor air quality
One of the top parameters that WELL looks at is the quality of indoor air, and this is something we paid special attention to in the Rubrik India office. We used active air purification systems, with treated fresh air units, humidifiers and various chemical and carbon filters installed in the AHUs and decentralized air purifiers all across the office space. We put in fresh air fans in spaces like the café, kitchen and other regularly occupied spaces in the building to ensure that these areas also enjoy a 30% increase in fresh air flow above ASHRAE 62.1 standards. In keeping with LEED requirements, we ensured that these spaces were properly flushed out and well-ventilated before occupancy.
In order to enable continued maintenance and enhancement of indoor air quality, we fitted the space out with monitors that will measure, record and analyse different data parameters in real time. Access to such analytical insights will enable the facility manager to take necessary actions — be it stepping up the cleaning cycles or carrying out extra ventilation protocols.
2. Lighting systems
Optimal light usage is another important factor when it comes to employee wellness — it improves alertness while helping reduce eye fatigue and strain. A thoughtful lighting system also aligns with people's circadian patterns, thereby enabling them to maintain a regular, undisrupted sleep cycle.
Here at the Rubrik office, we ensured that the lighting strategy met the rigorous WELL standards. More than 60% of the regularly occupied spaces have been designed to receive optimal amounts of natural sunlight for more than 50% of the annual occupied hours. The windows are fitted with operable roller blinds so that people can control the amount of sunlight streaming in. These spaces are also equipped with sensors that monitor daylight availability and the occupancy at any given time, so that the indoor lighting system can automatically kick in and be adjusted as per needs. Not only does this ensure visual comfort, but also drives massive energy savings for the company. In addition, the light fixtures have a high Colour Rendering Index (CRI), which means they show objects in their true colour, even in the absence of natural sunlight. All these factors help the company ensure wellness by creating a soothing and visually pleasing indoor environment for employees.
3. Safe materials
As per WELL requirements, the materials used (both to build a space as well as to maintain it) are to meet certain health and safety standards. This is yet another parameter we have successfully met through the Rubrik workspace design. We used safe, healthy and eco-friendly materials across the office. For instance, we chose carpets, chairs, and hard surfaces for the flooring that have all been certified for safe emission levels by LEED-approved agencies. The paints, adhesives and sealants have also been certified to ensure that the VOC content thresholds were met as per standards. Of course, the chemical filters we installed in the HVAC units further help control VOC levels within the office.
We ensured material safety at the post-occupancy stage too, through thoughtful waste management and green cleaning protocols. We devised and deployed a smart waste stream plan, by which waste is reduced and recycled at source as much as possible. The waste that is generated is segregated into four categories — dry, wet, hygienic waste and e-waste. This ensures safe and sustainable disposal practices. The green cleaning protocols on the other hand, further help ensure that green-certified cleaning products and materials are used, and that the right kinds of equipment are purchased to enable thorough and proper sanitation. The organised cleaning logs and the disinfection protocols we devised are particularly relevant when it comes to wellness and wellbeing in a post-COVID workplace. They help the company make sure that high-touch surfaces are identified and disinfected regularly. They also ensure that the housekeeping staff is trained to deal with everything from hazardous spillages to protection of vulnerable occupants during the cleaning cycles.
4. Nourishment
WELL guidelines do not just deal with the construction and maintenance of a building — they also extend to the behaviours and practices that are promoted within the workspace. One big part of this is the nutrition options that are provided.
In order to meet these guidelines, we helped establish a culture of healthy eating in the Rubrik office. Fruits and vegetables make up 50% of the food options offered in the pantry — and in order to encourage people to opt for these choices, they are displayed prominently at eye level and at the very start of the food service line. When it comes to cooked or packaged food items, nutritional information is clearly displayed on screens, with the percentage of sugar and other nutritional information prominently highlighted. These display screens also mark out allergens and suggest alternatives so that people can make safe, informed choices. In addition, cutlery, cabinets and countertops are kept clean and hygienic, and assistance is provided to those who want to reheat or store food.
5. Physical health and fitness
In an effort to help people move away from a sedentary lifestyle and incorporate movement through the day, we created a smart fitness-driven strategy. We provided height-adjustable monitors, dynamic desks that can be converted from sitting to standing heights and flexible seating options throughout the office interiors. Ergonomic workstations and chairs ensure comfort and good posture even if people end up sitting for long durations. When employees want to relax, they can head to the cafeteria to enjoy a fun game of foosball with their colleagues. Visible staircases leading up to a sun-bathed indoor atrium and prominent signages further promote active and dynamic workdays.
Those who want to take their fitness goals a step further can opt to cycle to work. With bike racks, shower facilities and even bike maintenance tool kits, the office is well-equipped to support and encourage these healthy practices.
6. Mental, cognitive and emotional health
The Rubrik office also leverages sustainability and wellness to look after employees' mental and emotional health. The workplace design provides optimum access to nature through natural sunlight, outdoor views and lots of biophilic elements like potted plants and green walls. The base building has clean open spaces where employees can take a relaxing stroll or indulge in outdoor activities.
Certain areas in the office are designed specifically to be more relaxing and restorative for employees. Ambient lighting, comfortable thermal settings, soothing sounds and cosy seating options make these areas very inviting for those who want to spend an hour unwinding or indulging in quiet contemplation. Of course, there are nap rooms and mothers' rooms too, to cater to the needs of every person working there.
Keen to enjoy the advantages of a similar combined strategy that embraces the WELL and LEED frameworks? Let's discuss a plan of action.