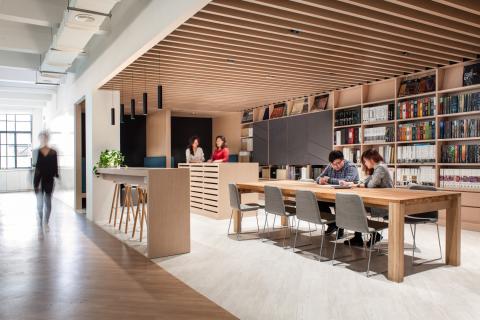 What to expect when you switch to a hybrid workplace
What to expect when you switch to a hybrid workplace 
After months of an overwhelming sense of isolation, limitations in collaboration and social interactions, the hybrid workplace has become the need of the hour. However, switching to this model is not quite as simple as allowing your employees to occasionally work from home. 
To successfully steer your organisation towards a hybrid workstyle, leaders must make employees feel like they matter and build trust. They need to identify and meet the unique challenges that come with hybrid working – from the unequal playing field that it unwittingly creates to the various nuances of organisational culture that go unaddressed. Most importantly, understanding what your employees expect from the workplace and how you can deliver that. 
The Proximity Bias
As companies move towards the Hybrid workplace, they need to be mindful of building back trust (with both in-person and remote employees). Trust is closely related to proximity and can cause a lot of anxiety about the inequalities between remote workers and onsite employees and bring in the sense of isolation. Remote workers may fear being overlooked for work opportunities and promotions while their in-office counterparts get the unfair advantage of greater visibility. It is also easier for remote workers to feel excluded at meetings when most of their teammates attend them in person. 
Leaders need to build inclusive strategies to overcome any trust-deficit. This goes beyond the career benefits if you consider the demographic split between those who prefer to work remotely and those who come into the office. Women, parents of young children and caregivers are more likely to choose remote options – and bear the consequences of their choice – than employees in more privileged positions.
Trust can be built by creating engaging virtual work cultures that are inclusive. This can be done by building a robust virtual collaboration platform connecting both in-office and remote employees. Creating your hybrid workplace should be a journey of discovery – of figuring out why certain employees choose to work from home and building more experiential, in-office facilities that cater to those needs.
Leaders need to be mindful and empathetic about career development and opportunities of remote employees. The proximity bias is dangerous as it may not be something leaders are expecting but could significantly increase attrition risk.
Introverts and extroverts gauge hybrid work differently
Trust is the glue that binds people to your business. In the past, office interior design and workplace culture favoured extroverts and focused on constant visibility and tangible activity. Now, leaders have the opportunity to build trust and create a truly inclusive environment that enables the entire workforce rather than just one segment of it. 
For instance, while your introverted employees might want to set their boundaries, what those boundaries look like may differ from person to person. 
Some may work well in a low-lit black room designated for heads-down work. Others may thrive in spaces with acoustic privacy and use music to aid their creative process. Logistical factors will play a huge role in a post-pandemic scenario too. Introverted employees may choose to come to the office more often if they do not have an optimal work set-up at home, while extroverted employees may continue to work from home to avoid a long commute.
The key is to involve employees in the conversation and empower them by balancing their need for comfort and socialisation. And a good mix of conventional, unconventional and specialised workspaces are an excellent way to personalise work experiences effectively.
An excellent example of what can be achieved through inclusive hybrid workplace experiences is Hilton's Singapore office, where half the available floor plate was dedicated to an unconventional pantry space with a bar, a barista counter, and many relaxed seating areas. These elements nurtured a welcoming environment by catering to diverse needs and prompting people to stay longer to absorb the atmosphere.
Bringing human moments and intentional collaboration to the workplace 
You, as a leader, have the unique chance to demonstrate the organisation's commitment to its people by designing the workplace to be more experiential and wellness-driven. 
We know a strong organisational culture is forged when teams come together. Working from one place, sharing experiences and seeing how every individual contributes to the larger organisational goal creates a shared sense of purpose. Moreover, leaders who go above and beyond to safeguard and foster mental and physical health at the workplace confirms the company's commitment to employee wellness. 
This human connection is difficult to achieve in a remote-only scenario. Hybrid work can offer the right blend of flexibility that enables people to co-create during a few days of the week, while enjoying the benefits of remote work on other days.
Making organisational culture more tailored and accessible
A lack of transparency within an organisation is a significant contributor to a trust- deficit, a factor that has become more profound due to the pandemic. Work culture, which was driven mainly by productivity, performance, overwork and hustle, has now lost its relevance. A way to amplify trust is through transparency — get everyone involved and aware of what's happening in the business they are delivering. Bring in autonomy and choice of work into the modern office design can help trust grow volumes. The design approach to building trust-based culture and bringing employees back to work differs from each industry. 
Legal firms have historically stuck to their traditional approach to offices, operating out of cubicles or closed spaces. However, our workplace design for a law firm in Singapore took a vibrant, modern approach that would challenge the conventional ideas of legal practice. While our workplace strategy for an insurance firm involved a complete overhaul of organisational culture, with an agile approach and a choice of workspace that supports their culture and employee needs.