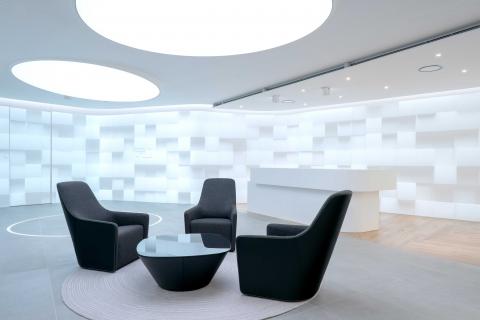 What your workplace design says about you: Diginex's Brand Story
What your workplace design says about you: Diginex's Brand Story
Corporate office design says a lot about your company culture. Clients, investors and potential employees glean a lot about your firm from the first time they step into your office. An open, airy office space is likely to reflect a modern workforce, transparent processes and perhaps, activity-based working styles. Likewise, a more traditional space with cubicles and closed off offices herald old-school corporate styles, with a defined hierarchical structure.

Diginex is a global fintech leader that works with investors and corporations. It is headquartered in Hong Kong, which is fast being recognised as the top fintech hub in Asia.
Miles Pelham, the founder and Chairman of Diginex, wanted the new headquarters to epitomise the company's vision and offer employees, clients and industry partners the same accessibility, efficiency and security it delivers through its products.
When they reached out to us to create their workspace in Hong Kong, we wanted to ensure that their pioneering vision and collaborative, transformational energy comes through in the office design.
3 things Diginex's workplace highlights about the company
1. They are technologically driven
First impressions matter, and Diginex manages to impress visitors the minute they step in. As people wait at the reception, they are treated to a delightful animation that showcases the playful spirit of the brand. But this is not just any regular video, shown on a television screen – it is projected directly onto a curved 15-metre-long wall, where the animated video interacts with real-life objects. To enable this, we used multiple short throw projectors concealed in the ceiling, so that the effect remains magical over time.
Cutting edge technology is designed right into the structure of the building, even in the work areas. This offers greater flexibility and encourages teams to collaborate and share talent. The idea is to create a workspace design that remains adaptable and scalable so that it can support new technologies even years down the line.
2. They are human-centric
Diginex's office is not simply designed to maximise workplace productivity — it is extremely human-centric too. A typical workday in Hong Kong tends to be long and hectic. Moreover, with dynamic technological innovations in the finance sector, job roles are no longer static. Employees need to constantly develop new skills and keep updated with the industry, which can be challenging.
Diginex's workplace strategy aims to make the time spent in office as comfortable for employees as possible. The office interior is done up in white and beige hues that are sophisticated and futuristic while also remaining soothing to the eye. The light colour palette gives the space an airy, open look — a fact that is reiterated by the wall-to-ceiling windows in the work area. There are cushy seats and workstations placed at strategic points all along these windows so that employees can make the most of the warm sunlight and the inspiring Hong Kong skyline as they work.
The corridors curve into one another, the overhead light panels follow circular or oblong patterns and even the tables have soothing rounded edges rather than sharp angles. The wooden accents on the ceiling, the floor and on the furniture add a touch of natural charm to the space. The height-adjustable desks enable employees to work comfortably and minimise the chances of posture-related aches and pains. When they need a break, they can just head to the chic pantry that is fitted with state-of-the-art kitchen equipment.
3. They are well positioned to achieve a strong brand presence in Hong Kong
Establishing a strong presence in a particular market is not simply about branding. A good workplace strategy tailors a company's brand elements to cater to the cultural and economic landscape of that market. In order to mark Diginex out as a cutting-edge brand, we included several modern office design elements that have never been done in Hong Kong before.
One example is the automatic sliding door at the main entrance that adds pizzazz to the office and wows clients and employees alike. With a specially designed fire rated roller shutter at the top, this is the first door of its kind to meet the approval of Two International Finance Centre, where the office is located. Similarly, the electrical sliding plug door that leads to the back of the office is a first in Hong Kong.
The jointless boardroom table has a gleaming epoxy table-top, with the Diginex logo embedded within. Our team worked with a local artist to custom-create this subtle, stylised branded table. These small design details create a cohesive look and work together to give the place a futuristic, science-fiction vibe that suits a forward-looking workplace like Diginex.
What do you want your workplace to say? Tell us, and we can help you interpret it through your office design.