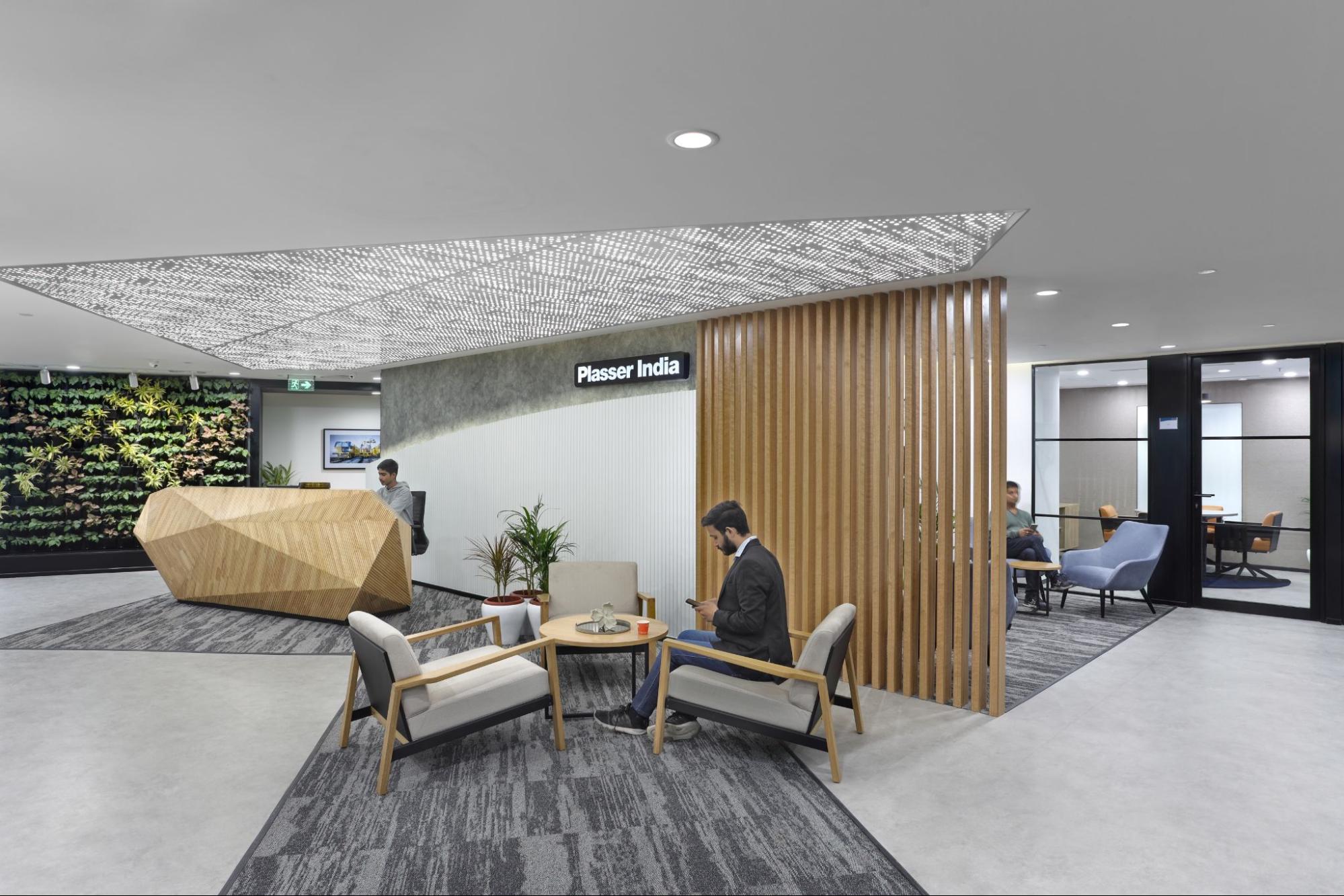 When workplace design meets workplace values: Plasser's new office translates their workplace culture and values into their workplace design
When workplace design meets workplace values: Plasser's new office translates their workplace culture and values into their workplace design
A renowned manufacturer of the most up-to-date high-performance and highly sophisticated machines for track maintenance, track laying as well as track renewal, the story of Plasser is one of quality, innovation, and trust. With a company vision that stretches far into the future and solutions that follow close behind, Plasser's new office had to be avant-garde.
Office design that reflects the company's values
Humanization, or a focus on people and re-imagining how we want to work in the future, is the next frontier. Design principles that drive workplace thinking emerge from the higher purpose and "why" of a company's brand. The story of Plasser's corporate office, a firm driven by its dedication to its people and powered by its values, is that of employee experience. They wanted a corporate office design that was "modern and exudes warmth" and wanted the office interior design to radiate a cozy, nurturing vibe that went with its corporate values. Running parallel to this theme was biophilia or the concept where natural materials and green elements are used to promote well-being, creativity, and productivity.
Space Matrix used these guidelines as they span spatial, organizational, cultural and experiential elements of the workplace to turn Plasser's office space into a contemporary workspace. We chose bright and warm tones for the finishing and warm natural materials like wood, used glass walls to play with sunlight.
Seamless Journey: By tapping into a design mindset, Plasser found new ways to humanize – to unlock the human dimension and uncover a sense of meaning and shared values that drove motivation, well-being and growth.
One of the main characteristics of the office is the continuous journey and arrival at thematic destinations that provide an immersive experience to deliver better engagement, performance, and growth capabilities. Smart spatial planning, micro-neighborhoods, presence of biophilia, robust use of technology all serve to enhance the journey within this modern office design.
Collaboration: One major update from the previous years is the attention given to collaboration areas. Open spaces are great for collaborative work – but not if there are several teams trying to brainstorm in the same area. So for Plasser, mapping out what their teams care about, how they do their best work and, most importantly, why they work the way they do – digging deeper to understand what truly drives them was vital. We created a modern office intern design with concepts (to suit combining several existing functions) like several informal meeting rooms, hot desks, phone booths and training rooms. These rooms have adequate writing surfaces and light, movable furniture to enable flexible workdays, while still offering privacy and solitude for focussed work.
The different teams that occupy this corporate office are TMC, Material Management, Design, Overhauling, IT, Services, Finance, Marketing and HR. Micro neighborhoods are designed to house these different teams while providing them with their own informal collaboration spaces, a reprographic facility, and a coffee point. Additionally, each neighborhood has its own specific branding and imagery reflective of the team using that space.
Inclusive Brand Experience: Showcasing state-of-the-art services and class, the materials and furniture used intend to depict these ideologies.
The modern workplace design here executes work neighborhoods that have ergonomically conscious, height-adjustable tables and task chairs and loose furniture items. The cabins are equipped with height-adjustable workstations and executive chairs to maintain the same aesthetic as the other Plasser corporate offices in India.
A stronger focus on sustainability
Employees today are no longer just looking out for their own personal growth and career fulfillment — they also want to focus on the greater good of the world around them. They want to support sustainable brands and align themselves with companies whose values match their own. Sustainability, thus, is no longer just a 'CSR initiative' for modern firms — it is woven right into the very fabric of Plasser. Sustainability through biophilia was central to Plasser's office interior design brief and the design intervention was shaped around developing elements throughout the space that cater to that need. Ceiling suspended planter shelving is a part of every work hall neighborhood. A custom low-height storage rack with shelves for potted plants has been designed to provide a screen that's easy on the eyes but still provides screening. All planters and pots have been provided keeping in mind ease of maintenance and access and to ensure a healthy and happy work atmosphere for the users.
Creating a welcoming, positive environment
Well-being at the workplace comes not only from the workplace policies and nudge tactics but also from design details that enable warmth, positivity, and comfort. One modern office design element that the pandemic has brought to the center stage is biophilia, both for its natural air-purifying abilities as well as for the soothing greenery it brings indoors. Natural elements like these are prominent at Plasser's new office. The spatial layout at the arrival has been designed to ensure a natural flow towards the main boardroom and the associated waiting lounge. The floor lines throw that play between the different flooring materials eventually accentuate this natural flow. The ceiling is a state-of-the-art perforated, metal light fixture that spans the entire expanse and gives the illusion of a larger volume.
The live, green wall acts as a focal point and iterates the company's focus on wellness. The reception desk has been designed as a sculptural piece, mimicking the floor lines across its entire volume and the wooden fluting adds a warmth to the otherwise muted palette. The lounge seating furniture cluster is functional.
Nature brought indoors
Biophilia is the human desire to connect with nature and to draw comfort from green spaces. When this desire is denied (as is often the case for people with desk jobs), employees report feeling ill, fatigued and stressed. In response to this, the new Plasser office is indeed one step ahead, they opted for natural, green spaces within their space and considered it a necessity in their people-centric workplace, and mimicked nature as closely as possible with the light, sound, and thermal conditions.
Being surrounded by biophilic elements has proven physiological and psychological advantages. And, besides improving indoor air quality, greenery can make the workplace soothing and welcoming. After the last few stressful months, this might be just what people need as they transition back to the office.
Bringing wellness and relaxation into the workspace
One of the greatest assets of the office is its ability to bring people together. Companies are already moving away from purely functional spaces that prioritize productivity above all else. Creative output happens best when the mind is relaxed, so for Plasser's new workspace, the focus had to be on employees' comfort and mental well-being. Workplace culture was developed by interspersing informal and formal collaboration spaces, services and coffee points within smaller work halls to make the neighborhoods self-sufficient and create a well-rounded user experience. The presence of biophilic elements throughout the office creates a more natural sound work environment. The arrival experience has been designed to reflect the company philosophy - precise, functional, reliable and high performing; wherein the live, green wall acts as a focal point and iterates the company's focus on wellness.
Micro neighborhoods
Though open offices have their merits, when they are not thoughtfully designed, they can be distracting and disruptive. The concept of micro-neighborhoods is a practical update on open offices. It understands the work functions of different teams and acknowledges the fact that a homogenous open space may not work well for everyone — whereas some teams might thrive in a buzzing, informal atmosphere, others might need more peace and privacy.
This modern office design concept at Plasser divides the available space into small clusters or 'neighborhoods', each with its own work areas and huddle spaces. Though it maintains an overall brand unity, each neighborhood has a unique vibe and functionality, which gives teams the ability to operate within an atmosphere that works for them and be able to drive the best business outcomes. This goes a long way in improving workplace productivity and minimizing the disruptions of a typical open office environment. Having a unique niche to work from also instills a sense of belonging — employees feel more at home within their own neighborhood than they do in a completely open office environment. 
Future is always difficult to predict, but keeping employees in the center for charting user journeys for all employee transformation initiatives can help work out the best solutions for enterprise employees to be most productive and efficient.
If you are looking for a design partner to help you conceptualize a forward-thinking office design and build strategy, get in touch with us.