Workplace calling - Reinstating the meaning of productivity at work after the pandemic
Workplace calling - Reinstating the meaning of productivity at work after the pandemic
The pandemic induced with it a dire need for adapting to the changing environments, schedules, working conditions and so much more. Work from home led to more and more people realising the importance of "anywhere working", therefore enabling them to match the environment their in with their working style. What couldn't have been achieved without a pandemic, now became an obvious approach to bridge the gap that not being in office had created.
As the pandemic has evolved, so too has employees' relationships with the office. Employees now rely on the office for pragmatic reasons, coming into the office to do work activities that can't easily be done remotely — to collaborate with the colleagues and to do individual work efficiently while access to specific spaces, resources and materials continue to be a primary reason to be in the office. Meeting with clients and maximizing individual productivity are also key in-office drivers.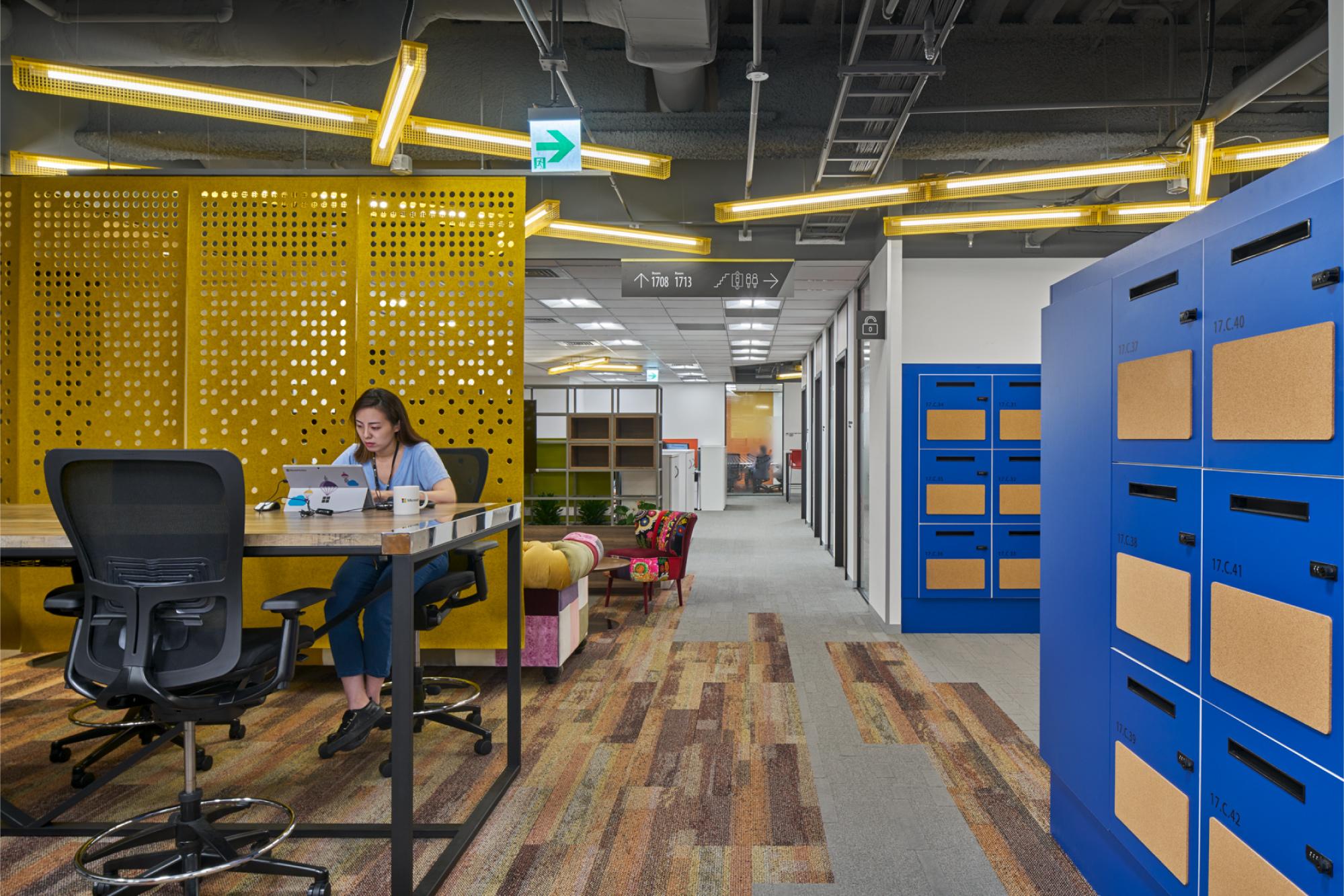 Hybrid workplaces are letting the employees choose the back and forth they wish to do while working remotely or from the office. Simultaneously, organisations are also addressing the pitfalls of working from home that specifically impact the productivity of entire teams. Since remote working has given the workforce the flexibility of "anytime working", virtually collaborating at specific time slots is a feat that can be rarely achieved easily. Therefore, physical collaboration becomes a must to propel creativity and innovation.
Further, organisations are realising the importance of workplace design that plays a lucrative role in providing the workforce with spaces that make them feel comfortable, boost their energy levels and encourage them to perform better. This happens when organisations address the demands that the workforce has.
Therefore organisations are transforming their workplaces in such a way that it provides their workforce with a choice of spaces that resonate with their work styles while boosting productivity. These designs tap into employee behaviors - physical, social and digital. These in turn translate into design strategies that influence performance, company culture, and workplace wellbeing. 
1. Not everything needs to be centered around work
Not only have workplaces modernised with the changing times, workplace design has become more employee-centric than strictly work-centric. Which is why apart from meeting rooms, focus cabins and play zones, organisations are also thoroughly investing in experiences that add value to their workforce's time at the office. 
So leveraging in-between spaces, introducing work cafes and libraries, and stimulating employees with tech-first arenas add to an interaction beyond work. Modern office designs are aimed to not just offer functionality but also provide leisure spaces in the office interiors for employees. Such workplace designs make office spaces more than just work places. Office design concepts based on motive to provide all round services to the employees prove to make office interiors a healthy and productive space to be. This in turn propels employees on a path that ensures impeccable work quality and better productivity.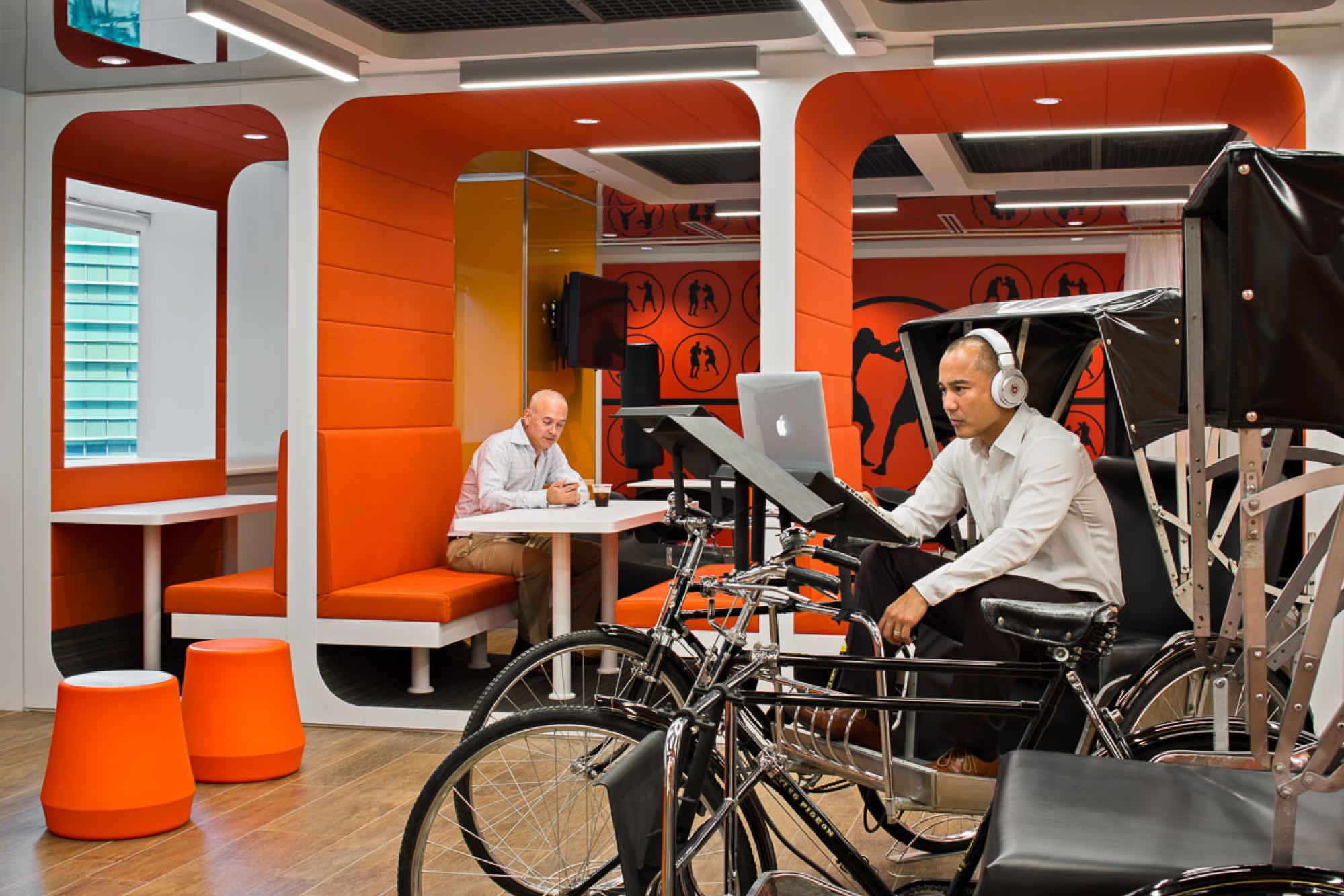 2. Technology Enablers
Workplaces today are incomplete with adequate tech intervention which enables agility and personalisation within spaces. Be it their access control, parking spots, visitor management, meeting rooms, furniture, or ordering a cup of coffee - everything can be done with a few clicks.
Employee experience is at the forefront by making sure the employees get a preference in what kind of workplace they want to work from.
Meeting spaces are now equipped with state-of-the-art video conferencing to bring collaboration equity between people working on-site and virtually. AI-enabled speaker tracking cameras shift to focus on individuals who are talking for seamless collaboration.
Further, the modern workforce genuinely enjoys architecture they can collaborate with. Screens responding to gesture movements, electricity powered by the kinetic motion of people walking on the floor, and virtual elements of nature embedded within the walls, are the ways technology can be blended within the workplace.
Sustainable workplace design is one of the top features of a smart office — and the automated lighting system in Polestar's Shanghai office helped it make the cut. The automated lighting system gives employees a futuristic workplace experience. Thanks to pre-set timers, lights are automatically activated between 9 a.m. and 6 p.m. on weekdays. Post 6 p.m., the lights are controlled by motion detectors — they come on when someone is in the room, and switch off automatically shortly after they have left. 
The intelligent system also has illuminance sensors that detect the amount of natural light coming in, and regulates the artificial lights accordingly, so that the room is never too harshly lit or too dark with lengthening shadows. Employees can also control the way the space is lit. Separate meeting modes, speaking modes, sweeping modes and full pass modes let them change the light levels based on different scenarios in the office interior throughout the day. When they are having an informal discussion with colleagues or viewing a presentation on their screens, they can dim the lights for optimum comfort.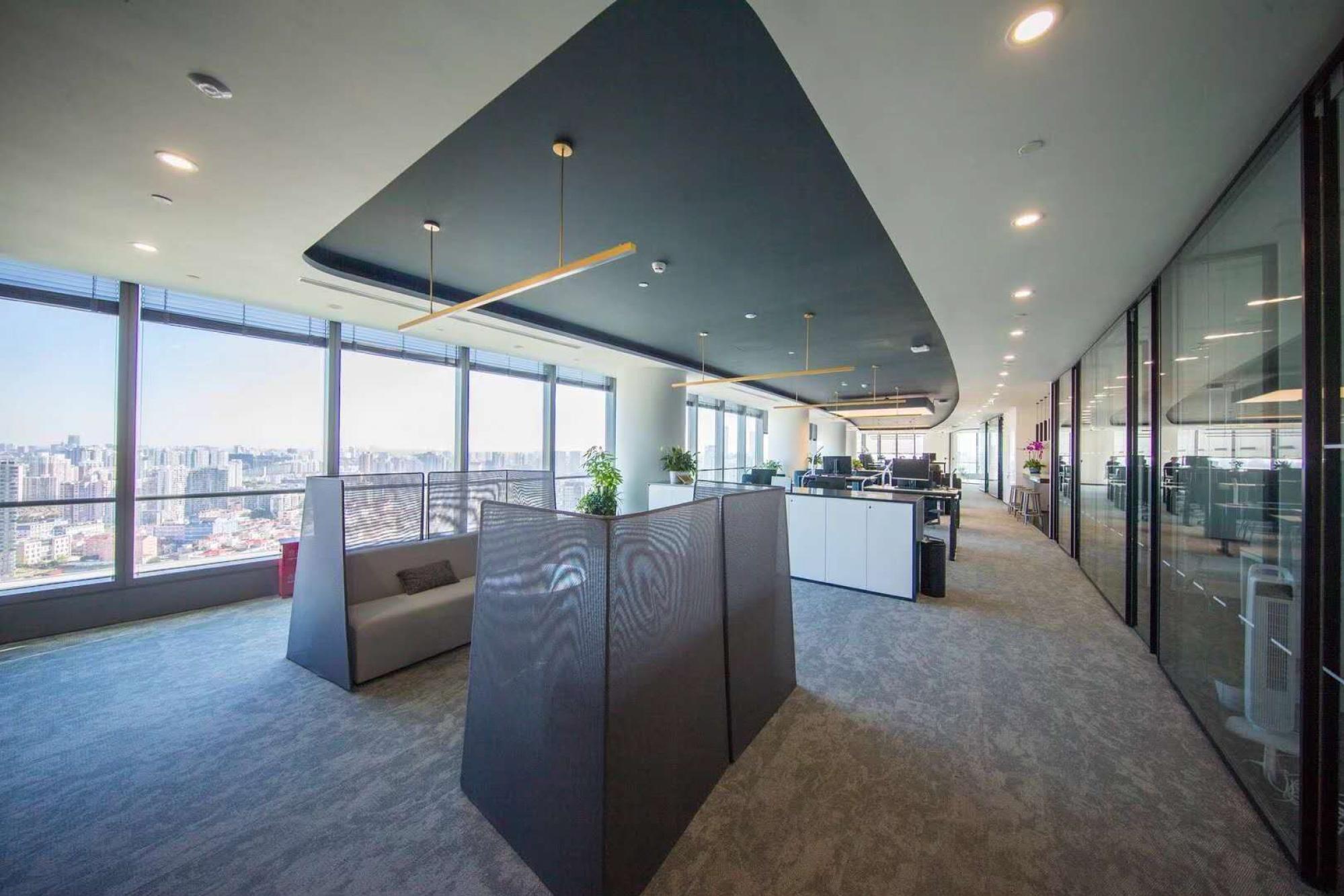 3. Workplace with flexibility and purpose
Workplaces aren't just physical locations for work anymore. Flexible workplaces designs that combine a variety of roles with different spaces provide choice and opportunity.
By focusing on people and how they need to do their jobs, the evolution of the physical office is imperative and this transformation will continue to play an important role in company culture. Therefore modern working spaces that foster a collective sense of purpose and help staff meet their full potential are important.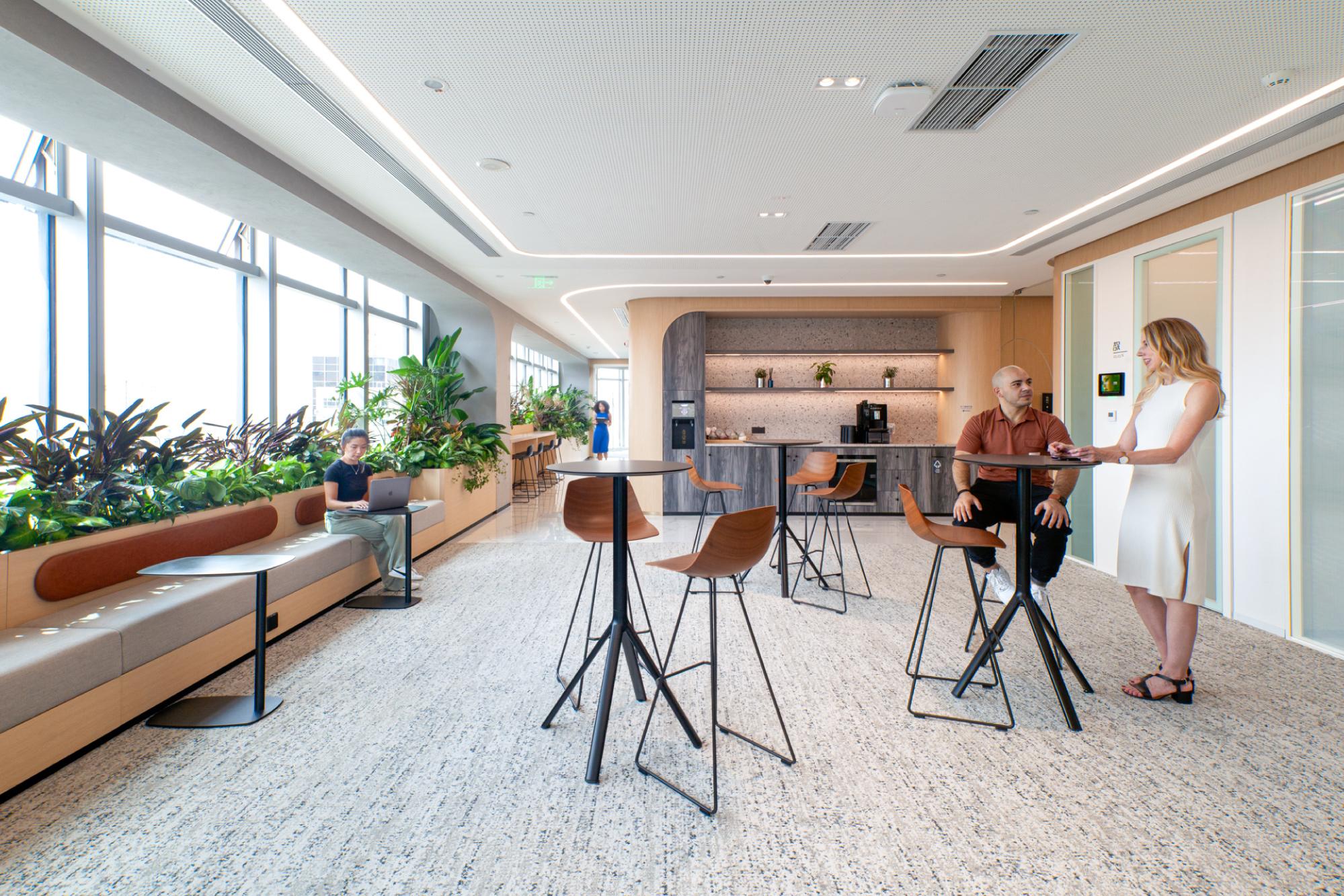 Organisations today are in dire need of understanding and aligning with the workforce's need for flexibility, hybrid workplaces, and spaces within the workplace design that suit their working style. Further, more light needs to be shed upon the need for spaces that help the workforce bring a sense of purpose into their work, in turn boosting their energy and productivity.
As we embark on an exciting time of experimentation in the workplace design to optimize a range of hybrid, in-office, and remote workers, we have a chance to pilot new strategies and design approaches to support new ways of working. In doing so, we can focus on providing the best tools, spaces, and experiences that can't be replicated remotely. Individual productivity is certainly important, but that's not the end game. Innovation can occur when we are being creative together — aligned to a common mission and purpose, building trust with each other and pushing boundaries to create something new of value. To us, that would mean designing amazing human experiences that are worth the commute for when we do come to the office to be together - for individuals to perform at their individual and collective best. 
Help your workforce transform your workplace. Let's talk about reinstating the meaning of productivity